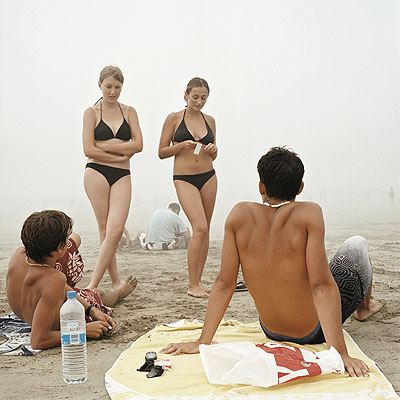 Expositions du 26/4/2008 au 8/6/2008 Terminé
Deutsche Börse Group Neue Börsenstr. 1 60487 Frankfurt Allemagne
Talents 2007

From 26 April to 8 June 2008, Deutsche Börse presents a special exhibition of the four artists of the "Talents" program 2007.

Deutsche Börse Group has supported the "Talents" program for young artists, initiated by C/O Berlin Patrons e.V., as a founding partner since its beginnings and has also been on the jury since 2007. "Talents" provides an experimental space for young international contemporary photography and art criticism. Each year, four photographers are invited to exhibit their work with regard to a common theme. In 2007, the "Talents" exhibition series is themed "Portraits. People in Photographs". Each artist shows in representative work series his perspective on human beings as physical individuals as well as social beings. The exhibition can be visited in the basement floor of Neue Börse in Frankfurt/Hausen during the "Night of the Museums" on 26 April and during guided tours. Dates for public guided tours are announced on the website of Deutsche Börse Group.

The Talents of 2007 are: Wolfram Hahn (*1979), Frank Höhle (*1975), Marion Poussier (*1980) and Tobias Zielony (*1973).

The children in Wolfram Hahn's series "A disenchanted playroom" seem to have fallen into a stupor, a strangely absent state of lethargy. In each of the single portraits, their expression is void of emotion: a child sits at the center of the picture, motionless, with drooping shoulders and an equally blank look. The object on which they are focused absorbs all their attention: the children are watching television. The observer is confronted with the passiveness and susceptibility to manipulation of young children that are being exposed to the visual messages of television.

The people portrayed in Frank Höhle's series "Woman, Man" are set in a neutral environment - expressionless, in relaxed posture and nondescript clothing, their gaze turned away from the viewer. Like a detective, the viewer seeks tiny visual clues in the portraits to classify and interpret them - but without success. Finding no foothold in isolated individual attributes or in hidden symbols or codes - which simply are not there - the gaze is forced to glide off the surface of these photographs. The strangely still photographs do not refer to any concrete place or specific moment, and leave the viewer behind, bewildered. All he sees are pictures of people.

In her series "A Summer" Marion Poussier seeks the encounter with young adolescents in summer camps. Here, she collects impressions of first love, insecurity and loneliness of young adults that oscillate between romance and melancholy. Her photographic perspective questions the adolescents' self-portrayal and their emotions. In doing so, her work can be read both as a mirror of our own memories of childhood and youth as well as a reflection of our society.

In his almost cinematic series "Gas station" and "Los Angeles" Tobias Zielony documents young people occupying public spaces in Bristol, Halle-Neustadt, Marseille and Los Angeles. Night-time gas and bus stations are becoming locations of urban youth culture on the fringes of modern cities where the adolescents stage themselves and pose in front of Zielony's camera. The photographer was especially fascinated by the way the youth roam the streets at night which he sees a "casual form of the social world".