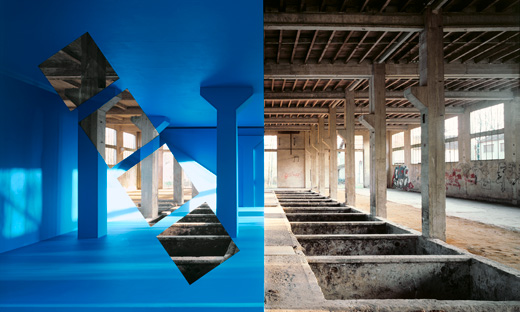 « Georges Rousse in situ » by Dominique Roussel

In abandoned buildings across the world, before their destruction or their renovation, Georges Rousse has worked and installed his darkroom for more than 20 years. He has set up his nomad workshop in places into which he has infused new life and given it a new history. As the artist himself likes to say, « ...I call upon various methods of art : I am the designer of the project, the painter on-site, the architect by my interpretation of a given space and by the construction I organise there within, and finally the photographer who coordinates all these actions. »

Alone in these places destined to be lost into oblivion, he has chosen photography as the artistic medium to put together an artwork, visible in its assembled state through his camera lens at a fixed point. Early in his career, he painted figurative human shapes projected from his dreams. Later, his work evolved towards the transformation of places by drawing, painting, light manipulation, construction and deconstruction. New spaces were then created by the effects of perspective, anamorphosis, and optical illusion. With his photography, going from a three-dimensional space to a two-dimensional image disturbs one's visual perception and embarks the mind on a voyage into the unreal, quite similar to what a painting does. The complex relations between architecture, photography and painting are all revealed in the calm and contemplative atmosphere of his sereine photographs.


« On the road with Georges Rousse » by Philippe Piguet

Since he has entered the artistic scene 25 years ago, Georges Rousse has not ceased to travel around the world in the way a fictitious character would stride across the globe over plains, valleys and mountains as one would think to cross a street. This is someone who from one day to the next finds himself at the other side of the planet and never leaving us a clue about his whereabouts. In brief, he has made this world his own and never stops to circle it in search of who knows what treasure. However, this man is not a hero from a legend, he is an artist and photography is his artistic medium. Rousse's method quickly differentiates itself from the simple click-click photography of his predecessors and readily qualifies as being « artistic », followed by a rather well-researched fabrication process. [...]

For the past 25 years Georges Rousse has produced, as one would suspect, a considerable number of pictures and his work has existed in all different types of composition. From a figurative style to a clear geometric abstraction, from the use of certain patterns such as words, textual excerpts, details from topographical maps, reproductions of buildings, etc., his art reveals a tension between diverse antagonistic qualities. He employs both the distinct and the indistinct, the known and the indescribable, the opaque and the transparent, the physical and the metaphysical, shadows and light, and finally order and chaos. There is something about the technique of Georges Rousse that simultaneously disorientates and fascinates the viewer. It is something that has a lasting impact because it instills a sense of doubt within us. [...] Always in pursuit of what the future holds, he is an open invitation to perpetually question oneself and to seek for the eternally unattainable.

Original title of text : « Georges Rousse, portrait en chemin ».