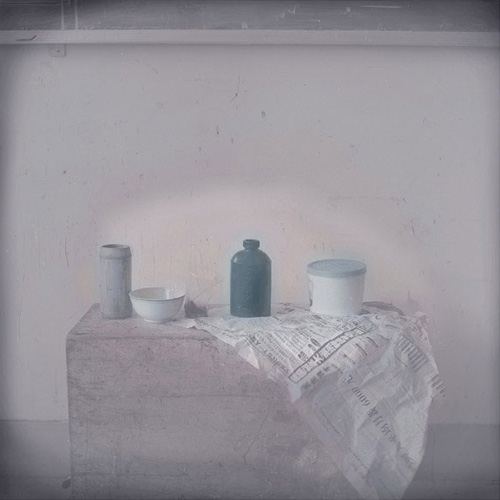 Liang Weizhou "Still Life in Studio" (2002-06), Archival pigment print on fine
Expositions du 29/3/2008 au 8/5/2008 Terminé
m97 Gallery No. 97 Moganshan Road 2F 200060 Shanghai Chine m97 Gallery Shanghai is pleased to present Liang Weizhou's solo exhibition of photographic works in this new exhibition titled "Scenery & Still Life". The Shanghainese painter, most well known over the past fifteen years for his expressionist paintings, has been gaining critical acclaim and exposure for his new body of photography-based works. The exhibition begins on March 29, 2008, and m97 Gallery will hold an opening reception for the artist on Saturday March 29th from 4pm to 7pm in the gallery.

As evident in several of his earlier paintings from the 1990's, Liang Weizhou has regularly explored the visual and conceptual relationship between painting and photography. Occasionally going so far as painting self-portraits with a camera and tripod on his canvas, it is clear the medium of photography and the contemplation of its ability to capture the myriad details before the artist's eyes has always been present in Liang Weizhou's conceptualization and realization of his artwork. After continued exploration and experimentation of the photographic image and process, Liang Weizhou has now clearly discovered his own visual language of interweaving his painting aesthetics with the continuing theme and subject matter of the often isolated and existential ordinary and intimate still life interiors. This can be seen in his photographs depicting a single hanging light bulb or an electrical socket, as well as the painterly and poetic landscapes found in his photographs from the nature reserve on Chongming Island, or in photographs such as "Small Fishing Boat" from Yunnan Province.

Furthering in a long tradition of artists exploring the possibilities found between painting and photography, Liang Weizhou's photographic works can be seen as a direct evolution from his earlier roots in painting. Now empowering traditional photography with various techniques of photo montage, selective coloring, painting and digital retouching, the photographs of Liang Weizhou offer the viewer an abstract and dreamlike aesthetic that can often only be found in painting itself.

Liang Weizhou, born in Shanghai, China, lives and works in the city. His painting and photography works in addition to being widely exhibited in China have also been shown in galleries and museums across Europe, Japan, Hong Kong, Russia, Singapore, and the United States. His photography works are also in the permanent collection of the Shanghai Art Museum where they were exhibited in a solo exhibition in 2007 and will be exhibited at the prestigious Zeit Foto gallery in Tokyo in Spring 2008.