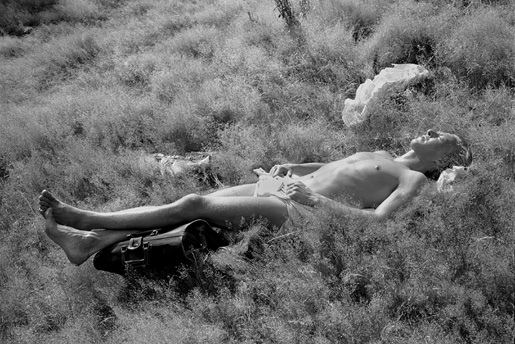 Expositions du 7/3/2008 au 19/4/2008 Terminé
Michael Hoppen Gallery 3 Jubilee Place SW3 3TD London Royaume-Uni We are delighted to announce the first UK solo exhibition of work by Tod Papageorge. Taken between 1969 and 1991, these black and white photographs capture the primeval character of Central Park, the human tragedy and comedy in this particular vision of Eden.

During the 1970s, when Papageorge began to work on this series, Central Park was portrayed as a dangerous place not to be visited after dark. These photographs depict a different view showing innocence, beauty, ugliness, isolation, chaos and humour - the whole scope of human life on view within the park. Papageorge parallels this series with the first four books of Genesis, pulling the disparate images together by presenting the park as a public Eden, his elegy to a lost Elysium. This projected narrative lends the photographs structure and gravity: the audience can recognise Adam and Eve, Cain and Abel in various guises acting out their elemental roles in our commonplace world.

Initially, Papageorge's project was driven less by a fascination with Central Park than by the desire to utilise a particular camera (a 6 x 9 cm Fujica) that was too cumbersome for the city's streets. He found within the park an intense and palpable realm of bodies, action and objects. Daily photographic excursions alongside Garry Winogrand and Joel Meyerowitz on the streets of New York had honed his abilities to both anticipate and capture great photographic moments within the disorder of the park.

Established as an articulate and influential critic and teacher of other's work, Papageorge's own photographs have rarely been in the spotlight. Professor and Director of Graduate Studies in Photography at Yale School Art since 1979, he has taught many of the strongest American photographers of the past three decades, including Abelardo Morell, Gregory Crewdson, Anna Gaskell and Katy Grannan. This reexamination of Papageorge's photography has been prompted by the recent reconsideration of work by his peers - Winogrand by the ICP, Friedlander by the MOMA and Stephen Shore by the ICP. Earlier this year Papageorge exhibited in New York for the first time in 25 years and Steidl published the first monograph of his work, Passing through Eden, Photographs of Central Park.

Papageorge's work can be found in museums both in the United States and Europe including The Art Institute of Chicago; The Bibliotheque Nationale, Paris; The Canadian Center of Architecture, Montreal; The Center for Creative Photography, Tucson; The George Eastman House, Rochester; The Kunsthaus, Zurich; The Moderna Museet, Stockholm; The Museum of Fine Arts, Boston; The Museum of Fine Arts, Houston; The Museum of Modern Art, New York; and The San Francisco Museum of Modern Art. Aperture have recently published American Sports, 1970, a body of work made during Papageorge's travels across the country on a Guggenheim Grant documenting major national sporting events during the height of the Vietnam War.