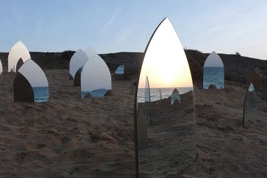 Expositions du 29/2/2008 au 25/5/2008 Terminé
Henry Art Gallery University of Washington 15th Ave NE & NE 41st St Box 351410 WA 98195 Seattle États-Unis The Henry Art Gallery is pleased to welcome Kader Attia to the Pacific Northwest. In March 2008, the Henry will open an exhibition of installations and new video works by the French-Algerian artist, his first large-scale, solo exhibition in the U.S.
Attia, born in 1970 to a Muslim family of Algerian origin, grew up in the outskirts of Paris in a largely immigrant-populated area. The impact the environment in which Attia grew up permeates much of the artist's works. His early work captured identity and gender issues in Muslim immigrant populations living in a French consumerist society. Attia's recent projects have turned darker and more intimate, presenting an apocalyptic outlook on the suburban landscape of today. His recent installations move away from explicit narratives to explore the affect of architectural scale.
Attia will be in residence at the Henry Art Gallery for a month to produce new work for the exhibition. The central installation, Rocher Carré, based on a composition Attia has in the past painted directly on walls, realizes a sculpture of this subject for the first time. The formal beauty of his installations provokes a psychological proximity that helps visitors explore the relationship between volume and emptiness, dream and reality, wealth and poverty, power and weakness.
Also included will be a large-scale version of Ghost, an installation the artist has presented at Galerie Christian Nagel, Berlin, and the Haifa Museum, Israel. Ghost presents a haunting assemblage of scores of hooded women made of aluminum foil, seated in prayer, and without faces, stripped of their identity. The Henry looks forward to being the first venue to host these significant new site-specific installations and drawings.