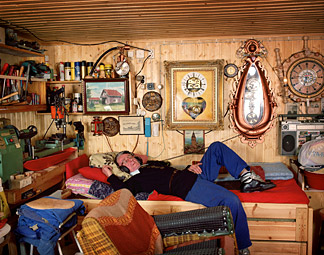 Concours du 08/02/2008 au 06/04/2008 Terminé
The Photography Prize worth £30,000 is awarded annually to an international photographer who is judged to have made the greatest contribution to photography over the previous year. This year's finalists are John Davies (UK), Jacob Holdt (Denmark), Esko Männikkö (Finland) and Fazal Sheikh (USA). Founded in 1996, the Photography Prize has become one of the most prestigious international arts awards.

John Davies (b. 1949, UK) has been nominated for The British Landscape at the National Media Museum, Bradford, UK (13 October 2006 – 4 February 2007). His panoramic black & white photographs, taken between 1979 – 2005, document the changing post-industrial British landscape.

Jacob Holdt (b. 1947, Denmark) has been nominated for his publication Jacob Holdt, United States 1970 – 1975, published by Steidl GwinZegal, Germany (2007). In the early 1970s, Holdt spent five years hitchhiking across the US, living with and documenting the lives of the people he met - from the poorest Southern sharecroppers to some of America's wealthiest families.

Esko Männikkö̈(b. 1959, Finland) has been nominated for his retrospective Cocktails 1990 - 2007 at Millesgarden, Stockholm, Sweden (1 September – 4 November 2007). A portraitist of isolation, Männikkö documents with great humour, warmth and integrity the lives of those who inhabit the periphery.

Fazal Sheikh (b. 1965, USA) has been nominated for his publication Ladli, published by Steidl, Germany (2007). Sheikh is an artist-activist who uses photography to create sustained portraits of different communities around the world.

Exhibition Catalogue:
The Deutsche Börse Photography Prize 2008 exhibition is accompanied by a fully illustrated catalogue, edited by Stefanie Braun. The catalogue includes a short story by Riikka Ala-Harja inspired by Esko Männikkö's work, a fictional response to John Davies' photographs by Sarah Hall and essays by Dr Caroline Blinder and Mary Warner Marien contextualising the work of Jacob Holdt and Fazal Sheikh.

The catalogue is available from the Gallery Bookshop at 8 Great Newport Street at the special exhibition price of £16.99.

Short Films:
Short films on each of the shortlisted artists, produced by The Photographers' Gallery, are screened at 5 Great Newport Street.

This year's jury is:
Els Barents, Director, Huis Marseille (The Netherlands), Jem Southam, photographer (UK), Thomas Weski, Chief Curator, Haus der Kunst (Germany) and Anne-Marie Beckmann, Curator, Art Collection Deutsche Börse (Germany). The Chair is Brett Rogers, Director, The Photographers' Gallery.