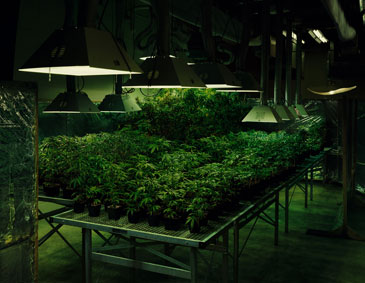 Expositions du 01/01/2008 au 20/02/2008 Terminé
MMK Museum für Moderne Kunst Domstraße 10 60311 Frankfurt/Main Allemagne »I am always immensely grateful to people who do impossible things on my behalf and bring back the picture. It means I don't have to do it, but at least I know what it looks like. So one's first feeling on looking at many of these extraordinary images is gratitude (followed quickly by a momentary pang of envy: the sedentary writer's salute to the woman of action).«
– Salman Rushdie on Taryn Simon –

Our image of America is changing. An American Index of the Hidden and Unfamiliar is the title of a new series of works by Taryn Simon (b. 1975), which is being exhibited in full for the first time at the MMK Museum für Moderne Kunst. For this project, the New York-based artist, whose works often bridge art and politics, has documented places that are essential to the United States, ts myth, and its everyday functioning but remain closed to the public. More than sixty large-format photographs taken over the past four years often required protracted negotiations before Simon was granted access to the otherwise inaccessible. When circumstances permitted, she photographed with a large-format camera and careful lighting, quite explicitly not following the tradition of the journalistic snapshot. Simon explores a society by carefully documenting various subjects from the fields of science, politics, medicine, nature, and religion that remain inaccessible to us for natural, social, or political reasons. Her motifs include radioactive containers in a storage facility for nuclear waste, the recreational facility of a high-security prison, and the headquarters of the Ku Klux Klan with its Wizards, Night Hawks, and Kleagles.
Her enormous powers of persuasion enabled her to gain access to a Scientology seminar room and to visit MOUT, a facade city in Kentucky built as a training ground for urban warfare. She was in the sealed-off halls of the CIA headquarters, in a highly protected research institute studying animal epidemics, and in an operating room in which a woman had her hymen and thus her virginity restored.

Taryn Simon gives a visible and clear form to places that are otherwise taboo or removed from our gazes. In doing so she clarifies the discrepancy between the privileged access of a few and the limited access of the public. Making the hidden visible is linked to the task of conveying knowledge. Consequently, eachimage is accompanied by a text by the artist that precisely explains what is seen and the reasons
it is hidden. One aspect of Simon's understanding of aesthetics is expanding the limits of what we are permitted to see and know, to approach those obscure marginal areas in which physical, intellectual, and moral dangers lurk. Although An American Index of the Hidden and Unfamiliar forces us to think and confront some of the excesses that a democratic society can produce, these images also convey the fascination that goes along with discovering unexplored territories. Simon captures the strange magic of what is closed off beneath the surface, which rests on the base of the American national consciousness.

The exhibition will be accompanied by an extensive book, published by Steidl Verlag, which includes color reproductions of all works as well as texts by Salman Rushdie and others.