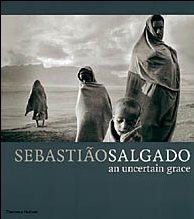 From a Brazilian mine where 50,000 mud-covered men haul heavy sacks of dirt up and down slippery ladders in search of a stray nugget of gold, to a former lake in western Africa now swallowed by the encroaching desert, where emaciated, starving people walk over its surface of sand, photographer Sebastião Salgado explores the lives of the world's often-ignored people with a critical eye and an empathetic heart.
An internationally renowned exemplar of the venerated tradition of 'concerned photography', Sebastião Salgado has been awarded virtually every major photographic prize in recognition of his accomplishments. In 1994 he left the Magnum photo agency to form his own press agency, Amazonas Images.
Eduardo Galeano, essayist, journalist, historian and activist, lived in exile in Argentina and Spain for many years before returning to his native Uruguay in 1985. Galeano, best known for Memory of Fire, a fictive historical triology of the Americas, received the first Lannan Prize for Cultural Freedom in 1999.
Fred Ritchin was director of photography at the New York Times Magazine and executive editor of Camera Arts magazine. His website 'Bosnia: Uncertain Paths
to Peace' was nominated for the Pulitzer Prize in Public Service by the New York Times in 1997. He teaches at New York University and lectures widely.
Thames and Hudson
33.0 x 28.0 cm
Paperback
158pp
Illustrated in duotone throughout
First published 2004