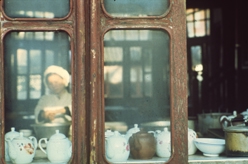 Expositions du 12/01/2008 au 23/03/2008 Terminé

UMMA Off/Site 1301 South University Ann Arbor 48104 Michigan


In 1978, only two years after the end of China's Cultural Revolution, photographer Inge Morath and her husband, playwright Arthur Miller, were invited to travel to China. They returned again in 1979 and 1983, fueled by Morath's knowledge of Chinese language, poetry, and history, and Miller's interest in the politics of the present moment. This exhibition captures two artists responding to a society in transition—photographs by Morath, accompanied by excerpts from both her and Miller's journals, which reflect Morath's empathy for China's people and culture and her urgent desire to understand what Miller called "China's contradiction": the ongoing struggle of new traditions in conflict with ancient ones.
The exhibition was curated by John P. Jacob, Director, The Inge Morath Foundation, and organized by The Inge Morath Foundation, New York.