Expositions du 12/01/2008 au 02/03/2008 Terminé
Fovea exhibitions 143 MAIN STREET BEACON 12508 New York États-Unis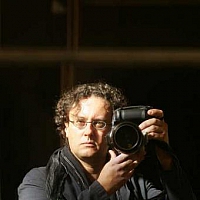 Fovea is pleased to present Double Blind – Lebanon Conflict 2006, a profoundly moving photographic essay by award winning Magnum Photos member Paolo Pellegrin.
The exhibition will open at Fovea's gallery in Beacon, New York on Second Saturday, January 12, 2008. The public is invited to attend an opening reception on January 12th from 4pm to 8pm. Mr. Pellegrin is expected to be present and available to sign his accompanying book to the exhibition, published by Trolley press.

While on assignment in southern Lebanon in 2006 for The New York Times, Pellegrin captured the grief of the Lebanese population in the face of the Israeli air strikes. His images reveal the despair of families and friends witnessing the deaths of their loved ones while around them their homes are destroyed.

While covering this story, Pellegrin was injured by shrapnel and suffered a concussion during a missile attack. In 2007 he was awarded the Robert Capa Gold Medal Award from the Overseas Press Club for this work, which recognizes international reporting "requiring exceptional courage and enterprise." These photographs also earned him a first place prize from the World Press Photo competition, based in Amsterdam.