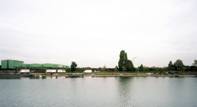 Expositions du 03/04/2008 au 17/05/2008 Terminé
Yossi Milo Gallery 245 Tenth Avenue 10001 New York États-Unis Begun in 2002, Sze Tsung Leong's new body of work, "Horizons," depicts thin bands of landscapes from a range of locations throughout the world: from a steel mill in Inner Mongolia to a 19th-century square in central Lisbon, from the California Aqueduct in Antelope Valley to the Seine in Paris.

These landscapes are connected by a common horizon and are meant to be combined: with the horizon in the same place in each frame, the images can be viewed next to each other, creating a spatial continuum from geographically distant locations. The arrangement of images can be thought of as a photographic cadaver exquis (exquisite corpse) – the surrealist process of creating a unified drawing or piece of writing from seemingly unrelated segments – where new relationships are formed by unexpected juxtapositions. Viewed together, the photographs encourage the viewer to comprehend the environment from an expanded and extended perspective, instead of from a singular point of view – emphasizing and revealing links, resemblances, kinships, variations, and contradictions between places.

Sze Tsung Leong was born in Mexico City in 1970 and currently lives and works in New York. The gallery will publish a catalogue to accompany the exhibition. His previous series, History Images, was exhibited at the gallery in 2006.