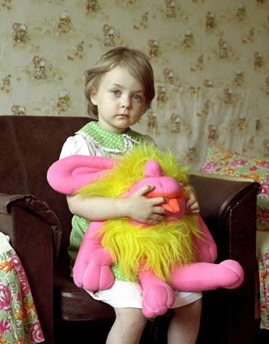 Expositions du 22/07/2007 au 23/09/2007 Terminé
Lingen Kunsthalle Kaiserstraße, 49809 Lingen Telefon: 0591/5 99 95 Fax: 0591/5 99 05 info@kunsthalle-lingen.de http://www.kunsthalle-lingen.de Born in Moscow in 1978, photographer
Anastasia Khoroshilova
focuses her work on the people of modern-day Russia and the countryside where they live. The artist, who lives in Berlin now, will be showing extensive photographic series in the Lingen Kunsthalle which she has produced during the past six years. One of Khoroshilova's reference points is Sergei Lobovikov. The Lingen Kunstverein mounted an exhibition of works by this early "Russian Master of Art Photography" as far back as 1995, availing of loans from Russian museums. His vintage prints, dating back to the early 20th century, also focus on people (primarily peasants who just a few years earlier had been in serfdom) as well as the countryside of his era.
Anastasia Khoroshilova
studied in Germany, where she also launched her career. She is part of a phenomenon which contemporary Russian critics term the "post-diaspora". The term refers to artists who, while working and establishing themselves on the international stage, do not view themselves as emigrants: instead, these artists not only emphasise their Russian identity, but also incorporate it into their work. Such a holistic and simultaneously complex identity is new to Russian culture which, during the last century, presented intellectuals with a stark choice between remaining in their native country, with all its isolationist tendencies, and emigrating. In a statement on her series "The Bezhin Meadow",
Anastasia Khoroshilova
writes: "I have selected episodes from Russian cultural history […] to form the narrative foundations. They are all characterised by the authors' striving to understand the phenomenon posed by the world of the Russian peasant. The first of these episodes includes Ivan Turgenev's "Notes of a Hunter" and (in particular) his short story "The Bezhin Meadow". The second episode refers to Sergei Eisenstein's film "The Bezhin Meadow", which was banned and destroyed by Stalin, while the final episode references Vladimir Sorokin's novel simply entitled "A Novel". All these works deal in different ways with the life of Russian peasants -- and of living in the country. They were all created during a transitionary phase of Russian history which was replete with social contradictions. This forms the starting point for my work." Regarding her series "Islanders", from which this exhibition takes its name, she says: "Having once attended a German boarding school, I came up with the idea of photographing people outside their world - outside their home - and engaging with the life of those who have exchanged their own home for community living. For all such people, this is a time-dependent condition which can either be bridged or enjoyed: Some people voluntarily spend their time in certain institutions, others are there to pursue a (career-related) goal. Yet others find themselves in an institution because there is no longer a way out. Whether one is in an orphanage, intent on seeking refuge from the outside world, or privileged to train at a ballet boarding school - the traces of this time will remain forever in the psyche and inner lives of such people." The extensive exhibition in Lingen includes works from the artist's most important series. The exhibition can be viewed during the Kunsthalle's opening hours: Tue, Wed, Fri 10 a.m. - 5 p.m.; Thu 10 a.m. - 8 p.m.; Sat, Sun 11 a.m. - 5 p.m. Free guided tours: Thursdays at 6.30 p.m., Sundays at 11.30 a.m. Free entrance on Thursdays from 6 p.m.