Expositions du 16/02/2007 au 20/05/2007 Terminé
Louisiana Museum of Modern Art Gl. Strandvej 13 DK-3050 Humlebaek Danemark Téléphone (+45) 4919 0719 Site web www.louisiana.dk Email klub@louisiana.dk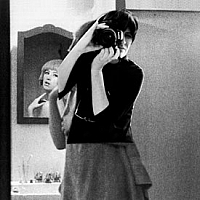 Throughout the thirty years
Cindy Sherman
(b. 1954 in Glen Ridge, New Jersey) has worked as an artist, she has almost exclusively used herself as a model. Sherman stages, directs and photographs herself in ever-changing disguises which are not, however, self-portraits. Each picture reflects a new identity taken from the mass media's stereotyped views of women. Sherman manipulates her own body by means of make-up, clothes and artificial body parts, staging herself as various figures that she invents or re-invents, after which she photographs herself in her studio. Sherman's idiom varies from the amusing and humorous through the shrill to the brutal. Each series has its theme and several variations on the same idiom. Her intention with these self-stagings is to explore cultural and social stereotypes as they are presented for example in magazines, advertisements, films – and in classic paintings. In her works Sherman questions the power of the male gaze over women. Women too look at themselves from a male point of view, as the only point of view in a patriarchal society. The repetition and variation take the form of a subtle analysis of female identity. The fantasies (individual as well as collective) and the forces unleashed by these fantasies emerge through Sherman's stagings as sometimes playful, sometimes sombre, repulsive and horrifying. Through the 250 works of the exhibition, all created in the period 1975-2005, one can trace the development of her work and gain an overview of her wealth of ideas, which seems to be boundless. Themes of the exhibition The themes of the exhibition range wide – from film scenarios in black/white through sex, violence and fashion, to historical figures and - as one of the latest themes shown - the clown. The series Untitled Film Stills (1977-80) brought
Cindy Sherman
into the limelight as a unique artist with a highly personal way of working; but even before that she was working on two important series, Bus Riders (1976-2005), where with a limited number of devices she identifies multiplicity and anonymity, and Murder Mystery (1976-2000), where the uncanny and the art of suggestion coax the viewer into playing along and working with hypotheses about the various figures. In Untitled Film Stills, a series consisting of 70 black/white photos, she presents herself in scenes from non-existent, but all the more genre-typical films that sharpen the viewer's imaginative powers. The narrative element becomes predominant and the possibilities for interpretation are many. In 1980 in the series Rear Screen Projections
Cindy Sherman
began to work with colour photography. The formats grew, the stories told became even more difficult to identify, and as a new feature she photographed women from a bird's-eye view, giving the pictures a dramatic twist. In the series Fashion (1983-84) the artist reflected particular states of mind borne up by the juxtaposition of clothes and attitude, and in the series Fairy Tales (1985) she turned towards disturbing, almost nightmarish stagings with references to collective archetypal images. For the first time the artist incorporated prosthetic body parts and limbs in her stagings, whose imaginative world touches on the grotesque. The interface with the macabre was given an even sharper edge in the series Disasters (1986-87) and Sex Pictures (1992), where mannequins and dolls became bodies entangled in grotesque, exhibitionist scenarios. All transgressions become possible. Moving on from the most extreme stagings, Sherman profiled herself again from a new angle in History Portraits/Old Masters (1988-1990), where the artist posed as figures from the masterpieces of the history of art by Michelangelo, Raphael, Caravaggio, Botticelli and others. Using prosthetic body parts, costumes, make-up and carefully arranged stage design Sherman was able to mime the works of the Old Masters – sometimes with a touch of humour and the theatrical. Sherman's interest in the masquerade has suggestions of clowns and the carnival, so it seems natural that this very theme, Clowns, became central in 2003. The clown as a figure is disquieting. Behind the merry mask there is something ambivalent – perhaps something depressive, perhaps something perverse. Again Sherman creates the images – the story is up to the viewer.
Cindy Sherman
at Louisiana The first time Louisiana showed works by
Cindy Sherman
was in an exhibition in 1984, and immediately afterwards the museum acquired its first work, later followed by four others, all created in the years 1980-1985. Lecture (in Danish) Wednesday 14 March 2007 7.30 p.m.
Cindy Sherman
and 'the Picture Generation' by Rune Gade, mag. art., Ph.D., associate professor at the Department of Art and Culture Studies, University of Copenhagen. The lecture will place
Cindy Sherman
's works in the larger context of the history of art and photography, and will discuss the more theoretical implications of Sherman's artistic methods. Film Every day 11 a.m., 1 p.m. and 4 p.m., Wednesdays also 7 p.m. "
Cindy Sherman
– Transformations", 2002 A film about
Cindy Sherman
's work over the past 30 years and about how her innovative work offers a perspective on women's identity with a point of departure in the more stereotyped images of the mass media. The film clips shown are from the artist's first exhibition of colour photographs at Metro Pictures gallery in New York in 1981, and from another exhibition in 2000 also at Metro Pictures; excerpts are shown from one of the very rare interviews that exist with
Cindy Sherman
, recorded in 1981. There are also interviews with gallerist Helene Winer from Metro Pictures and with Peter Schjeldahl, art critic for The New Yorker. The film has been produced by ART/new york No. 58, Paul Tschinkel is producer/director, ©2002 Inner-Tube Video. Producer and director: Paul Tschinkel, New York, 2002 Duration: 28 mins. Danish subtitles. Every day 2 p.m., Wednesdays also 8 p.m. "Office Killer" American thriller directed by
Cindy Sherman
Dorine is a quiet, hard-working person. She is one of society's square pegs who has for years resigned herself to being exploited as the whole office's 'doormat'. One day the gentle Dorine accidentally short-circuits some cables and kills her unappealing colleague. At that moment Dorine gets the idea that each of her colleagues could become her best friend – if only they were dead! Actors: Molly Ringwald, Carol Kane, Jeanne Tripplehorn and Barbara Sukowa Script: Elise MacAdam and Tom Kalin Production: Christina Vachon and Pamela Koffler Director:
Cindy Sherman
Copyright: Good Machine and Kardana/Swinsky Films Duration: 83 mins. English dialogue (no Danish subtitles)