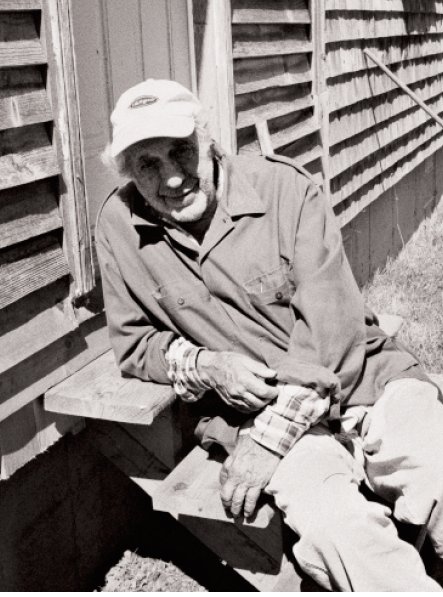 Robert Frank
. It will encompass
Robert Frank
's complete oeuvre – reprints of his classic books, publication of previously unseen and brand new projects, and the first release of his Complete Film Works as DVDs. Developed in collaboration with Ute Eskildsen, as Editorial Adviser, and Gerhard Steidl, this program will ensure that
Robert Frank
's work will be made available for many years to come in a scheme and to a standard that the artist himself has overseen and approved. Commencing in Spring 2007 and in every season thereafter until Fall 2010, Steidl Publishers will release a combination of one or more of the following: • a reprint of one of
Robert Frank
's classic books, adopting the same design, format and finish of the original • a new
Robert Frank
book, encompassing either a previously unpublished body of work or maquette, or a recently made work, designed by
Robert Frank
and Gerhard Steidl • a reprint of a previously published book but in a new design, designed by
Robert Frank
and Gerhard Steidl • one volume of
Robert Frank
, The Complete Film Works which will consist in between two and six of Frank's films, each as an individual DVD in a jewel case and housed together in a slipcase.
Robert Frank
Me and My Brother Me and My Brother was
Robert Frank
's first feature length film, completed and first shown in 1968 at the Venice Film Festival. Everything which had defined Frank's art up to that point turns up in this film – the look at America "from the outside", the poetic libertinage of the Beats, the marginal in a central role. It celebrates the return of the poetic essay as assemblage, the affirmation of the underground as a wild cinematic analysis in the form of a collage, and skillfully weaves together opposites, plays counterfeits against the authentic, pornography against poetry, acting against being, Beat cynicism against hippie romanticism, monochrome against colored. The story contains bizarre twists and turns, and appears to be a rather artless-film-within-a-film being shown at a rundown movie theater. This previously unpublished book includes stills and dialogue from Me and My Brother, together with a DVD of the re-edited 85 minute film.
Robert Frank
was born in Zurich, Switzerland in 1924 and went to the United States in 1947. He is best known for his seminal book The Americans, first published in 1958, which gave rise to a distinct new art form in the photo-book, and his experimental film Pull My Daisy, made in 1959. His other important projects include the book Black White and Things, 1954, the book The Lines of My Hand, 1959, and the film Cocksucker Blues, 1972. He divides his time between New York City and Nova Scotia, Canada.
Robert Frank
Me and My Brother Book design by
Robert Frank
and Gerhard Steidl 56 pages with 100 tritone plates 9.8 x 12.7 in. / 25 x 32.5 cm Softcover with a DVD included One Hour
Robert Frank
's film One Hour is a single-take of Frank and actor Kevin O'Connor either walking or riding in the back of a mini-van through a few blocks of Manhattan's Lower East side. Shot between 3:45 and 4:45 pm on 26 July, 1990 the film presents the curious experience of eavesdropping involuntarily on strangers. It appears to be a document of a journey but is also a kind of stream of consciousness retracing the same patterns and spaces. This book is a reprint of a little-known Frank publication first issued by Hanuman Books in 1992, a tiny book, comprising mainly a transcription of the dialogue heard but also two pages of credits: half a dozen production or crew workers and 27 actors. Unravelling the apparent documentary nature of the film, there is also an acknowledgement that the film has a script (by Frank and his assistant,
Michal Rovner
), that a conversation heard in a diner is written by Mika Moses, and that Peter Orlovsky's lines (intercepted by Frank roughly halfway through the hour, in front of the Angelika Cinema on Houston Street) are "total improvisation". The film C'est Vrai (One Hour) will be published as a DVD as part of Steidl's
Robert Frank
The Complete Film Works, the first volume of which is published this season.
Robert Frank
One Hour Book design by
Robert Frank
and Gerhard Steidl 96 pages with 14 tritone plates 4.1 x 5.9 in. / 10.5 x 15 cm Clothbound hardcover with dust jacket London/Wales "War is over; the heroic French population reaffirms superiority. Love, Paris, and Flowers…but London was black, white, and gray, the elegance, the style, all present in front of always changing fog. Then I met a man from Wales talking about the Miners and I had read How Green Was My Valley. This became my only try to make a 'Story'."
Robert Frank
London/Wales brings together two distinct bodies of work to reveal a new understanding of Frank's contribution to the history of photography. Juxtaposing the world of money and the world of work in post-war England, Frank photographed London bankers, workers, and children, and Welsh coal miners and their families. These images poetically evoke relationships between the classes during a time of change in Britain. Setting a significant documentary precedent for Frank's best known work, The Americans, London/Wales demonstrates the artist's early interest in social commentary, the narrative potential of photographic sequencing and his innovative use of the expressionistic qualities of the medium. Featuring 90 black and white photographs, London/Wales tells a timeless story of cities, people, and institutions in transition through emotional, evocative images while revealing Frank's struggle to forge a new form of poetic narrative photography. This reprint of the 2003 Scalo edition will not include the text booklet.
Robert Frank
London/Wales Book design by
Robert Frank
and Gerhard Steidl 128 pages with 70 tritone plates 7.8 x 9.6 in. / 20 x 24.5 cm Hardcover with dust jacket