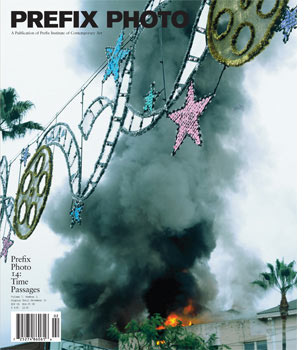 Prefix Institute of Contemporary Art is pleased to announce the release of issue 14 of Prefix Photo magazine. Addressing the theme of "time passages," editor Scott McLeod has written: " Time is both one of our most profound philosophical concepts and a prosaic, if pervasive, part of our daily lives. Contemporary artists prompt us to consider time in its various manifestations, be they profound or absurd." The issue features essays on a host of photo, media and installation artists, including: Heather Diack on Martha Rosler's influential series Bringing the War Home: House Beautiful. Originally addressing the Vietnam War, this work has been given new meaning with her recent additions dealing with the current conflict in Iraq. José Roca, Elizabeth Matheson and Keith Wallace with their varied perspectives on the 27th São Paulo Bienal. Karen Love on Jim Breukelman's ongoing series of "wild constructs," which includes images of Biosphere 2 in Arizona, the façades of postwar houses in Vancouver, and taxidermy shops. Other contributors include Lida Abdul, Lara Almarcegui, Roy Arden,
Barbara Astman
, Yael Bartana, Marilá Dardot, Adam Swica, and more. Subscribe to Prefix Photo now and you could win an original print by
Edward Burtynsky
. This exceptional artist's generous donation of a 28" x 24" limited-edition print of the shipyards of China, valued at $2,800 CA, affirms the important role that Prefix Photo continues to play as a venue for essays and portfolios on the work of emerging and renowned Canadian and international artists. Prefix Photo is also available in fine bookstores and newsstands in Canada, the United States, the United Kingdom, Portugal, Spain, Greece, Turkey, Singapore and China. For their support of the launch held for issue 14, Prefix Photo gratefully acknowledges our Premier Sponsor Epson Canada and our Supporting Sponsors à la Carte Kitchen, C.J. Graphics, and Steam Whistle Brewing. Prefix Photo is published twice annually, in May and November, by Prefix Institute of Contemporary Art, a registered charitable organization. Prefix Photo gratefully acknowledges the support of our staff, volunteers and patrons, as well as the assistance of the Ontario Arts Council, the Ontario Media Development Corporation, the Canada Council for the Arts, and the Government of Canada through the Canada Magazine Fund.