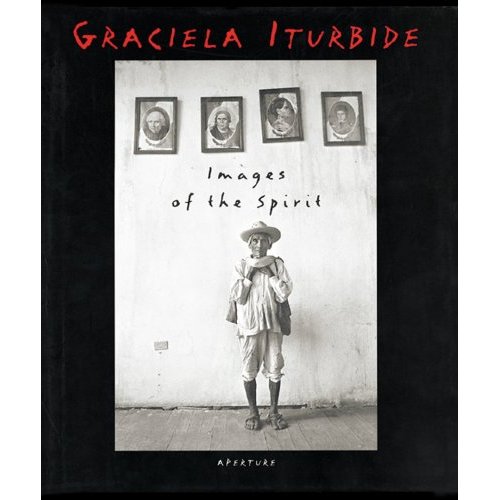 Graciela Iturbide
. There is nothing ethereal about this work. Iturbide deals heartily with the issues of sameness and difference. Sun-cracked earth contrasts with playing children, stark walls with elaborate alters, everyday life with special celebration. These oppositions represent deeper conflicts in the nature of land and body. Although the work is black-and-white, beautifully printed in duotone, the bright red of sacrificial blood, the colorful skirts, and murals seem to appear in full color. --Ce texte fait référence à une édition épuisée ou non disponible de ce titre. The New York Times Book Review, Christine Schwartz Hartley Ms. Iturbide's definition of beauty is complex--in turn violent, spiritual, joyous, tense or tender--and it always has to do with dignity, the dignity of a ritual performed, a bond asserted, an identity worn with pride. --Ce texte fait référence à une édition épuisée ou non disponible de ce titre. Review "
Graciela Iturbide
is one of my favorite photographers. Her beautiful and mysterious images will forever haunt me"--
Mary Ellen Mark
--Ce texte fait référence à une édition épuisée ou non disponible de ce titre. Book Description
Graciela Iturbide
makes subtle yet powerful photographs that blend evocative scenes, primarily the cultures of her native Mexico, with her own deeply personal vision. Images of the Spirit, the first major publication of Iturbide's photography, demonstrates how in her dreamlike encounters with what may first appear to be ordinary, she perceives the surreal and the marvelous. Iturbide's work is a mixture of history, lyricism, and portraiture, sometimes informed by the art of Mexico's photographic master,
Manuel Álvarez Bravo
. In Iturbide's photographs, she combines the story of a culture in transition with issues of identity, diversity, and selfhood. As the poet and critic Roberto Tejada points out in his Preface, "Sidelong Mirrors and Invisible Masks," Iturbide's photographs "underline time and again the rift between belonging and citizenship, rendered often against a backdrop of Mexican icons or heroes--be it the frail displacement of a rural campesino in Puebla, or the triumph of locals in East Los Angeles." Tejada who has lived in Mexico for the last ten years, provides a trenchant illumination of this Mexican photographer's use of her country's lore and stories of conquest, it's pre-Hispanic past, its indigenous visual vocabulary, and its centuries of tradition and ceremony, often infused with Christian iconography. Writer and scholar Alfredo López Austin is an anthropologist studying Latin American cultures. In his series of letters to Iturbide, which form the poetic Epilogue to Images of the Spirit, he envisions her "on a promontory set over the world in such a way as to see from one ocean to the other, to approach the vault of heaven and to surpass the artificial boundaries." Reflecting on the breadth of her expansive, insightful mind while invoking many narrative voices and identities drawn from Mexico's richly vibrant mythologies, López Austin shows us how Iturbide's photographs mirror the artist herself. Through his writing Iturbide is revealed as observer, searcher, affirmer. Images of the Spirit is produced at the highest level of the printer's art, enhancing the resonance of Iturbide's imagery, and the luminosity of her vision. Iturbide's compassion and dedication to her native land and its people make Images of the Spirit a power evocation of the underlying forces inspiring the complex, diverse, and ever-changing cultural landscape of Mexico. This aperture publication accompanies a traveling exhibition that opened at the Philadelphia Museum of Art. --Ce texte fait référence à une édition épuisée ou non disponible de ce titre. About the author
Graciela Iturbide
was born in Mexico City in 1942. In the late 1960's she began studying filmmaking at the Centro Universitario de Estudios Cinematográficos. While assisting
Manuel Álvarez Bravo
in the early 1970's, she studied photography, and soon after devoted herself to the art. During this time she traveled to Europe where she met
Henri Cartier-Bresson
, who became a significant influence on her work. In 1978 she became a founding member of the Mexican Council of Photography. Assisted by Francisco Toledo, she has been working for several years on her "Juchitán" project, for which she was awarded the W. Eugene Smith award in 1987. In 1988 she was given a grant from the Guggenheim Foundation and her exhibition "Juchitán" recived first prize at France's Mois de la Photo. Iturbide lives in Coyoacán, Mexico. Alfredo López Austin is one of Mexico's most eminent anthropologists. He is currently a research associate at the Instituto de Investigaciones Antroplógicas and a humanities professor of Mesoamerican studies at the Universidad Nacional Autónoma de México. He is the author of several works, many of which have been translated into English, including The Human Body and Ideology (University of Utah Press, 1988). He is a visiting professor at various European universities and is the recipient of various awards, including a 1976 fellowship from the John Simon Guggenheim Memorial Foundation. Roberto Tejada is a poet, translator, and art critic. He edits the English-Spanish bilingual journal Mandorla--an annual of advanced poetry and poetics from the Americas. Tejada was the executive editor of Artes de México, and is presently on the editorial board of Luna córnea, a quarterly journal on photography. His poems and critical writings have appeared in numerous international publications. He has edited En algun ostro lado (Editorial Vuelta, 1992), an anthology of twentieth-century poems on Mexico written by North American and British poets. Tejada has lived and worked in Mexico City since 1987. --Ce texte fait référence à une édition épuisée ou non disponible de ce titre.