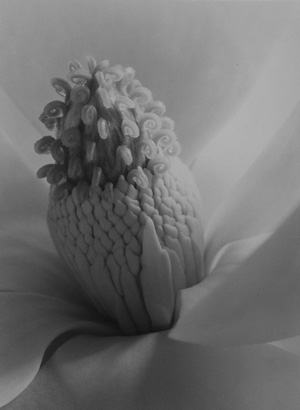 Expositions du 06/10/2006 au 04/11/2006 Terminé
ArteF Galerie Splügenstrasse 11 8002 Zürich Allemagne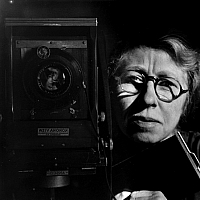 Vernissage Thursday October 5th, 6-8 pm For the first time in Switzerland, ArteF Fine Art Photography Gallery presents selected works from the American "Grand Old Lady" of photography,
Imogen Cunningham
(1883-1976). The exhibition premieres pictures from a private collection, which were only recently discovered. They stem in part from her early, pictorialist phase and have never before been publicly exhibited. With a total of 40 photographs, the exhibition depicts a cross-section of the artist's multi-layered portfolio.
Imogen Cunningham
achieved fame with her poetic plant photographs and her sensitive portraits of prominent contemporaries, such as Gertrude Stein, Frieda Kahlo, Lionel Feininger or Hollywood stars like Cary Grant and Spencer Tracy. These works, as well as her then unconventional depictions of industry and architecture, made her name known far beyond American shores. Inspired by Gertrude Käsebier,
Imogen Cunningham
began to take photographs in 1901. In connection with her chemistry studies, during which she was also intensively occupied with botany, she worked in the studio of Edward S. Curtis and learned to produce platinum prints. In 1909 she completed her training in photography at the Technische Hochschule (Technical College) in Dresden. Once back from Europe, she met Gertrude Käsebier and Alfred Stieglitz. In 1910 she opened her first studio in Seattle - an immediate success. Cunningham's creative phase, from 1901 to 1976, covers almost half of the time that has passed since the invention of photography. Thus her work is also interesting from a cultural perspective and in the context of art-history. Her pictures were important stimuli for many photographers (Magarethe Maler,
Edward Weston
and Anselm Adams amongst others). Her optical clarity quickly became recognized as an important development in photography; she was often described as sensitive and perspicacious at the same time. Her sharply accentuated close-ups of plants and unconventional views of industrial sites and modern architecture are mainly created in the 1920s. Concentrating on light, form and abstract patterns, these photographs established her reputation as a pioneer of photographic modernism. She is a founder member of the f/64 group and continues to develop her style and techniques over the course of 70 years. Thus in the 30s and 40s she transfers the style of her plant photography to portrait photography and creates impressive portraits, full of precision. Her pictures of the dancer Martha Graham for Vanity Fair in 1932 establish her reputation as the foremost portraitist of her time. Between 1932 and 1934 she works for the magazine regularly in New York and Hollywood. In the 50s Cunningham stretches her work in an almost post-modern way. She photographs people and plants, and places the negatives on top of one another in order to abstract her portraits. With the aid of double flash she produces a collection of psychologically impressive still-lifes. Many of her street photographs from the 60s demonstrate a connection with Dadaism and further developments in performance art. She spends the last years of her life in a photography studio on age. The profound yet lively portraits of old people are collected in the book "After Ninety", published posthumously. Cunningham was interested in the possibilities of storytelling and representation through the medium of photography. Most important for her was the possibility, through this medium, of bringing the photograph, object and viewer closer to one another. This task she allocated to the purely visual elements of photography: form, tonality and shading. Her mastery of nearly every photographic genre results from her knowledge of the formal elements of photography. Her observation of form leads to pictures which immerse themselves in each subject and, like lyric poetry, arouse emotions.
Imogen Cunningham
knew that it is the details and the particular arrangement of formal elements which the biggest personalities, the most beautiful flowers and the most dramatic events display best of all. Time and again, persistently, she explored this relationship between the flexible world of experience and the formal world of photography, with intensity and with poetry.