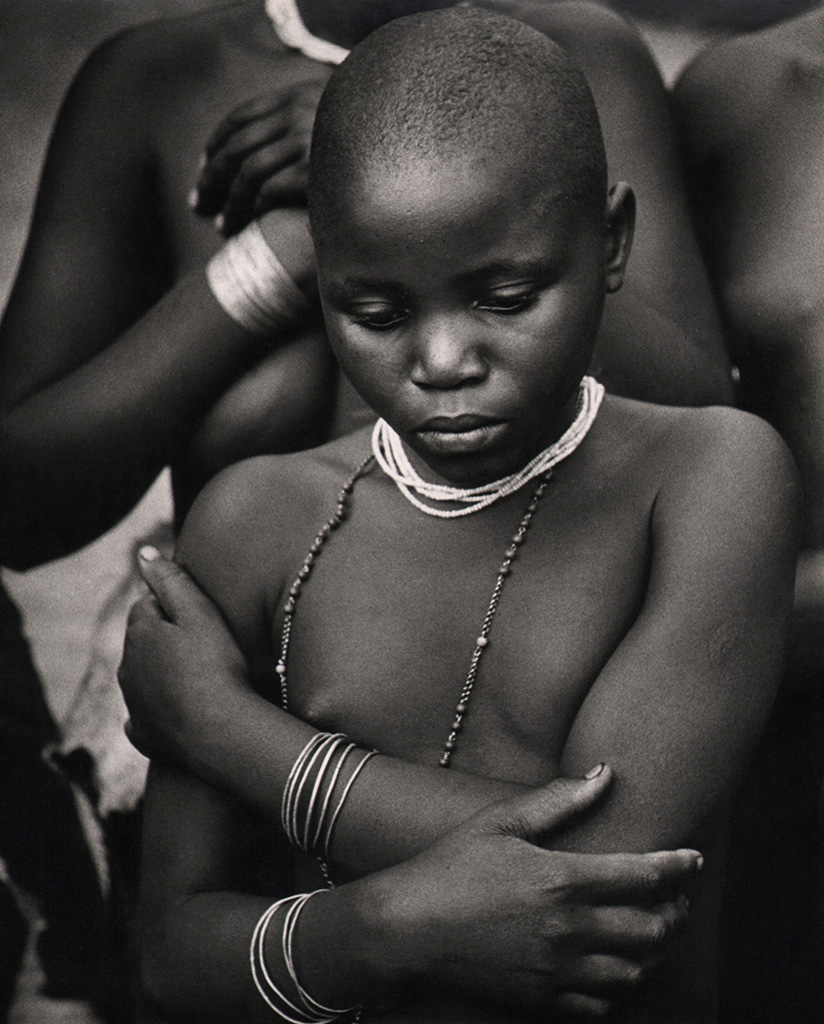 ©George Rodger, A young girl of the Wachimbiri tribe of the Impenetrable Forest of Kigezi, Uganda, c. 1955-1965
Expositions du 8/9/2016 au 22/10/2016 Terminé
Keith de Lellis gallery 1045 Madison avenue #3 New York, NY 10075 France
KEITH DE LELLIS GALLERY'S PRESS RELEASE :
BRITISH PHOTOGRAPHERS AT HOME AND ABROAD
MID-CENTURY PHOTOGRAPHS FROM THE COLLECTION OF NORMAN HALL
SEPTEMBER 8 - OCTOBER 22, 2016
As a photo editor for the British Journal of Photography, the Photography Year Book, and The Times of London, Norman Hall helped to elevate photography to the respected art form that it is today. Hall served as an editor of the Photography Year Book from 1954 to 1963. Through his careful curation of this yearly publication, Hall celebrated established and emerging photographers alike for their ability to "record the truth, not just because of any natural regard for principle but because they know that people who see photographs like to believe them" (Hall, Photography Year Book, 1962).
Many of the photographs in this exhibition, and the majority of Hall's selections for publication, focus on human interest throughout both their native Britain and foreign countries. In his foreword to the 1960 Photography Year Book, he wrote, "Humanity is most concerned with humanity and when the camera gets close to human beings and their problems it gets close to what I believe is the real purpose of photography". These images were made for the printed page, to be featured in magazines and newspapers, but Hall and his audience valued them as works of art. The photographs in his collection provide a glimpse into the mid-century state of humanity in various parts of the world. He considered photography to be "the one true international language," (Hall, Photography Year Book, 1962) with the ability to reveal the similarities between people across the globe.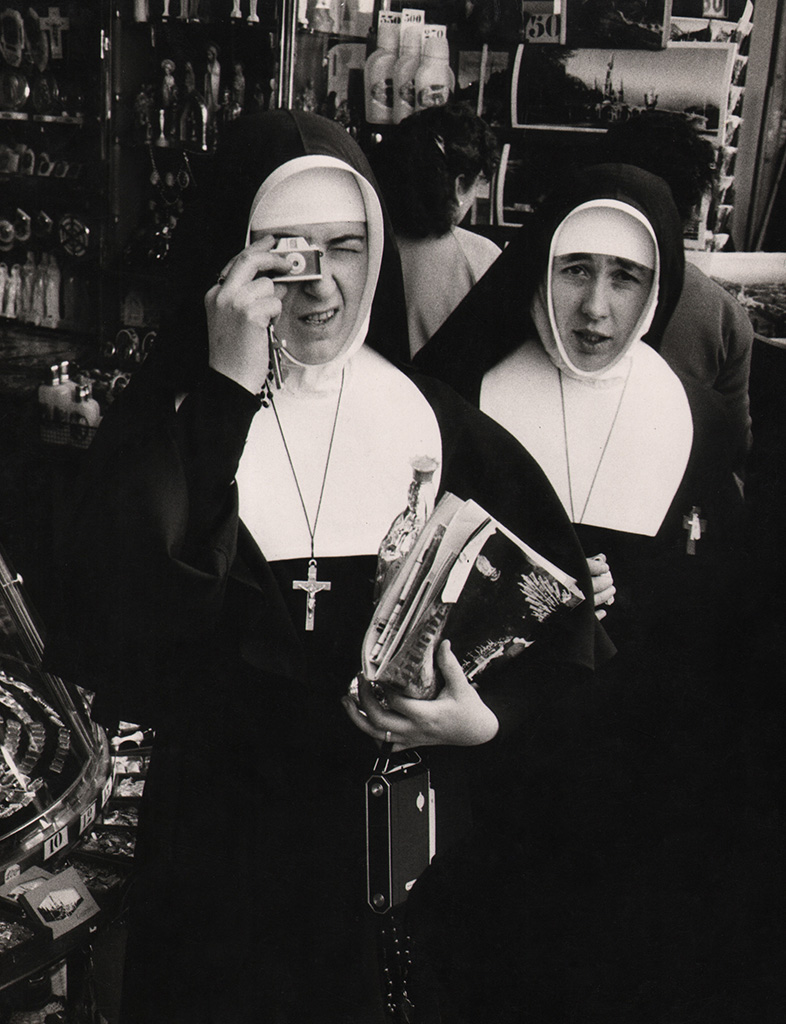 ©David Moore, Nuns at Lourdes, c. 1959
Reminiscent of Steichen's groundbreaking Family of Man exhibition, Hall's collection attempts an encyclopedic sampling of photographic styles and subjects. The British photographers captured universal moments that took place in their own homes and on unfamiliar streets. Many of the images were part of a series or photographic essay, and Hall chose the most appealing and thoughtful photographs for his books.
The 32 photographers featured in this exhibition were influenced and encouraged by the successful reception of images by Henri Cartier-Bresson, Robert Frank, and William Klein. Additionally, the proliferation of photographic magazines such as LIFE helped to create a wider audience for photography. On the gallery walls, one will find acclaimed professional photographers such as George Rodger of Magnum, Lord Snowdon, Brian Seed, and Larry Burrows. In addition, as in Hall's publications, the works of lesser-known photographers are featured alongside those of the established image-makers, and prove to be of equal technical and conceptual quality.
British Photographers at Home and Abroad is on view at the Keith de Lellis Gallery through October 22, 2016.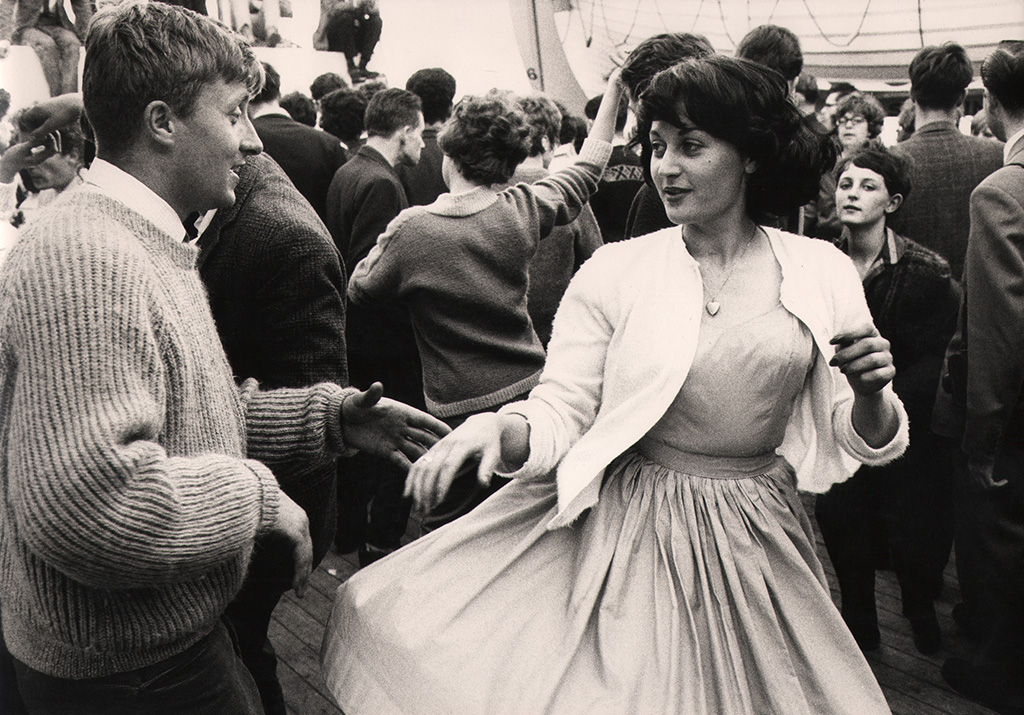 ©Philip Jones Griffiths, Dancers on board a ship, c. 1955-1962