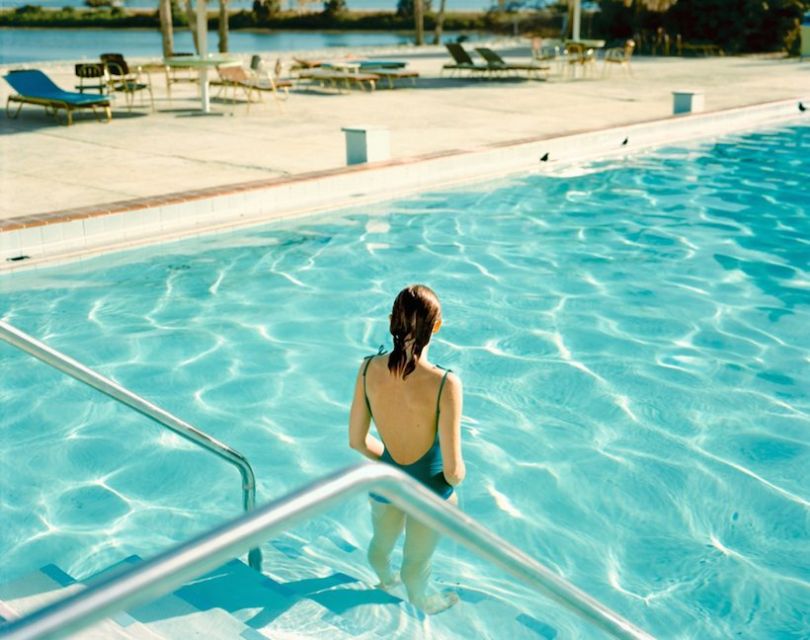 Ginger Shore, Causeway Inn, Tampa, Florida, 17 November 1977. From the Uncommon Places series. © Stephen Shore. Courtesy 303 Gallery, New York.
Expositions du 10/6/2016 au 4/9/2016 Terminé
Huis Marseille, Museum voor Fotografie Keizersgracht 401, 1016 EK Amsterdam Pays-Bas Stephen Shore was first exhibited in the Netherlands in 1970. Today, 46 years later, the work of this American photographer is regarded as having shaped contemporary photography and has inspired generations of photographers. Shore is famed both as a chronicler of the ordinary and as a pioneer of colour photography. He has never stopped exploring the boundaries of photography, and has selected subjects that were not seen as obviously photogenic. He has switched effortlessly from black and white to colour and then back to black and white, and has experimented with a wide variety of cameras and every possible format.
Huis Marseille is presenting a large, long-awaited retrospective of Stephen Shore. The exhibition covers the period 1960–2013 and shows important turning points in his career. More than 200 works will be on display in all 12 galleries of the museum. The exhibition is an initiative of the Fundación MAPFRE and was collated by Marta Dahó. After being shown at Fundación MAPFRE, Les Rencontres d'Arles and C/O Berlin, the exhibition will be on show at Huis Marseille before going on to CAMERA in Turin.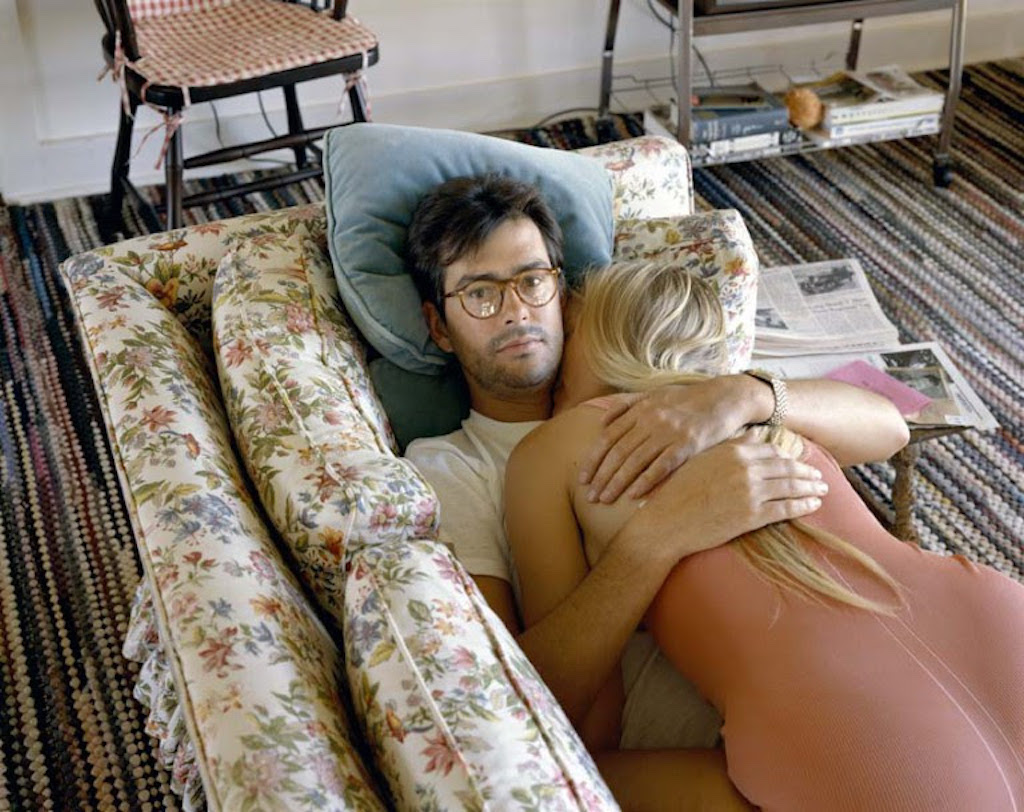 Michael and Sandy Marsh, Amarillo, Texas, September 27, 1974 © Stephen Shore. Courtesy 303 Gallery, New York
A pioneer of colour photography
In the early 1970s Stephen Shore roamed across his homeland, America, and photographed things in the same way he looked at them: unsentimentally, and devoid of artistic pretension. He photographed unspectacular subjects like motel interiors, pancake breakfasts, car parks, and lifeless intersections. He did not shrink from the use of harsh flash, and he photographed in colour, something that celebrities such as Walker Evans (Shore's great example) had deemed vulgar and which until then had been used only in advertising.
From MoMA to Andy Warhol
This retrospective also looks at his early work in black and white. Shore started developing family snaps in the darkroom at the age of six, and was given his own camera at the age of eight. On his tenth birthday his New York upstairs neighbour gave him American Photographs (1938) by the great American photographer Walker Evans. The book made an indelible impression on the young photographer and would go on to strongly influence his own work. He was 14 when he sold his first three photographs to the MoMA, and 24 when he was exhibited (as only its second-ever living artist) in the Metropolitan Museum of Art. Between 1965 and 1967 he was a regular at Andy Warhol's Factory, documenting the artist and his entourage during their day-to-day activities. In 1995 these photographs were published in The Velvet Years: Warhol's Factory 1965–1967.
Influenced by Warhol and Ed Ruscha, whose work Twentysix Gasoline Stations (1963) he met in 1968, he started experimenting with conceptual photography. For July 22nd, 1969 (1969) he photographed his friend Michael Marsh at half-hour intervals for 24 hours, and for Avenue of the Americas (1970) he walked up Sixth Avenue and took a photograph facing north at every corner between 42nd Street and 59th Street. At a time when the photographer's artistic eye was everything and 'the decisive moment' reigned supreme, Shore was searching for a way to eliminate the hand of the photographer.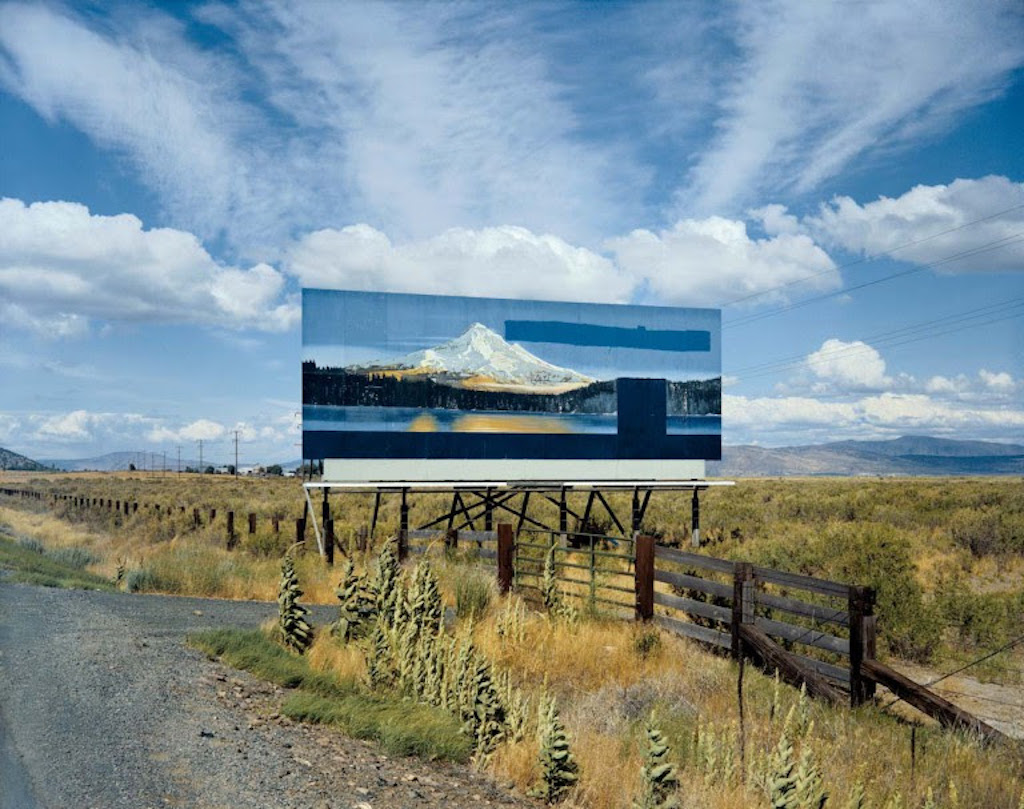 Federal Highway 97 south of Klamath Falls, Oregon, 21 July 1973. From the Uncommon Places series. © Stephen Shore. Courtesy 303 Gallery, New York
A photographic road trip through small-town America
Shore's conceptual experiments were short-lived, but working in series would go on to characterise his entire oeuvre. He quickly realised that he was skirting, rather than facing head-on, the question of subjectivity in photography, and he began actively looking for artistic conventions in order to refute them. He started by abandoning the black and white photography that was normative at the time; in the 1970s and '80s he devoted himself exclusively to colour photography. The earliest colour work in the exhibition is Greetings from Amarillo. Tall in Texas (1971), a series of postcards he created in Amarillo, Texas, the birthplace of his friend Michael Marsh. Shore photographed generic American buildings and distributed them as glossy postcards at kiosks and souvenir shops at subsequent destinations. Shown without place-names, the buildings became the monuments of an anonymous city, symbols of the uniformity of small-town America.
His visit to Amarillo was Shore's first encounter with the America outside his birthplace, New York. Numerous such road trips would follow. A grant from the National Endowment for the Arts and the Solomon R. Guggenheim Foundation funded more travels throughout America. This colour-photo crusade resulted in several extensive series. American Surfaces (1972–73) consists of hundreds of snapshots that together form a visual diary of his travels. Shore photographed everything: what he ate, where he slept, and what he saw. The series was first exhibited in the LIGHT Gallery in 1972. The garishly-lit snapshots were somewhat at odds with the work of established photographers like André Kertész and Paul Strand, both masters of black and white composition, and the work was initially given a very critical reception.
Snapshots, vast landscapes and street photography
Shore was always exploring the limits of the medium and of his own technical skills. He started with a 35mm Rollei, occasionally switching to a Mick-o-Matic, a camera shaped like Mickey Mouse's head. For the series Uncommon Places (1973–81) and Landscapes (1984–88) he moved to 4×5" and 8×10" film. The unwieldiness of the view camera and tripod required by these formats made it difficult for him to take snapshots, but they turned out to be perfect for recording large-format detail. This resulted in serene compositions of the North American urban landscape. A selection of 20 images from Uncommon Places was shown in 1975 in the now iconic exhibition New Topographics: Photographs of a Man-altered Landscape in the George Eastman House at Rochester in upstate New York. The exhibition included work by Robert Adams, Lewis Baltz and Bernd and Hilla Becher, and it marked a break with traditional landscape photography.
In the 1970s Shore, together with William Eggleston and Joel Meyerowitz, was one of the few photographers working in colour. Twenty years later nobody was still working in black and white. Once again Shore turned his back on convention with his two series Essex County (1992–95) and Archaeology (1994): detailed black and white documentations of tree barks, stones, and archaeological digs. Shore's technical genius and urge to innovate was also evident in New York City (2000–02), a series of gigantic street photographs in the Gary Winogrand tradition, but made using the same cumbersome 8×10" view camera that he used for his landscapes.
For his recent colour work Shore has travelled to the Ukraine to document the lives of Holocaust survivors. For him, Ukraine (2012–13) explores an unusually charged subject. The most recent work in the exhibition is Winslow Arizona (2013), made at the invitation of the artist Doug Aitken. In Aitken's 'nomadic happening' Station to Station, a train made a three-week journey from New York to San Francisco, with artists and performers organizing an event at each stop. On one of these stops Shore spent the day photographing Winslow, a location that has regularly appeared in his work ever since the 1970s. These photographs were screened at a drive-in, unedited, and in the order in which he printed them. This series is now being shown in the Netherlands for the first time.
Stephen Shore (1947, New York City) lives and works in New York. He gained fame at an early age as a pioneer of the use of colour in art photography and is regarded today as one of the greatest names in modern art photography. He sold his first work to the MoMA at the age of 14, and at the age of 23 he was given a solo exhibition at the Metropolitan Museum of Art – the first living photographer with this accolade since Edward Steichen, 40 years earlier.
His photographs and photographic series have appeared in many books, including his own publications Uncommon Places: The Complete Works (1982), Essex County (2002), The Velvet Years, Andy Warhol's Factory, 1965 – 1967 (1995) and American Surfaces, A Road Trip Journal (1972). His work has been exhibited all over the world, including at the MoMa in New York, the Tate Modern in London, the Whitney Museum in New York, C/O in Berlin, the Jeu de Paume in Paris and the Fotomuseum Winterthur in Switzerland. His work has also been acquired for collections including those of the MoMA in New York, the Pinakothek der Moderne in Munich, and the Deutsche Börse in Frankfurt. Since 1982 Shore has been director of the photography programme at Bard College in New York State.
Catalogue
The exhibition is accompanied by a catalogue, Stephen Shore: Survey (2014), published by Fundación MAPFRE and Aperture, with an interview by David Campany and texts by Marta Dahó, Sandra S. Phillips and Horacio Fernández.