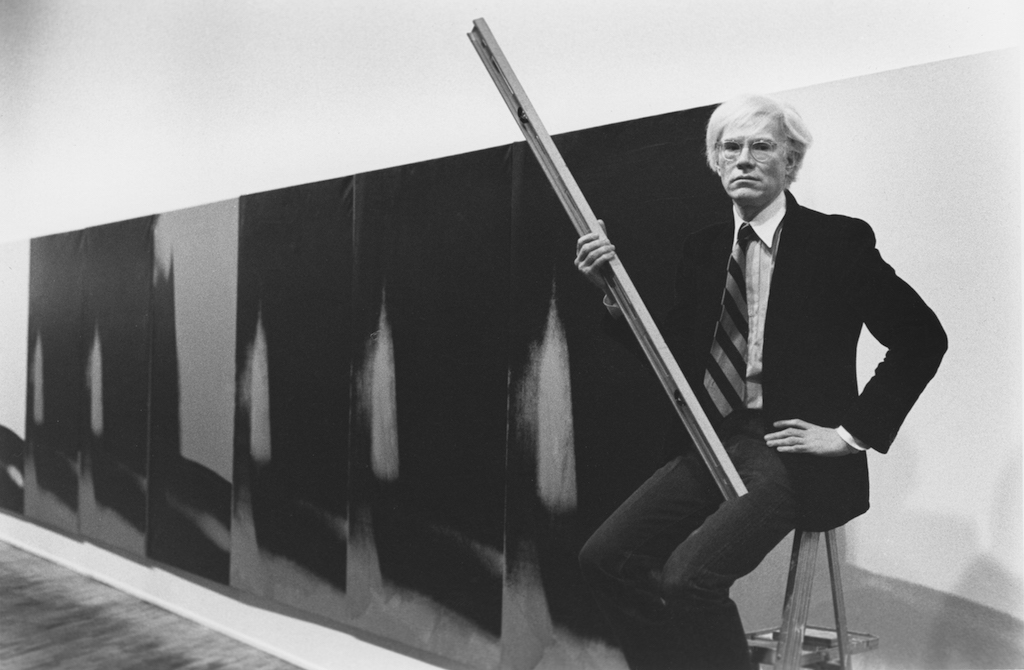 Andy Warhol Andy Warhol (1928-1987) in front of the Shadows at the Heiner Friedrich Gallery, New York, 1979 Photo: © Arthur Tress © Courtesy Dia Art Foundation, New York © The Andy Warhol Foundati
Expositions du 22/2/2016 au 2/10/2016 Terminé
Guggenheim Museum Bilbao Avenida Abandoibarra 2 48009 Bilbao Espagne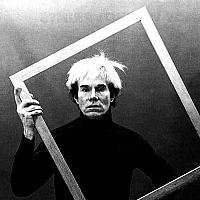 At 50 years old, Andy Warhol, the irreverent Pop Art icon, and chronicler of an era, embarked upon the production of a monumental artwork titled Shadows with the assistance of his entourage at the Factory. The work formalized earlier explorations with abstraction, seen the previous year in the Oxidation, Rorschach, and Camouflage paintings. In contrast to the Oxidation or Piss paintings, achieved through a process of staining in which a canvas coated in copper reacted to the acidity of urine spilled or dripped on it, the Shadows panels are silkscreened canvases. To understand the radical implications of Warhol's Shadows, one must begin with the work's form: the Shadows series was conceived as one painting in multiple parts, the final number of canvases determined by the dimensions of an exhibition space. In its first public presentation, only 83 canvases were shown. They were installed edge to edge, a foot from the floor, in the order that Warhol's assistants, Ronnie Cutrone and Stephen Mueller, hung them.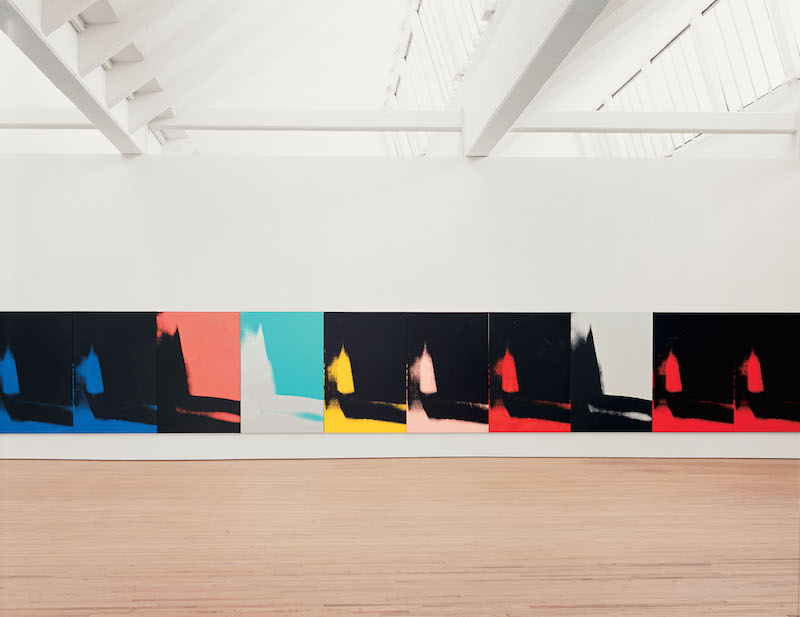 Andy Warhol
Shadows, 1978–79
Dia Art Foundation
View of the installation: Dia:Beacon, Beacon, New York © The Andy Warhol Foundation for the Visual Arts, Inc. / VEGAP
Photo: Bill Jacobson
The canvases, which were primed and coated with acrylic paint prior to the printing of the image, show Warhol's signature palette of bright hues with cheerful excess. While the color palette used for the grounds of the Shadows includes more than a dozen different hues, certain colors that are characteristic of his larger body of work—the translucent violet of Lavender Disaster, 1963, or the aqua green of Turquoise Marilyn, 1964—are present. Unlike the surfaces of earlier paintings, in which thin layers of rolled acrylic paint constituted the backgrounds onto which black pixelated images were silkscreened, the backgrounds of the Shadows canvases were painted with a sponge mop, whose streaks and trails add "gesture" to the picture plane. Seven or eight different screens were used to create Shadows, as evidenced in the slight shifts in scales of dark areas as well as the arbitrary presence of spots of light.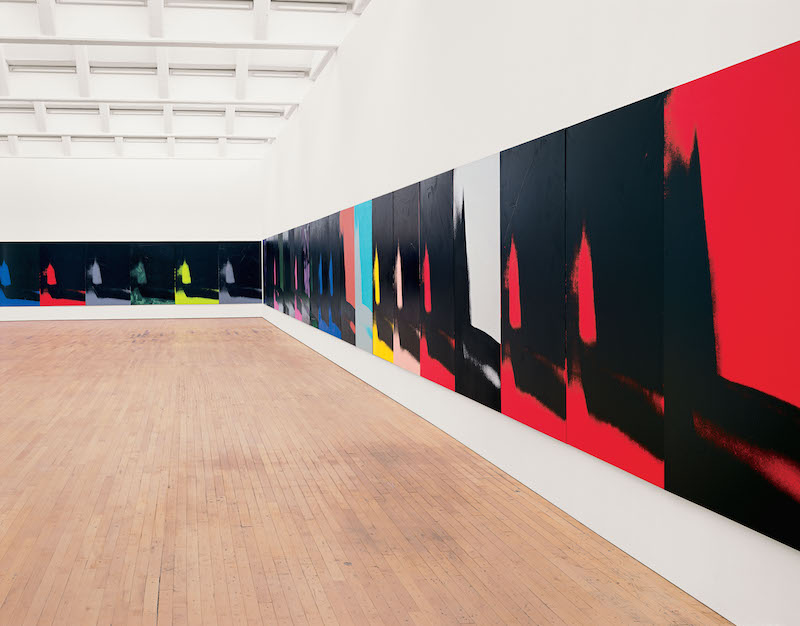 Andy Warhol
Shadows, 1978–79
Dia Art Foundation
View of the installation: Dia:Beacon, Beacon, New York © The Andy Warhol Foundation for the Visual Arts, Inc. / VEGAP
Photo: Bill Jacobson
The "shadows" alternate between positive and negative as they march along the walls of the gallery. Despite the apparent embrace of repetition, Warhol's "machine method" is nothing but handmade. A significant and intriguing fact about Shadows is the irreproducibility of its assumed reproduction, a point that problematizes his aesthetic of "plagiarism" and positions Warhol's project as one that is primordially pictorial. This revelation, previously inferred by curator Donna De Salvo in the catalogue for the Tate Gallery's 2001 retrospective of Warhol's work, is crucial to our absorbing this monumental series 39 years after it was created. As De Salvo observed, "each of the visual strategies operative in these paintings is the same as those used some 17 years before. As with the earlier silkscreen paintings, although we at first believe each canvas to be the same—a belief emphasized here by the repeated patterns of the shadow—they are not." Far from replicas, each Shadow corresponds to a form that reveals its space with precision and self-awareness, directing the spectator's gaze to light, the central subject of the series. By focusing on the shadow to devise light as sparks of color, Warhol returns to the quintessential problem of art: perception. As he asserted, "when I look at things, I always see the space they occupy. I always want the space to reappear, to make a comeback, because it's lost space when there's something in it."