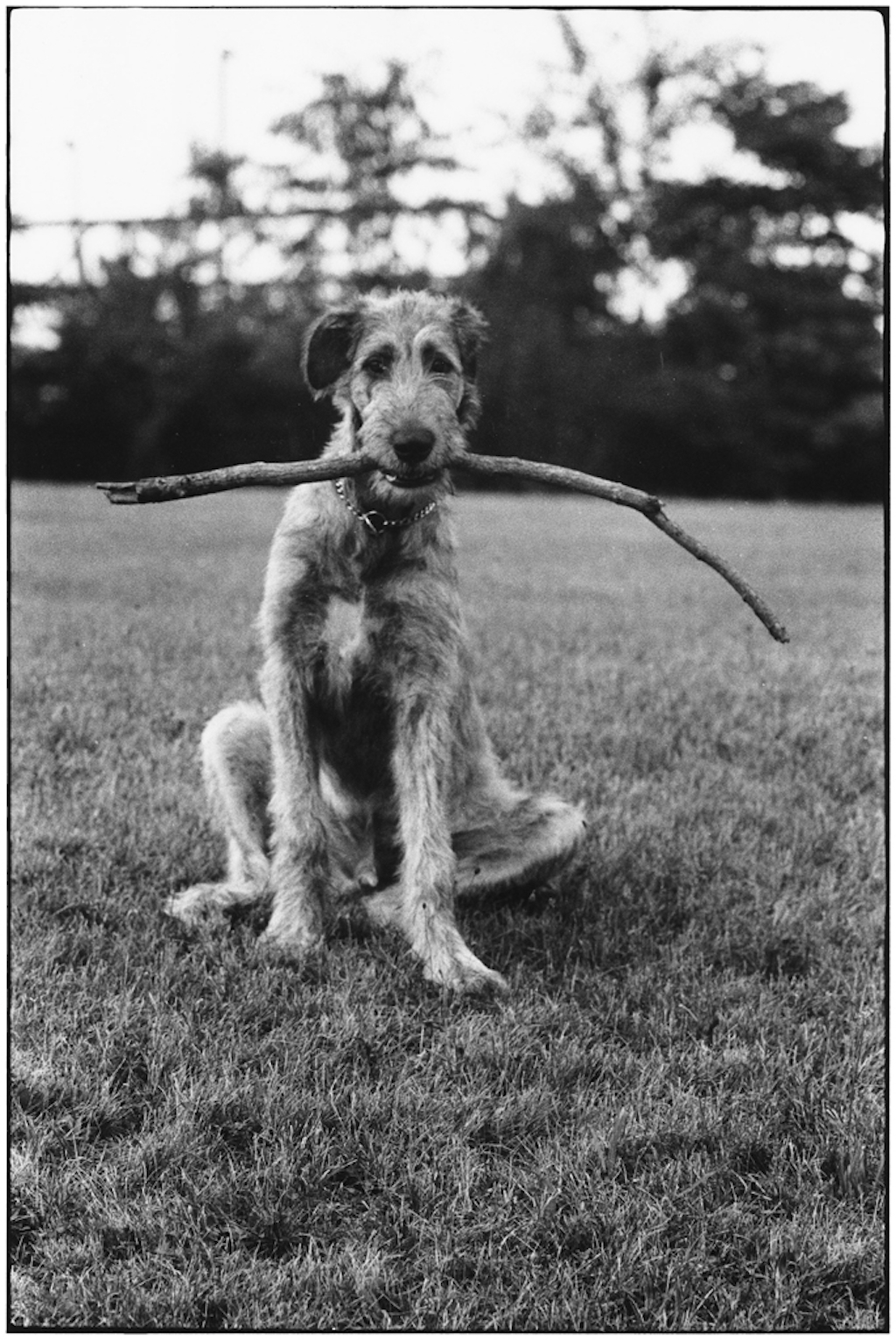 Elliott Erwitt, USA, New Jersey, 1971, courtesy of Elliot Erwitt/MAGNUM PHOTOS and PDNB Gallery, Dallas, TX
Expositions du 12/9/2015 au 14/11/2015 Terminé
PDNB Gallery 1202 Dragon Street, Ste. 103 Dallas 75207 Texas États-Unis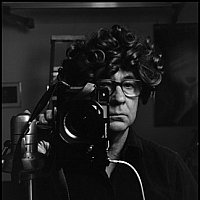 "Making people laugh is one of the highest achievements you can have. And when you can make someone laugh and cry, alternately, as Chaplin does, now that's the highest of all possible achievements. I don't know that I aim for it, but I recognize it as the supreme goa
l."
PDNB Gallery is proud to announce its first solo show for one of the great masters of photography from the 20th Century, Elliott Erwitt (Elio Romano Erwitt, French born, 1928). This celebrated artist has created memorable images since he was a teen. Erwitt's Russian parents lived in Paris when he was born, they then moved to Italy. Erwitt spoke Russian, French and Italian before moving at the age of eleven to New York. The constant demand to learn new languages could have helped promote his visual acumen, which enabled him to read people. At age 18, after graduating from high school at Hollywood High in Los Angeles, he moved back to New York as a serious photographer. He had a business camera and a hobby camera that he took personal photographs with, or what he called, "snaps".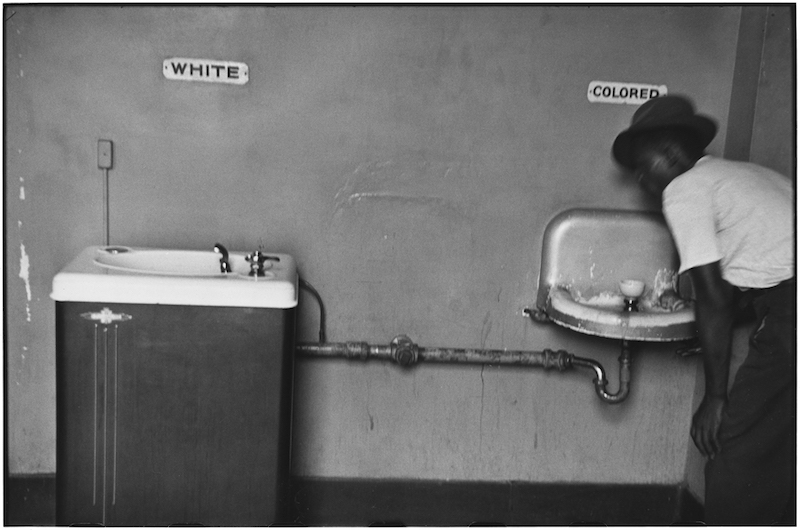 Elliott Erwitt, USA, North Carolina, 1950, courtesy of Elliot Erwitt/MAGNUM PHOTOS and PDNB Gallery, Dallas, TX
"
One of the first dog-related jobs was for a New York Times Sunday Magazine fashion assignment about women's shoes. I decided to photograph them from a dog's point of view because dogs see more shoes than anybody.
" He was drafted into the Army in 1951, but before then had met the famous photojournalist, Robert Capa. Capa had requested that he get in touch with him after his military service. In 1953, Erwitt did follow up and was asked to join Magnum Photos, the highly regarded photo agency founded by Robert Capa Henri Cartier-Bresson, George Rodger and David "Chim" Seymour. Erwitt's career with Magnum has spread across decades. One of his most requested images is from the Civil Rights era, North Carolina, 1950, showing a black man drinking from a "colored" fountain.
Dogs have been a favorite subject of Erwitt's photographs. In this exhibition we will feature several.
"I prefer to photograph French dogs. They have personality, although I can't explain why…not a single national personality, but personality period."
He had a knack for finding humorous moments in an instant. He would say, "Something coming up here" then snap the moment. 4 He used a range-finder Leica, a small, fast, less noisy camera that allowed quick reaction, remaining mostly anonymous to his subjects. John Szarkowski, Curator of photographs at the Museum of Modern Art once said about Erwitt,"[Erwitt's] s
ubjects seem the patient victims of unspecified misunderstandings…Over their inactivity hangs the premonition of a pratfall."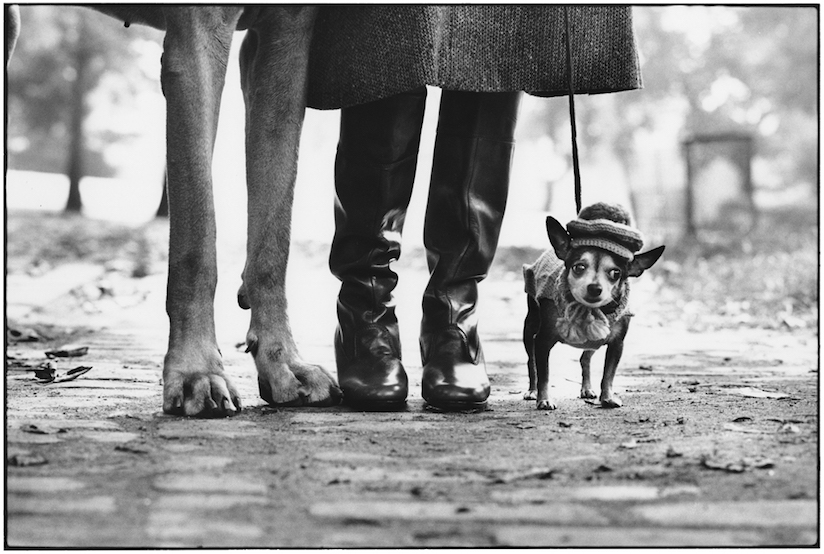 Elliott Erwitt, USA, New York City, 1974, courtesy of Elliot Erwitt/MAGNUM PHOTOS and PDNB Gallery, Dallas, TX
This exhibition will include many of Erwitt's most recognized images, including the reflection of the kissing couple in the car's rearview mirror; a shot of a Chihuahua, Great Dane and woman's boots taken from a dog's point of view, a candid image of Marilyn Monroe on the movie set of The Misfits, and a sculpture (of Goddess Diana?) shooting an arrow at a man down the hall in a museum.These are images that make you laugh. And Elliott is the person that makes it happen because he is a humorous man himself. Simply put, the last waggish line of his biography on his website reads, "
Eliott Erwitt likes children and dogs.
"
Elliott Erwitt's photographs are in countless museum collections around the world. Many monographs have been published including:
Personal Best, Between the Sexes, Son of Bitch and Photographs and Anti Photographs .