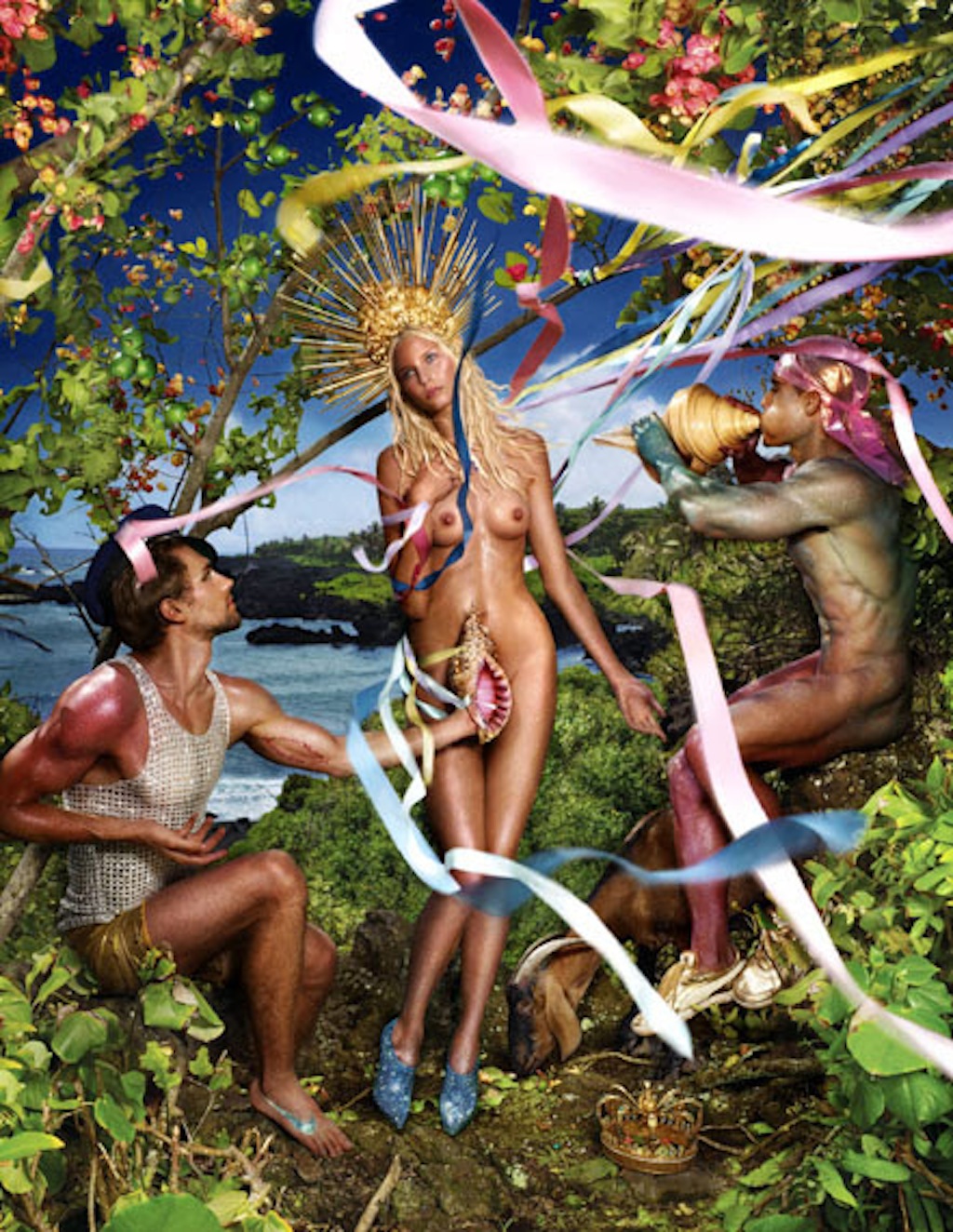 David LaChapelle Rebirth Of Venus, 2009 © David LaChapelle
During the past three decades, David LaChapelle has created an extraordinary and unmistakeable oeuvre. He has worked with innumerable pop and film stars, and his powerful, provocative, humorous, glamorous, but also surreal and usually extremely colourful works have had a lasting influence on the world of photography and the aesthetics of the visual realm.
The gallery OstLicht presents the exhibition "ONCE IN THE GARDEN", featuring well-known icons of the last twenty years like Amanda Lepore: Addicted to Diamonds, Celebrity Gleam and Amanda as Andy Warhol's Liz Taylor alongside three of his latest groups of works: Earth Laughs in Flowers, Gas and Land Scape.
Through his exploration of subjects like spirituality and religion, personality cult and physicalness, and by questioning social norms of gender and sexuality, David LaChapelle has managed to influence public awareness. He is not a photographer in the classical sense – rather, he is an image-maker, a storyteller. His visual world is inspired by widely divergent sources like pop culture, the baroque and renaissance world, art history, movies, pornography and even the Bible. David LaChapelle is a master of posing existential questions by utilising commonplace props of the consumer world to create hyper-real settings featuring gleaming and perfect bodies, and by creating an almost bizarre tension between alienation and attraction. Nature as the foundation of our being, confronting each of us in our nakedness, is present as a formative element in the artist's recent work.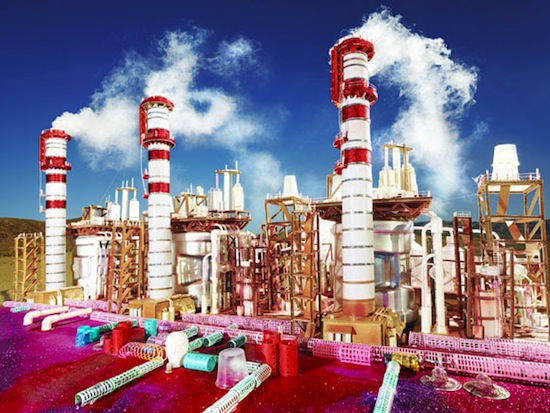 David LaChapelle Land Scape: Kings Dominion, 2013
© David LaChapelle
In the series Earth Laughs in Flowers (2008-2011) LaChapelle deals with the transience of life and beauty, borrowing from floral still lifes of the baroque era. In the realm of this Vanitas imagery, plants, fruits and objects testify to the vanity and finite nature of life. These traditional emblems, however, are combined by the artist with objects of daily life that are only noticed at second glance: burning cigarettes, old mobile phones, electronic appliances or plastic bottles serve as modern metaphors of transience in our fast-paced throw-away society.
In his most recent series, Gas and Land Scape, LaChapelle examines global oil production and its infrastructure, which is anything but sustainable. The photographs show gas stations and refineries in lighting settings that vary between kitschy and eerily surreal. However, these are not real buildings, but true-to-scale models made from recycled materials, egg cartons, computer motherboards, tea canisters, curlers, straws and other recyclable products manufactured from crude oil. In elaborate stagings, LaChapelle photographed these models in the rain forest in Maui (Gas Stations), in the desert and along the Californian coastline (Refineries). This is also an enigmatic commentary by which LaChapelle wants to inspire the viewer's self-critical reflection about the relentless exploitation of our planet: "These buildings are artefacts of a fallen civilization," he told the magazine AD in an interview. "If some future archaeologist were to uncover a gas station, like our archaeologists uncover Incan temples, that would be an indicator of what made this civilization rise and fall."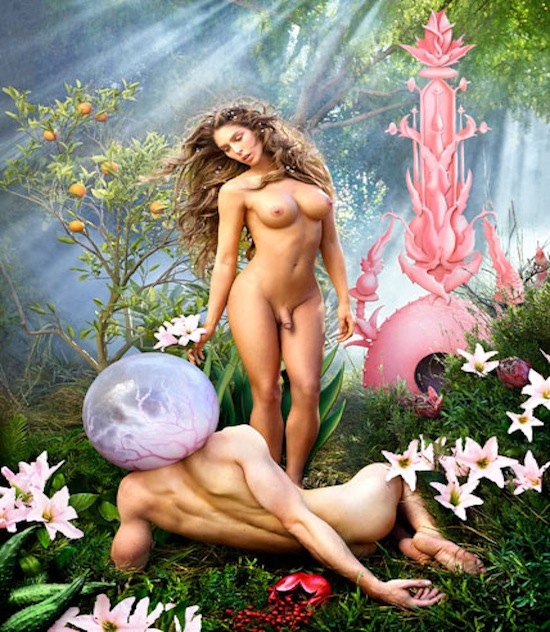 David LaChapelle Once In The Garden (1), 2014
© David LaChapelle
Once in the Garden, finally, is David LaChapelle's most recent work and is exhibited as part of the show. Not only did it inspire the title of the OstLicht exhibition, but it is also the title image of the 2014 Life Ball. The diptych makes LaChapelle's grounding in art history particularly apparent. Motifs like the pink fountain of life and the reclining youth with a fantasy head are strongly reminiscent of Hieronymus Bosch's The Garden of Earthly Delights (ca. 1500). In his own version of a surreal paradisiacal garden, LaChapelle stages the transgender model Carmen Carrera, giving a strong voice to an issue close to his heart: that love knows no gender boundaries.
Furthermore, Self Portrait as House, presumably LaChapelle's most personal work, is shown for the first time in Europe at OstLicht.