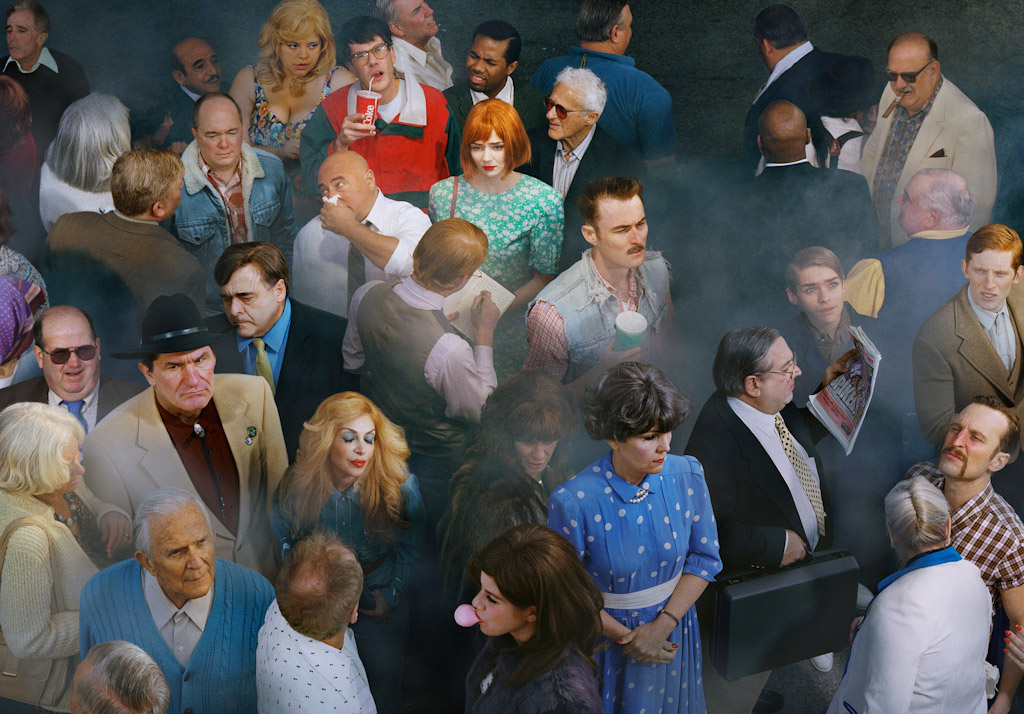 For ten years, Los Angeles artist Alex Prager has staged imaginary scenes for her camera—dream worlds in Technicolor, rife with tension and melodramatic fictions. Deftly blending archetypes from post-war America, her images have re-enacted and burlesqued media portrayals of women, drawing from classic Hollywood movies, fashion advertising, and icons of documentary photography. Face in the Crowd, Prager's first solo museum show in the United States, presents her latest body of work by the same title.
As Prager's most ambitious and complex series to date, Face in the Crowd features large-scale photographs of people assembled in congested public spaces such as an airport terminal, lobby, beach, and movie theater. Blurring the line between fiction and reality, Prager directed the actions of hundreds of actors in costume on specially constructed sets. Densely detailed and shot from seemingly impossible vantage points, these scenes enact psychological narratives of private and public revelation, repulsion, fear, and the desire for basic human interaction and personal safety. The stories of various characters within these crowds culminate in a new film featuring actress Elizabeth Banks.
Together, the film and the photographs uphold a portrait of the individual within the complexity of the larger crowd. Prager's focus on this dynamic can be traced to specific influences: silent films like Charlie Chaplin's Modern Times; street photographers Mark Cohen, Bruce Gilden, and Weegee; the darkness and the humor from Roy Andersson's film Songs from the Second Floor; and the well-known children's book Where's Waldo? The characters maintain their own agency within their cinematic circumstances, and Prager—fascinated with the notion of identity and the performative aspects of public life—creates a universe where the true spectacle is the crowd that gathers.
Alongside this new work, the Corcoran's exhibition will feature a selection of earlier photographs as well as her videos Despair (2010), La Petite Mort (2012), and Sunday (2012).