© Ansel Adams: Snake River 1942, courtesy Ansel Adams Publishing Rights Trust
Expositions du 1/6/2013 au 2/9/2013 Terminé

PHOTOKUNST Fasanenstr. 69 10719 Berlin Allemagne

The Mariners Museum 100 Museum Drive VA 23606 Newport News États-Unis


FRAGILE WATERS premiers at The Mariners Museum, Newport News, Virginia, the first of five scheduled U.S. museum venues.

FRAGILE WATERS calls attention to water, the critical resource, in all its beauty and power, presenting inspirational work of three renowned photographers; Ansel Adams, Ernest H. Brooks II, and Dorothy Kerper Monnelly.

Water is more than a resource. It is essential to all the life we know. Yet our oceans, rivers, lakes and other sources of water are in crisis. Extreme weather events, aquifer depletion, rights of access, toxic contaminants, fracking, pollution, floods, desertification, and the impact of rising seawater on urbanized deltas, are just a few of the water-related issues that confront us. The FRAGILE WATERS exhibition was born out of this concern.

The black-and-white photographs by these three artists comprising the 117 images of FRAGILE WATERS, present a powerful collective statement. These artists communicate the beauty and vitality of water, focusing on nature and engaging the viewer in affirming the intrinsic aesthetic, emotional and essential life value of water. In techniques and time these photographers span a century. Ansel Adams' early years as a budding artist photographer burdened with cumbersome 8 x 10 glass plate negatives whilst traveling unpaved, washboard roads in pursuit of unspoiled nature, laid a foundation for his legendary technical mastery. Adams pre-visualized images, expertly crafting elegant iconic landscapes where he intensified and purified the experience of natural beauty, capturing the sublime magnificence of wilderness. Ernest H. Brooks II, one of the foremost underwater landscape photographers, began photographing primarily using his Hasselblad in a special housing, chronicling a wilderness unknown to most of us. More recently, Brooks captured infrared images of light on eerily calving Antarctica icebergs. Dorothy Kerper Monnelly's intimate portrayal of the beauty of conserved marshes of Massachusetts takes on greater importance as swamps and marshlands increasingly vanish in the face of urban development. Monnelly carries her large 4x5 format camera equipment through the marshes to catch the magic of dawn. These three artists demonstrate the beauty of — and reverence for — the nature that inspires them.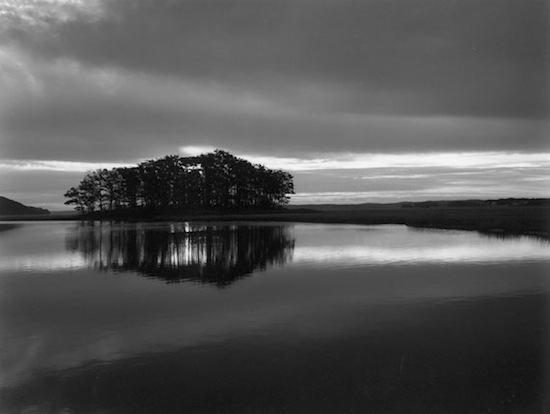 © Dorothy Kerper Monnelly: "Witch Island, Daybreak," 2002



FRAGILE WATERS was curated by Jeanne Falk Adams, former CEO of The Ansel Adams Gallery, and daughter-in-law of Ansel. Her expertise in the field has made her a much-sought-after reviewer, juror, and lecturer. Adams' long involvement in environmental issues has convinced her that aesthetics, and black-and-white photography in particular, can alert, inspire, communicate, and motivate. Based on this premise, she took on the formidable task of curating FRAGILE WATERS, a subject matter close to her heart.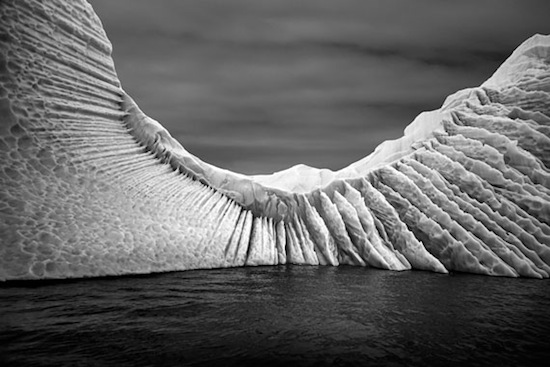 © Ernest H. Brooks II: "Winged Wall," 2010