© MICHEL COMTE, JEREMY IRONS WITH MONOCLE, LONDON, 1990
Expositions du 9/3/2013 au 1/6/2013 Terminé
Camera Work Gallery Kantstraße 149 10623 Berlin Allemagne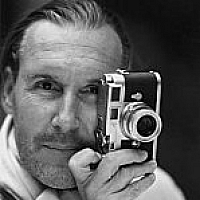 CAMERA WORK is pleased to present the solo exhibition of the photographer Michel Comte, starting on March 9, 2013. With more than 100 photographs the gallery gives an extensive insight into Michel Comte's impressive artistic accomplishment. He is considered one of the most significant contemporary fashion and society photographers. His individual visual aesthetics characterized the 90's and until today mostly influenced fashion photography.

Top models
From Nadja Auermann to Gisele Bündchen or Helena Christensen up to Tatjana Patitz and Alek Wek: Michel Comte counts as one of the most important photographers who photographed the world-famous top models of our history in exceptional mis-en-scenes. The unconditional trust in Michel Comte's artistic understanding and the »relationship« to him result in unimagined scenarios and obvious abandonments that are reflected in the photographs. Whether it's Cindy Crawford, posing as a pin-up-girl or the sensual-erotic and engrossed in her thoughts looking Helena Christensen, the photographs are surrounded by a tangible aura that evolves through the mutual game between Michel Comte and the model. The famous nude of Carla Bruni is an outstanding example for Comte's special feeling for fragility that prevails in a split second moment of suspense. The world famous photograph, sold in 2008 at a Christie's auction for $91.000, is a rare vintage-silver-gelatine print and part of the exhibition at CAMERA WORK.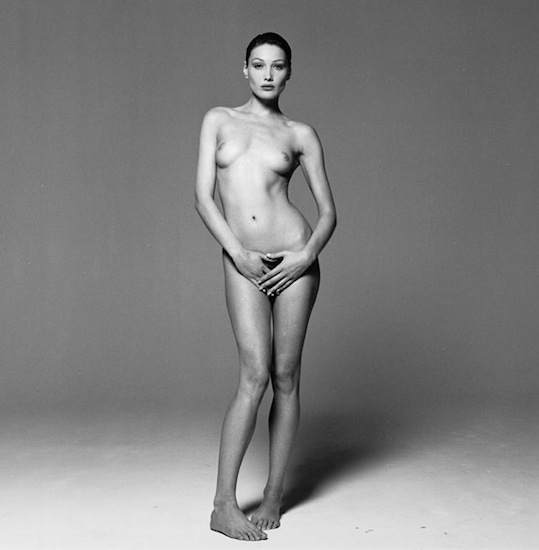 © MICHEL COMTE, CARLA BRUNI, 1993

Personality determines style
Furthermore, Michel Comte's special access into the personalities is revealed in portraits of meaningful personalities from film, culture, sports and music. The artist sees the inevitable base for the realization of his creativity and the acting out of his own premises in the unconditional access to his sitters, their personality structure, charisma as well as their physical and inner appearance. Imagery, color and structure do not have overstated patterns. Michel Comte's aesthetic line is mostly defined by the artistic diversity and candor, a cinematic view and through the experimental use of numerous stylistic devices. These adapt to the particular sitters- each personality evokes in Comte's work a specific imagery that delineates from the »soul« and appearance. Comte's portrait of Boy George reflects the eclectic and extravagant appearance of the musician, the atmospheric and symbolic photograph of Jörg Immendorff equals a personality study and Anna Nicole Smith underlines in her portrait with a pose and yellow orange characterized colors her public image of a sex symbol.


Photographs from »The Girl from Nagasaki«
Next to the most famous works from his artistic career, CAMERA WORK will moreover present new and unseen photographs from Michel Comte that originated during the shooting of his much anticipated movie »The Girl from Nagasaki«. Michel Comte, while being director and producer with his wife Ayako Yoshida, as a stills photographer also created impressive photographs that on the one hand show exciting insights into »The Girl from Nagasaki« and on the other hand are breathtaking and sublime photographs that are cinematically fascinating. Personal portraits of Christopher Lee, the in 2012 deceased Anna Orso, and exotic appearing photographs of Geishas or action packed photographs from another world will be part, amongst other works, of the new exclusive selection of photographs from the movie. Furthermore, an imposing book with these photographs will appear.»The Girl from Nagasaki« is contemporary retelling of Puccini's classic opera »Madame Butterfly«, and was shot in Japan, Germany, the United States and Italy. The film features a multi-generational, international cast and is presented in Comte's inimitable, lush visual style is shot in 3D live action including musical performances, contemporary ballet, and original animated sequences. It tells the story of a desirable and sinless woman whose love for a narcissistic man ends in a tragedy. Next to Christopher Lee, Robert Evans, Marianne Faithfull, Nobu Matsuhisa, Michael Nyqvist, Edoardo Ponti, Clemens Schick, Polina Semionova, Michael Wincott, Ayako Yoshida, and Lisa Zane are also part of the impressive cast of the movie, coming out end of 2013.
With the legendary vintage photographs of world famous celebrities and the new photographs out of the movie »The Girl from Nagasaki«, that tell a story in an artistic manner, CAMERA WORK shows in this exhibition an appealing area of tension between two photo genres that, despite their different aesthetics, share the same artistic feeling and versatility of Michel Comte.


About Michel Comte
Michel Comte was born in Zurich in 1954. He is the son of a Swiss aviation pioneer, Alfred Comte. Michel Comte first completed an apprenticeship as a restorer before he taught himself photography. When he was 25 Comte got employed by Karl Lagerfeld and Chloe for a big advertisement campaign and started working in Paris. He then moved to New York when he started to produce numerous campaigns for the American »Vogue«. Within a few years Comte became one of the most popular and asked photographers worldwide. He produced significant photo series for leading magazines such as "Harper's Bazaar", "Vanity Fair" or "Vogue" and sustainably influenced photography.
Alongside his different Genres, Michel Comte also developed interest for report and documentary photography and worked as a reporter for the international Red Cross. Michel Comte's photographs are part of numerous prestigious collections and are exposed in international exhibitions. The artist lives in New York.