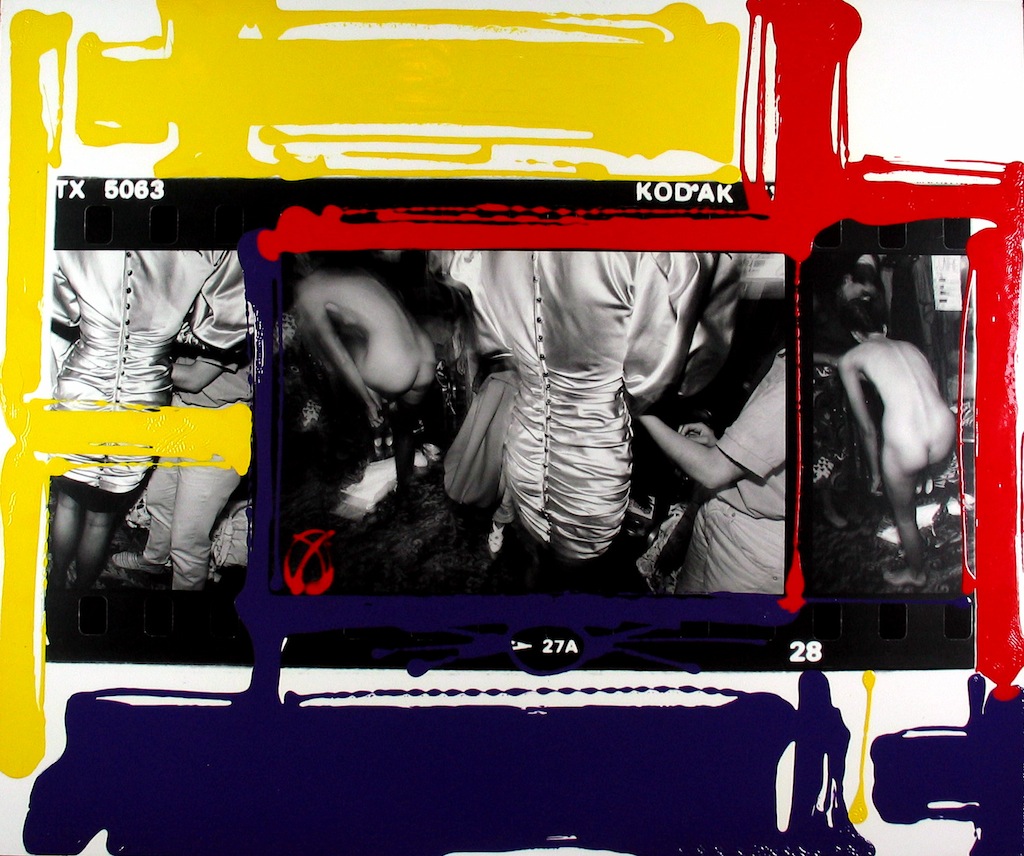 William Klein, Backstage, Ungaro, Paris, 1992; painted 1999 Painted contact print, 19 5/8 X 23 5/8 inches © William Klein/Courtesy Howard Greenberg Gallery
Expositions du 1/3/2013 au 27/4/2013 Terminé
Howard Greenberg Gallery 41 East 57th Street Suite 1406 New York New York États-Unis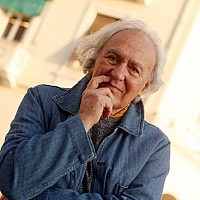 New York – An exhibition of rarely seen photographs and paintings by artist William Klein, one of the leading photographers of the postwar era as well as an influential filmmaker, painter, and graphic artist, will be on view at Howard Greenberg Gallery from March 1 – April 27, 2013. A reception will be held on February 28 from 6-8 p.m.

WILLIAM KLEIN: PAINTINGS, ETC. will unveil his early paintings and experiments in photography spanning nearly half a century from the 1940s through 1990. The foundations of his visual language are evident as his ever-progressive trajectory is traced through painting, photography, books, and film.

The exhibition is accompanied by two new books on William Klein, PAINTINGS, ETC. (Contrasto, December 2012) and the forthcoming William Klein: ABC (Abrams, March 2013). An exhibition at Tate Modern in London is on view until January 20, 2013. A recent BBC documentary, The Many Lives of William Klein, chronicled artist's career from Paris where he currently lives.

A native New Yorker, William Klein began his career as a painter, first studying with Fernand Léger, yet his paintings have scarcely been seen or published since they were first exhibited in the early 1950s. Together with paintings from the late 1940s and early 1950s, the exhibition will include abstract silver gelatin photomurals, and the first in a series of monumental painted Mural Projects, all conceived between 1950 and 1953, and only now realized at full scale. These will be shown alongside his early black and white images of New York, fashion with light drawings from the 1960s, and Painted Contacts, enamel painting on blown-up contact sheet outtakes from the 1960s through 1990.

An additional exhibition from March 1-March 23 in Howard Greenberg Two next to the main gallery will showcase Klein's pioneering New York street photography from the 1950s. Klein was hired as a photographer for Vogue magazine in 1956, and his groundbreaking fashion photography, which took the models out of the studio and onto the streets, will also be on view.

The exhibition and accompanying publication are co-produced by Howard Greenberg Gallery and HackelBury Fine Art Ltd., London.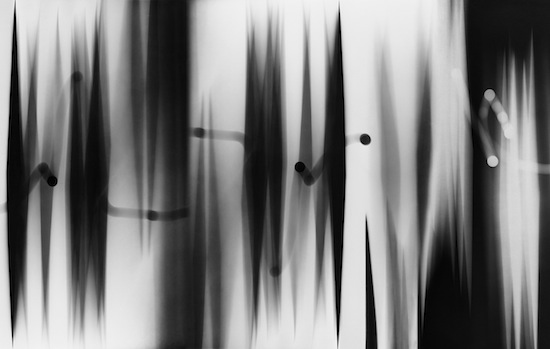 William Klein, Vertical Diamonds, 1953-2012.
Gelatin silver print, printed later, 48.03 x 75.71 inches
© William Klein/Courtesy Howard Greenberg Gallery




About William Klein

After initial training at the Sorbonne as part of the post-war G.I. Bill, New York-born William Klein spent a brief period in the Paris studio of Fernand Léger. He exhibited figurative paintings and abstract Mural Projects together in Milan in 1952. At this time he was commissioned by the architect Mangiarotti to paint murals onto a series of turning panels, creating endless combinations of pattern and form. A chance discovery when documenting the panels photographically was a revelation: captured as they were revolving, a new energy and dynamism was introduced into the geometric abstractions. The process of photography enabled an exploration of scale, form, and movement that informed all that followed. The resulting abstract photographs and revolving panels were exhibited in Paris at the Salon des Réalités Nouvelles in 1953, where they were seen by Alexander Liberman from American Vogue. A meeting ensued and Klein was offered a contract to join Vogue for special projects and later for experimental fashion photos, and it was agreed that Vogue would finance a book on New York.

Returning to New York, Klein let loose on the city, taking fashion photography in a whole new direction; capturing beauty and the grotesque all within wide-angle and telephoto shots. Taking the models out of the studio and onto the streets, his revolutionary techniques pioneered a new vision. Simultaneously he was producing the book; Life is Good and Good For You in New York: Trance Witness Revels (1956). Capturing the rough and tumble of daily life on the mean streets of New York and harnessing the explosive energy of the city through juxtapositions and bold captions, Klein's brutally honest images and uncompromising vision caused a major a sensation. Although Vogue declined to publish it in the U.S., maverick filmmaker Chris Marker championed the project to be published in Paris. It went on to win the Prix Nadar in 1957. Three more books were published, each with photography from a different city, Rome in 1958-59, followed by Moscow and Tokyo in 1960. These four publications are highly sought after today, and Klein is widely acknowledged as a significant innovator in the history of the photo book.

William Klein is also an accomplished and highly respected filmmaker, beginning his foray into the moving image in 1958 with the first Pop film Broadway by Light. Omnipresent in each of Klein's films is the same uncompromising vision that characterizes his still images. Abandoning photography in the mid-1960s to focus his attention on filmmaking, Klein produced a portfolio of iconoclastic films including Cassius the Great, later re-edited with new footage as Muhammad Ali, The Greatest; The Little Richard Story; Far From Vietnam; and experimental films such as Mr. Freedom and Qui-Êtes Vous Polly Maggoo. His last film to date Messiah (1999) reveals on an epic scale a summary of the themes present throughout his artistic career.

Klein returned to still photography in the 1980s, ever progressive and unrelenting in his approach. Revisiting his work to that date, he made large-scale blow-ups of his photographic contact sheets, revealing on an unparalleled scale the frames before and after the decisive image. Liberally applying gloss brush strokes in bold colors to these mural-sized prints, Klein brought together key elements from his long and varied career: graphic form, composition, and color from the early murals and paintings juxtaposed with groundbreaking fashion and street photographs, along with the narrative and bold visual language of his experimental films. It was a defining moment where his unique vision came full circle.

In 1963 at Photokina, Cologne, Klein was named one of the 30 most important photographers of the century. In 1989, he was made a Commander of Arts and Letters in France. Subsequently in 1990, he won the prestigious Hasselblad Award and in 1999 he was awarded the Medal of the Century by the Royal Photographic Society in London. In 2007, he received the International Center of Photography Infinity Award for Lifetime Achievement, and more recently in April 2012, he was awarded the Outstanding Contribution to Photography Award at the Sony World Photography Awards.

At the age of 84, Klein continues to live and work in Paris, France.




Vignette & photo © William Klein/Courtesy Howard Greenberg Gallery