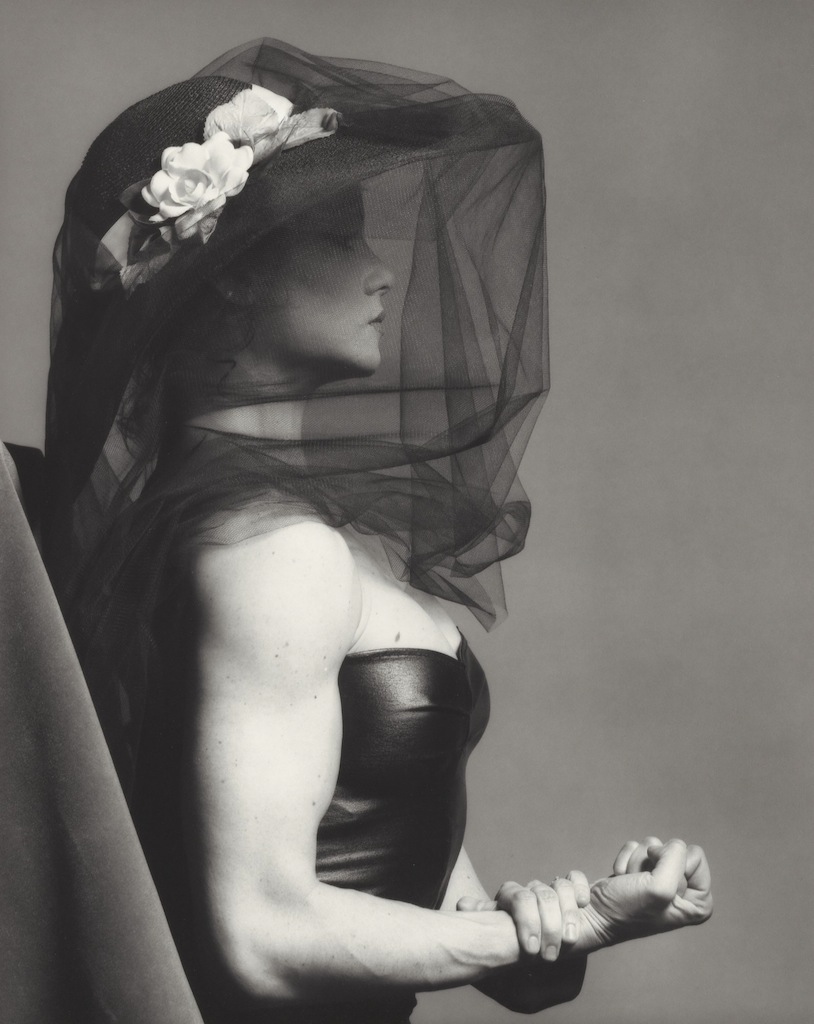 © Robert Mapplethorpe Foundation
Expositions du 23/10/2012 au 24/3/2013 Terminé
Getty Museum The Getty 1200 Getty Center Drive, Suite 403 CA 90049 Los Angeles États-Unis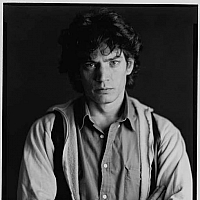 Robert Mapplethorpe (American, 1946–1989) is one of the best-known and most controversial photographers of the second half of the 20th century. As a tastemaker and provocateur, his highly stylized explorations of gender, race, and sexuality became hallmarks of the period and exerted a powerful influence on his contemporaries. In recognition of the 2011 joint acquisition of Mapplethorpe's art and archival materials with the Getty Research Institute and the Los Angeles County Museum of Art (LACMA), the Getty Museum presents In Focus: Robert Mapplethorpe, on view October 23, 2012–March 24, 2013 at the J. Paul Getty Museum, Getty Center.

Containing 23 images that date from the early 1970s to the late 1980s, the Getty's exhibition features key last of edition prints, rarely shown early unique mixed-media objects, and Polaroids™, as well as a wide range of subject matter including self-portraits, nudes and still lifes.

Before he took up the camera, Mapplethorpe often used pictures he cut out of magazines as collaged elements to explore sexuality and eroticism. In Leatherman #1 (1970), Mapplethorpe alters a fetishistic image and re-presents it in a shadow box, removing the picture from its original context and elevating it to a homoerotic icon. His early work also reflected the influence of his idol, Andy Warhol, and it is perhaps Warhol's cover art for the band The Velvet Underground's 1967 debut album featuring a banana that inspired Banana & Keys (1973), a photograph-in-a-box construction. This object marks a transition in Mapplethorpe's work between his collages and sculpture and his work as a photographer. Much of the tension is contained in the object's success as a clever trompe l'oeil.

"The mixed-media objects and Polaroid™ snapshots in the exhibition demonstrate the struggle of a budding artist to find his proper medium of expression and develop his aesthetic vision," said Paul Martineau, associate curator of photographs at the J. Paul Getty Museum. "However, the carefully crafted gelatin silver and platinum prints make evident Mapplethorpe's mature style as well as his eye for prints of the highest quality and beauty."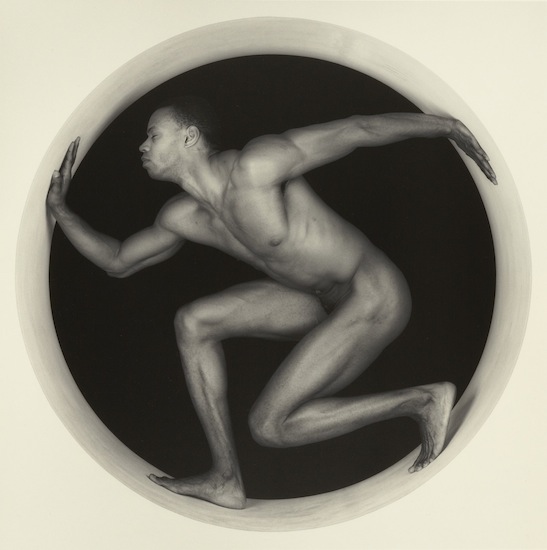 © Robert Mapplethorpe Foundation


As Mapplethorpe committed his focus to photography, he began to explore the subjects to which he would return throughout his career – portraits, self-portraits, and nudes. Photographs that feature these subjects are among his best-known, and continue to influence artists today. One of his earliest celebrity portraits, Patti Smith (1975), was carefully staged by Mapplethorpe and Smith, his lifelong friend. Dressed in men's clothes and channeling the American entertainer Frank Sinatra, Smith broke radically from the image that women in rock were expected to assume, and embodies the androgyny often found in Mapplethorpe's photographs.

Mapplethorpe also evoked classical themes in his work, particularly in his nude figure studies. Using the motif of the three graces as depicted by artists from ancient Greece to the 19th century, Ken and Lydia and Tyler (1985) features one female and two male models of different racial backgrounds. Mapplethorpe chose a range of skin tones from light to dark in order to invite new, non-binary interpretations of gender, race and sexual orientation.

Concurrent to the Getty's exhibition, the Los Angeles County Museum of Art will present Robert Mapplethorpe: XYZ, from October 21, 2012–February 3, 2013. The exhibition presents the 39 black and white photographs that make up the X, Y, and Z Portfolios created by Mapplethorpe and published in 1978, 1978, and 1981, respectively. Taken together, the portfolios summarize his ambitions as a fine-art photographer and contemporary artist.

In 2016, the Getty and LACMA will present large-scale exhibitions of Mapplethorpe's work that will include additional items from the 2011 acquisition.

Acquired in February 2011, the vast majority of the collection came in the form of a generous gift from the Robert Mapplethorpe Foundation, and the remainder from funds provided by The David Geffen Foundation and the J. Paul Getty Trust.
In addition to the exhibition, the Getty Research Institute will present an online gallery that includes selections from the first two sections of the Creative Works Series of the Robert Mapplethorpe Archive. The 15 artworks include representation of every point in the artist's career, from his days as a student through his work with collage and assemblage, his earliest experimentations with Polaroid™, and into his practice of perfecting the photographic moment. The collection demonstrates Mapplethorpe's range of techniques and his commitment to a personal vision throughout his life. Artworks by others held in the collection include photographs of Mapplethorpe and his work, his friends and admirers, and non-photographic original artworks. The gallery will be available online beginning October 23 at the Robert Mapplethorpe Archive page.
About Robert Mapplethorpe (1946–1989)
Mapplethorpe was a major cultural figure during a period of tumultuous change who contributed to shaping not only the art of photography but the larger social landscape.

His international fame derives from his prolific body of almost 2,000 editioned, large format black-and-white and color photographs, which have been featured in over 200 solo exhibitions around the world since 1977. Extensively exhibited and widely published, Mapplethorpe's elegant prints representing portraits, nudes, flowers, and erotic and sadomasochistic subjects dominated photography in the late 20th century. Less known are the over 1,500 Polaroid™ works that Mapplethorpe produced in the early 1970s before he took up the Hasselblad 500 camera given to him in 1975 by Sam Wagstaff, the visionary curator who became Mapplethorpe's benefactor and mentor.

Widely recognized for the role he played in elevating photography to the level of art, Robert Mapplethorpe always considered himself not only a photographer, but an artist. From 1963 to 1969, Mapplethorpe studied for a B.F.A. at the Pratt Institute, Brooklyn, where he majored in graphic arts and took courses in painting and sculpture—but never attended photography courses. In the late 1960s, he started clipping images from magazines to incorporate into collages. While living at the Chelsea Hotel with his friend and muse, Patti Smith, he borrowed a Polaroid™ camera in 1971 from fellow hotel resident Sandy Daley to create his own images for use in collages. Overshadowed by the power of his later large-format photographs, Mapplethorpe's early drawings, collages and assemblages, created between 1968 and 1972, remain largely unfamiliar, despite the importance they hold in understanding the artist's formative years.

In the mid-1970s, using the Hasselblad 500, he began photographing participants in New York's S&M subculture and created many of the strikingly powerful studies for which he is most renowned. He refined his style in the early 1980s and began concentrating on elegant figure studies and delicate floral still lifes, as well as glamorous celebrity portraits.

In the late 1980s and early 1990s, his work emerged at the center of a culture war over the use of public money to support art that some deemed obscene or blasphemous. When some of Mapplethorpe's more controversial works were exhibited at The Contemporary Arts Center in Cincinnati, director Dennis Barrie was arrested and charged with pandering (a charge of which he was ultimately acquitted after a landmark public trial).

Mapplethorpe died in 1989 at age 42 from complications of AIDS.
About the Robert Mapplethorpe Foundation

The Robert Mapplethorpe Foundation, Inc., was established by the artist in 1988, a year before his death. In establishing the Foundation's philanthropic mandate, Mapplethorpe targeted the two areas of his greatest concern: support of medical research in the area of HIV/AIDS, and recognition of photography as art form of equal importance with painting and sculpture.

In keeping with its founder's wishes, the Mapplethorpe Foundation has spent millions of dollars to fund medical research in the fight against AIDS and HIV infection by establishing research and care centers at major medical facilities such as Harvard University in Boston and Beth Israel in New York.

In the field of the photographic arts, the Foundation has funded numerous publications on photography, supported exhibitions and acquisitions at various art institutions and provided grants—in the form of funding or gifts of original Mapplethorpe works—to qualified art institutions, ranging from the world's major art museums to small university galleries.

In addition to its charitable work, the Foundation works to maintain Mapplethorpe's artistic legacy by organizing and/or lending to Mapplethorpe exhibitions around the world preserving his archive of vintage editioned prints, strictly maintaining and, if necessary, completing the editions he established during his lifetime and placing his work in important museum collections around the world.

The Foundation retains extensive holdings of Mapplethorpe works, both editioned and unique, and will continue to make sales of art to fund its charitable endeavors, to lend and donate Mapplethorpe works in support of exhibitions and museums around the world and to manage and license the Mapplethorpe copyrights and other intellectual property.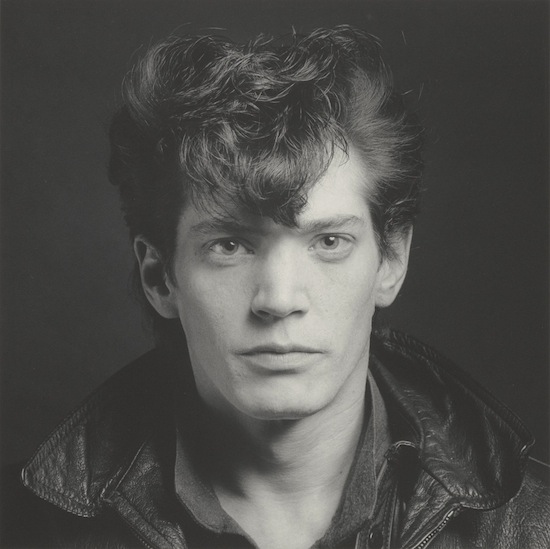 © Robert Mapplethorpe Foundation
Photos et vignette © Robert Mapplethorpe Foundation