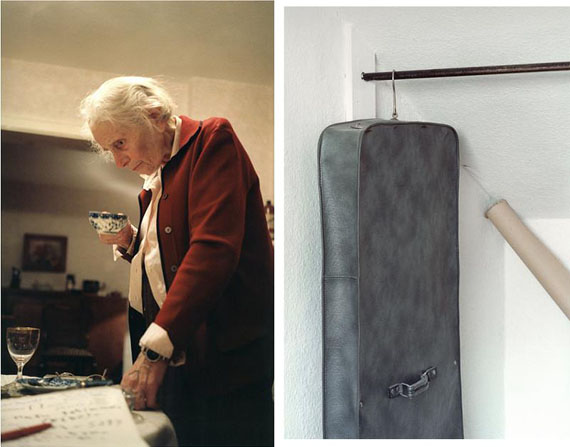 Knut Wolfgang Maron, from: Ein Leben (One Life), 1997 - 2012, C-Prints, Courtesy Jutta Kabuth Galerie, Gelsenkirchen und zone B, Berlin
THE ESTATE- RECORD OF A LIFE

Knut Wolfgang Maron:
"My mother died at the age of 82. Shortly before her death she still was able to ride her bicycle to take care of her home and do the shopping on her own.

All of a sudden she felt sharp pain in her bones. The first diagnosis of leukemia was not pursued by her family physician or by others. She was sent from one hospital to another. The experts did not explore the possibility of leukemia and decided that she had osteoporosis. This was the wrong diagnosis. They did not give her the only treatment that could have saved her. She had a curable leukemia, but it was treated too late. She lost 12 kilograms and shrank to one meter 40 centimeters. She had to suffer.

Every minute that I was available, I spent with my mother. I cooked for her. I organized the household and started to take pictures of her and the objects surrounding her. My mother wanted to discuss everything connected with her death. She discussed the contents of the house, so that the objects would find a new place, a new home, and not be cast anyway. Who would need which furniture? What to do with the never used table cloth? What to do with the 40, 50, 60, year old brooms? I refused the dishes- we were still eating from them. I refused the sofa- we were still stilling on it. Goods and chattel collected over my mother's whole life were a distribution- and dumping problem."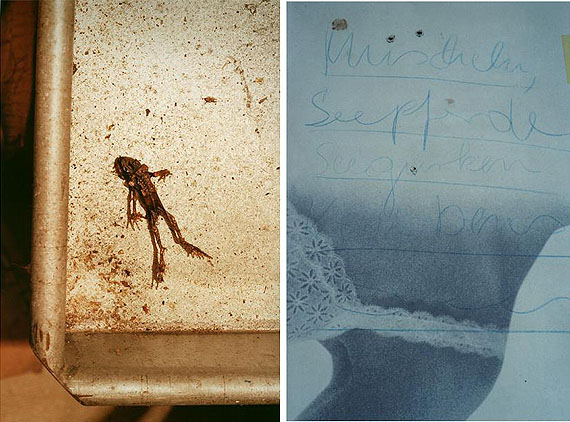 Knut Wolfgang Maron, from:
Ein Leben (One Life), 1997 - 2012, C-Prints,
Courtesy Jutta Kabuth Galerie, Gelsenkirchen und zone B, Berlin
CONCEPT

Knut Wolfgang Maron: "Through photography I started to preserve the objects in their original context. I could condense the syntax of a private and domestic life, and identify the culture of an over 80-year-old woman and the environment she created. This work began under the strain of mourning and sorrow, private memories, subjective feelings. It nevertheless presents a point of view that is sociologically and philosophically considered and contemplative. This perspective refers to the unity and the sense of the objects.

My mother was treated carelessly by her doctors; she herself treated all with care. Everything in the house has its order, its destiny, and its place. If an object does not have a use, habit, or custom, it has a sacred character as in a place of worship. Respect toward the objects is obviously visible in the pictures already done. The cleaning rag (see picture) was used so long it atomized, fell into pieces. Daily custom and habit form the basis of the photographic reality.

The photographs form an important portrait of the generation of which my mother was a member, the generation that grew up and was socialized between the two world wars, and that experienced the defeat in WWI, wild inflation, poverty, starvation, Fascism, defeat in WW II, the division and reconstruction of Germany, the Cold War, and Reunification. I am recording this world before it is destroyed, divided, torn into pieces. The photographs are a testament to the daily culture of a whole generation, one that cherished and husbanded belongings and never adopted the more materialist, "disposable" culture of the generation that followed. The work will represent a whole life, that of my mother, and through her many others. The Estate: Record of a Life will be a social critique of the throw-away society in which even people are treated as disposable objects."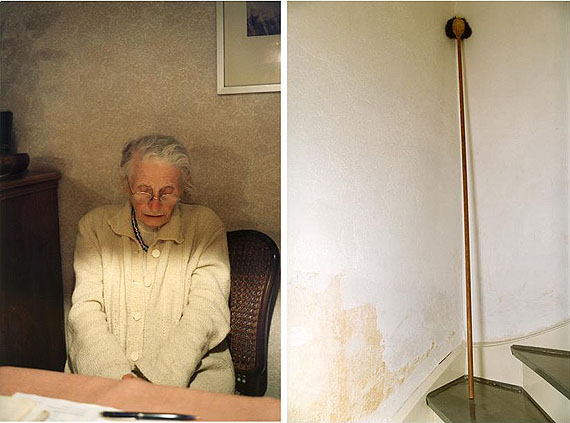 Knut Wolfgang Maron, from:
Ein Leben (One Life), 1997 - 2012, C-Prints,
Courtesy Jutta Kabuth Galerie, Gelsenkirchen und zone B, Berlin
Maron studied at the Folkwangschule in Essen in the class of Prof. Dr. Otto Steinert and Prof. Erich vom Endt along with Gosbert Adler, Joachim Brohm and Andreas Gursky, and Volker Heinze.

Fundamental discourses among the Folkwang students took place in the colour photography lab at the first professional colour photography department in a German university set up by Erich vom Endt.

Ute Eskildsen initially exhibited Maron's first colour photographs from 1979 at the Museum Folkwang in 1981. Knut Maron has received numerous scholarships and prizes, among them the Leopold Godowsky Jr. Award for Color Photography awarded to him by the Photographic Resource Center at Boston University in 1993. Knut Maron's works are represented in many collections, such as Museum Folkwang, Essen; Museum Ludwig, Cologne; Staatsgalerie Stuttgart; Musée Européen de la Photo, Paris; Bibliothèque Nationale de France, Paris.

Knut Wolfgang Maron