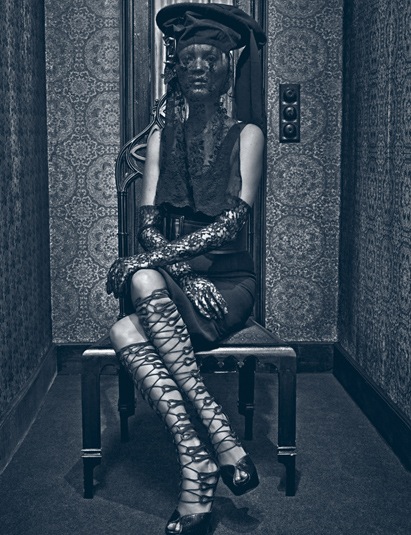 Steven Klein, Kate Moss, 2011
The exhibition will offer an insight into Klein's work, featuring photographs from different points in his successful career. Steven Klein has created a unique visual language: Cinematic, surreal and often shocking, his photographic aesthetic is controversial, yet internationally admired.

Since the 1990s, Klein has produced numerous photo series with international stars. Apart from creating the exhibition installation "X-STaTIC PRO=CeSS" with photographs and videos of Madonna, Klein has worked with celebrities like Britney Spears, David Beckham, and recently, Kate Moss and Lady Gaga. The portrayal of these artists, who are famous for their controversial performances and eccentric life styles, seems an apt choice for Steven Klein, whose work has always been prone to provocation. In 2005, Klein created a photo series with two of the most celebrated film stars who were then just about to become Hollywood's super couple: In "Case Study", Angelina Jolie and Brad Pitt portray an American family, erotic tension and themes like wealth and loneliness filtering through the seemingly perfect surface. The series is reminiscent of the motion picture »Mr. & Mrs. Smith«, in which Pitt and Jolie starred around the same time.
Steven Klein, Case Study #13, Image 32, 2005

The show at CWC GALLERY also includes photographs from Klein's popular and bizarre series »Valley of the Dolls« with fashion designer and film director Tom Ford. The series is a reckoning with today's ideal of beauty, increasingly pressuring people to resemble dolls rather than humans. The models in the photographs are clean-shaven men without hair on their chests and women with artificial breasts and lips. Beauty is no longer a question of creams or lotions but of Botox and face-lifting, and Klein shows the almost artificial bodies literally being polished. Tom Ford stands out in the middle of the models as the one who manipulates the bodies for them to meet aesthetic expectations. Steven Klein's latest works also include a stunning series showing Kate Moss in historical dresses and complex settings, biblical references and religious imagery again stirring the controversy that has often accompanied Klein's work.
Steven Klein, Valley of the Dolls, Image No. 3, 2006
About Steven Klein
Steven Klein's work has been exhibited at museums and galleries worldwide, including shows at Gagosian Gallery and Deitch Projects. Most recently, his »Time Capsule« installation was exhibited at the Garage Center for Centemporary Culture in Moscow. He is a graduate of the Rhode Island School of Design and currently lives and works in New York.