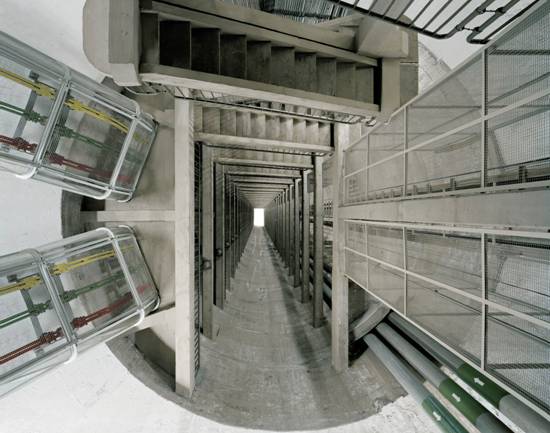 © Edgar Martins
Since graduating from the Royal College of Art in 2002, Edgar Martins (b.1977) has rapidly become one of the world's most sought-after artists. Working exclusively with photography, he has gained international critical acclaim with his perplexing yet familiar urban landscapes, presented as visibly artificial, constructed environments. Both his subjects and photographs are typically ambiguous in their representation, prompting a re-evaluation of our understanding of photography and its fragile relationship with reality: "My images depend on photography's inherited tendency to make each space believable, but there is a disturbing suggestion that all is not what it seems."
The Time Machine is a body of previously unseen works, shot between 2010 and 2011. Structured as a topographic survey of hydro-electricity generating plants in Martins' native Portugal, The Time Machine deals with the succession of radical transformations in the Portuguese society and its traditional industries, during the 20th and 21st centuries. Working closely with the EDP Foundation, Martins gained exclusive access to 19 power plants located across the country. Many of the power stations were built in the 1970s, towards the end of António de Oliveira Salazar's regime, a time of hopeful prospects of rapid economic growth and social change. Their tacit raison-d'être was to fuel the country's expansion and propel it into a prosperous future. Forty years on, still functioning but deserted and obsolete, they have instead become potent reminders of the failure of the Portuguese Modernist project.
Tense with unrealized expectations, the photographs in The Time Machine capture a powerful yet visibly outdated artillery of analog machinery; deserted offices and meeting rooms; vast, sterile-looking turbine halls and control rooms, all devoid of people. The absence of beings, despite an abundance of space, means that there is often no sense of scale or direction in the works. How the technology is operated, and indeed, who operates it, remains a mystery - that is if the power stations are operational (and real) at all, a hovering question considering their pristine allure. As always with Martins, what seems to be, at a first glance, apparently bright places are, in reality, dark. Using prolonged exposure times and intensive lighting, Martins creates seemingly factitious environments: the lack of shadows, synthetic colours and surreal contrasts highlight the apparent artificiality in both, the power stations, and the act of taking photographs. The scenes are entirely static yet refer to a dynamic conception of time, one that envisions "scenarios of a retrospective future or futuristic glimpses of the past: the future as it might have been conceived fifty years ago or more" (G. Dyer).
The Time Machine – a monograph by Edgar Martins available in both, standard and limited edition, with essays by Geoff Dyer and João Pinharanda will be published in October 2011.
Vignette : © Edgar Martins