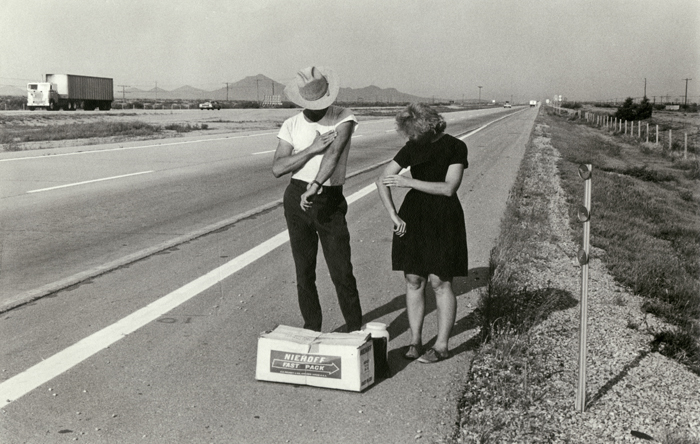 Expositions du 7/7/2011 au 12/8/2011 Terminé
Rick Wester Fine Art 526 W. 26th Street, Suite 417 NY 10001 New York États-Unis
«Being a tourist meant being an outsider, and inexperienced member of the public. Isolated from the commonplace world by tour buses and guides, the modern tourist is protected from foreign-ness, but in the old days we wanted to pass as natives, if only to avoid being overcharged by street vendors and taxi drivers.»
— J.B. Jackson, The Necessity for Ruins
New York, NY - Inspired by the writings of the late J. B. Jackson, Hail Traveler! The Photographer as Tourist, and the Tourist as Subject at Rick Wester Fine Art features photographs focusing on the itinerant essence of photography. Works included speak to Jackson's definition by exposing the tourist that resides in every photographer, and the tourist as a perennial target for the lens.
J.B. Jackson (1909-1996), a professor of landscape theory at Harvard in the 1970's and 80's developed many concepts related to human interaction and the landscape during his tenure of teaching. One in particular was his approach towards the education of his students, stating in his essay, Learning about Landscapes, «I taught them how to be alert and enthusiastic tourists.» Jackson believed tourism was largely the desire to know more about the world in order to know more about ourselves. His ideology parallels the careers of many photographers, and the concept of finding one's vision through the exploration of the unfamiliar.
The artists shown range in both age and technique. From Robert Adams to Michael Wolf, the show will encompass photographs by Richard Avedon, Jehsong Baak, Harry Callahan, Louis Faurer, Brad Farwell, Sandi Haber Fifield, Robert Frank, John Goodman, Sharon Harper, Sarah Hotchkiss, Laurie Lambrecht, Tony Maine, Lilly McElroy, Jeff Mermelstein, Dana Mueller, Bea Nettles, Jonathan Smith, Hiroshi Sugimoto, Garry Winogrand, and others.
Richard Avedon's Juan Patricio Lobato, Rocky Ford, Colorado, 8/23/80 from In the American West will be shown. Avedon travelled throughout the U.S. in search of the extraordinary subject among those sitters he met, rather than photograph the stereotypical view most American's had of the image of the West. In a completely different direction alongside Avedon's monumental portrait will be a video piece by Lilly McElroy titled The Square - After Roberto Lopardo, a thirty minute video piece documenting a 2004 performance in Chicago. McElroy was contained in a square drawn on the sidewalk of a busy city street preventing passerby's from entering the space. She obstructs the outsider from inhabiting this "public" space, occupied daily by locals and tourists alike.
Highlights include work from Jonathan Smith's ongoing series, East/West, an exploration of America's coastlines. Work by emerging artist Brad Farwell, titled Fourth, The Tourists exposes the many tourists who flock to New York's Times Square everyday in search of that perfect snapshot. The timeless work by the likes of Louis Faurer, Robert Frank, Harry Callahan and Garry Winogrand will also be paired with the emerging viewpoints on display.