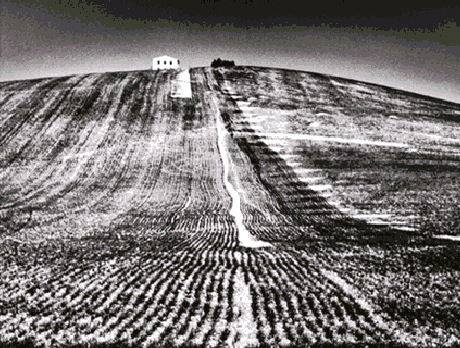 © Mario Giacomelli
Expositions du 23/6/2011 au 30/7/2011 Terminé
Atlas Gallery 49, Dorset Street W1U 7NF London Royaume-Uni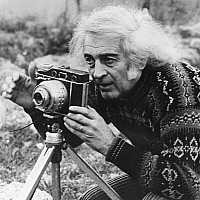 "The Land stands for what cannot be said, for space and time. / The Land is the skin and the soul of something huge./ The Land awakens new realities within us,/ it is a reserve of energy./ The Land inhabits life./ The Land, kind even when it feels humiliated/ by man's speculation./ Things visible in The Land are the signs/ that bring forth the invisible,/ the mind's emotion,/ a constant alteration./ Enjoy the sense and the sign,/ a perfection, a freshness,/ a mysterious charm./ The Land is the stage,/ the garden where we breathe,/ where you see the social interpretation of man,/ the magic of growing in the act of delving into creation." (Mario Giacomelli)
Atlas is pleased to present an exhibition of celebrated Italian artist Mario Giacomelli's 'Landscapes', comprising work from his two series 'On Being Aware of Nature' and 'Metamorphosis of the Land' (1950s - 1980s). Widely regarded as the greatest Italian photographer of the twentieth century, Mario Giacomelli was born in Senigallia, Italy, in 1925. Following a poor formal education, he began his working life as a jobbing printer, before training as a typographer and did not fully embrace photography until he was 30 years old. Despite this late start and his sometimes unconventional almost naïve approach, and in some ways because of it, Giacomelli is now considered one of the most original photographic artists of the twentieth-century. The rawness of approach is a key characteristic of his work and his obliviousness to accepted dark-room practices resulted in the creation of works which were unique in style.
The landscapes from 'On Being Aware of Nature' are taken from the air, on land (often from a neighbouring hilltop) and by the sea. They are not straightforward landscape photographs as Giacomelli intervened and 'corrected' what he saw. He wrote: "A good portion of these landscapes have been artificially created; I began to make interventions in the countryside as long ago as 1955. If you find before your eyes a landscape that only needs a few corrections, the addition of some marks, lines or gaps that chance or the farmer has not been able to add, then I intervene." This aspect of Giacomellis photography can be compared with Land Art; the act of making sculpture out of the natural environment popular in the 1970s. Its relationship with Alberto Burri's paintings is apparent (although Giacomelli did not meet him until 1968) as are its connections with Giacomelli's own experiments with painting which pre-date his photography and were never entirely abandoned. He uses the image of the terrain itself, photographing the earth and its scars and wounds as they change over time. These places are recalled in the poetry of the images and become abstract material, signs and symbols used to create visual effects.
The 'Metamorphosis of the Land' Landscapes are of a different nature, the land is photographed in such a way to show the wounds inflicted on it by human labour or by neglect. Giacomelli thus shifts his attention from the expressive to the more narrative or documentary, and the result is no longer abstract but a true portrayal, even in its strongly graphic elements. He shows a land in the process of being ruined by man, by documenting season by season, year by year, the way places change in appearance. For Giacomelli, with his interest in the legacy of the past and his thoughts about illness and death, the fate of the land becomes a metaphor for a more universal condition.
Giacomelli saw himself as a poet with a camera. In many respects it was poetry that became the principal source of his education, allowing him the freedom to build meaning into his work and helping him mask the feelings of inadequacy that a poor education had left. He cited two important poets, Giacomo Leopardi (a native of Giacomelli's region) and the post-war existentialist, Eugenio Montale, as major influences on his work. Through his reading he came to see his photographs as emotional scars; and the camera as a means of confronting his fears, transforming memories and emotions into physical things.
All the prints in this exhibition come directly from his estate in Sassoferrato, Italy, and were made by the photographer in his dark room. For more information on the exhibition or the gallery : www.atlasgallery.com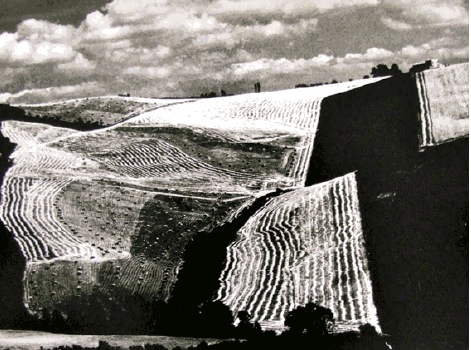 © Mario Giacomelli, Metamorphosis of the Land, 1968