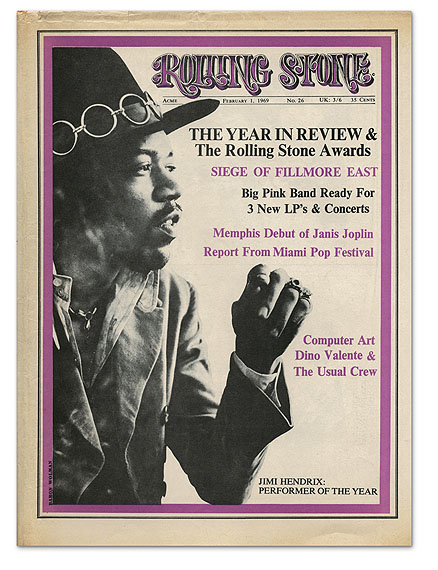 Rolling Stone magazine cover, issue 26, 1969, Jimi Hendrix © Baron Wolman
Expositions du 13/5/2011 au 22/6/2011 Terminé
Pobeda Gallery Red October Chocolate factory - Bolotnaya naberezhnaya 3 b. 4 119072 Moscow Russie La Pobeda Gallery de Moscou, présente une exposition sur le travail de Baron Wolman, photojournaliste connu surtout pour avoir été le premier directeur de la photographie du magazine Rolling Stone.
POBEDA Gallery and Marketing Communication Agency TBD Group are proud to present the solo show of Baron Wolman. This is the first time the well-known photojournalist, famous for being the first chief photographer of the Rolling Stone magazine, brings his works to Russia. Highlighting the exhibit are Wolman's limited edition prints of his best known photographs as well as original contact sheets and all the vintage magazines he made covers for.
Baron's professional photographic career began in West Berlin in the 1960s where he was stationed with the military. From Berlin he sold his first photo essay for publication, images of life behind the then-new Berlin Wall. Determined to work as a photo-journalist, after his discharge he moved from Germany to Los Angeles and then to San Francisco. In 1967, Wolman met Jann Wenner, the founder of Rolling Stone. Wenner asked Baron to be the magazine's chief photographer and for the next three years Wolman's photographs of Janis Joplin, Jim Morrison, Jimi Hendrix, the Rolling Stones and other celebrated, soon-to-be-famous musicians were the graphic centerpieces of Rolling Stone's layout.
After leaving the Rolling Stone, Wolman started his own fashion magazine, Rags, housed in Rolling Stone's first San Francisco office. When that venture, devoted to street couture and culture, folded after 13 issues, Wolman learned to fly, did aviation photography; started Square Books, his own publishing house; and has since continued to do projects for everyone from the Oakland Raiders to the adult-rock cable music channel VH1.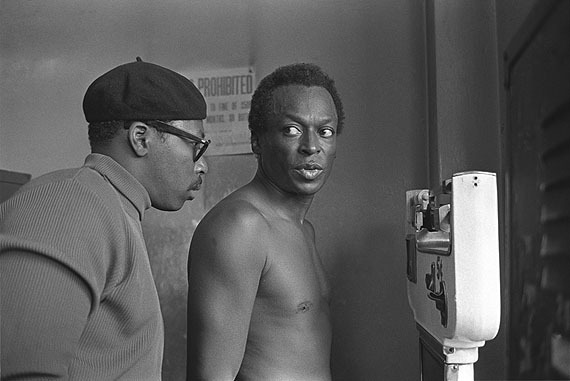 Miles Davis at Gleason's, Gleason's Gym, New York City, 1969. 40,5x51 cm © Baron Wolman

Baron was in the thick of the rock-n-roll boom of the late 1960s, capturing those magical moments of the musicians becoming pop-icons. He took backstage photos of Johnny Cash during his trying times, making him a witness to the singer's troubles and woes. Living near where the Grateful Dead members lived, Wolman was there when the police busted the band for possession of illegal drugs. B.B. King welcomed Wolman into his family before they both became famous. Wolman took a lot of photos of Jimi Hendrix, both performance photos and portraits. Some of the other rock 'n' roll icons Wolman captured on film include Tina Turner, the Rolling Stones, Frank Zappa, The Who, Iggy Pop, Pink Floyd and Bob Dylan. Wolman was there when rock icons were on the top of their game and he captured their character and music in his beautiful photos.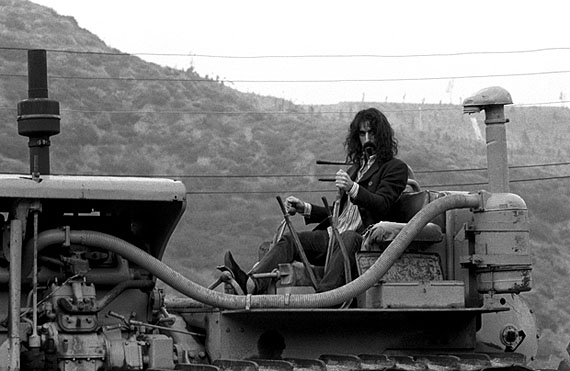 Frank Zappa on Tractor, Behind his Laurel Canyon home, Los Angeles, CA, 1968. 40,5x51 cm © Baron Wolman
His artistic method is based on two simple principles. The first one is getting up close with the rockstars. Wolman admits:
« I see myself as a kind of voyeur. I'm happiest when I'm invisible and watching. I just love to watch. I'm a chameleon and can adapt myself to the situation, and that, to me, is one of the gifts that I was given naturally, and that's how you get honest pictures.»
The second principle is being involved in the music. This is how the photographer describes his own feelings during the work on the stage:
« The music gets inside me, it's in my brain, I'm close enough to the stage so that the vibration from the speakers is making my skin tingle, and I'm filling the viewfinder with the musician. It's almost, not quite, as if I'm the person that's up there. I just always feel high. I disconnect with the real world.»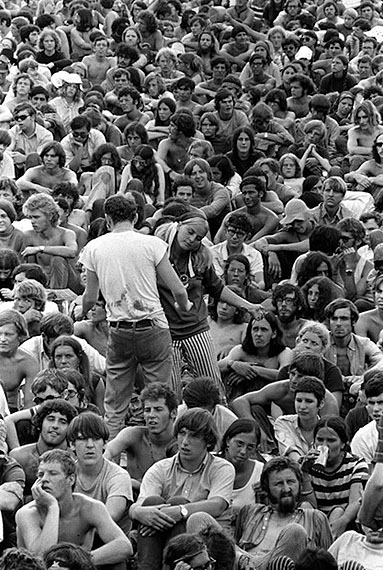 Woodstock Dancing Couple, Woodstock Music & Art Fair, Bethel, NY, 1969. 28x35,5 cm © Baron Wolman