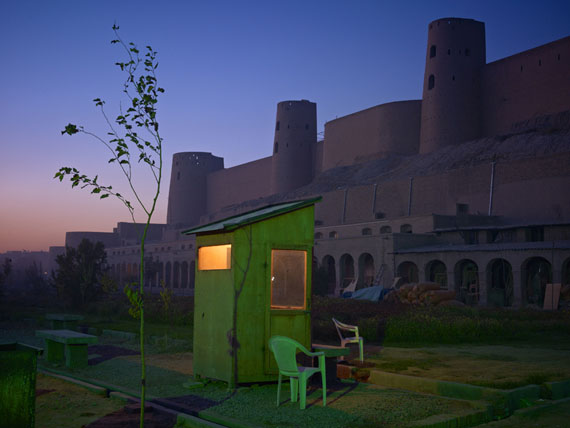 A security guard's booth at the newly restored Ikhtiaruddin Citadel, Herat, 2010 40x53" from an edition of 7 © Simon Norfolk
Expositions du 13/5/2011 au 18/6/2011 Terminé
Michael Hoppen Gallery 3 Jubilee Place SW3 3TD London Royaume-Uni Burke + Norfolk: Photographs from the war in Afghanistan. «Burke is an enigma; working with him was like looking for a man amongst shadows. He left no diaries or records, unlike other Imperial photographers from the same generation. There are no photographs of him. In a couple of sketches we see him from behind, but never his face; that has to be more than just reticence, surely?» Simon Norfolk
Michael Hoppen Contemporary is pleased to present a new series of photographs by Simon Norfolk, commissioned by Tate Modern. In the autumn of 2010 Simon Norfolk began a photographic project in Afghanistan, taking its cue from the work of nineteenth century British photographer John Burke. Norfolk's images reimagine or respond to Burke's Afghan war scenes in the context of the contemporary conflict. A symbiotic project, Norfolk takes references from Burke's original portfolios.
John Burke (1843-1900) was the first photographer to make pictures in Afghanistan. He accompanied British forces during the invasion that became the Second Anglo-Afghan War from 1878-1880 producing a small number of albums of prints for sale to the general public. These were sold through his studios in Rawalpindi, Peshawar and the summertime mountain retreat of Muree in a region which is now Pakistan but at the time was the borderlands of British Imperial India.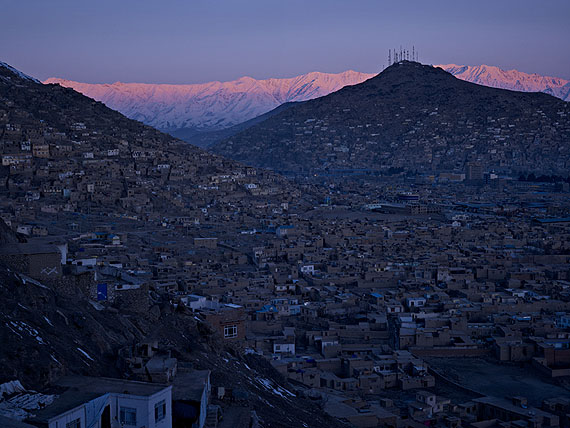 A view of Kabul City from Bala Burj, 2011. 40x53" from an edition of 7 © Simon Norfolk
This exhibition follows from Norfolk's exhibition at Tate Modern from 6 May – 10 July.
Vignette : A security guard's booth at the newly restored Ikhtiaruddin Citadel, Herat, 2010 40x53" from an edition of 7 © Simon Norfolk.