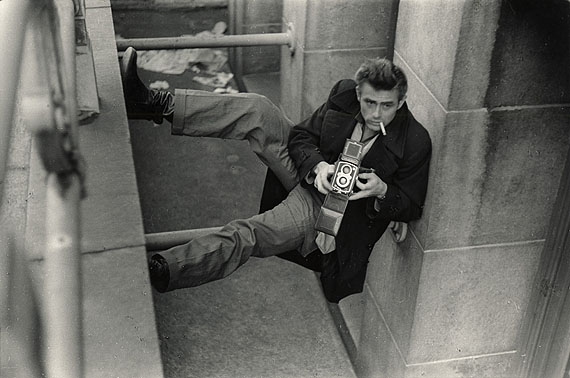 © Roy Schatt / Courtesy Camera Work, Berlin James Dean, shooting Roy and Marty Landau from below New York City, 1954
Expositions du 19/1/2011 au 13/2/2011 Terminé

Museum THE KENNEDYS Pariser Platz 4a, 10117 Berlin Allemagne


In the context of the SHOWROOM DAYS BERLIN, the museum THE KENNEDYS presents:
James Dean: A Different Icon
January 19 – February 13, 2011
(opening hours: daily 10:00am – 6:00pm)
With the beginning of the SHOWROOM DAYS BERLIN, the museum THE KENNEDYS will embark on a journey through time to the mid-20th century. Alongside the political icon John F. Kennedy, the story of another icon of pop culture will be put into focus: James Dean. Starting on Wednesday, January 19, 2011, a special exhibition on the phenomenon James Dean will be put on display in the architecturally appealing premises of the museum. The museum THE KENNEDYS offers its visitors the unique opportunity to encounter the special relationship between fashion life style and James Dean, whose 80th birthday anniversary falls on 8 February 2011. Taking its cue from the motto of the SHOWROOM DAYS BERLIN, »How classy am I...«, visitors are encouraged to question the relationship between traditional values such as elegance and grace and the unique »Dean Style«.
Hardly any other Hollywood actor of the post-war era influenced an entire epoch and generation as substantially as he did. Even up to today, many myths and legends surround this illustrious figure, making James Dean an object of research in many scientific fields. Rebel, dissident, iconic character: It was not only James Dean's attitude towards life which perfectly mirrored the uniqueness of his personality within the world of Hollywood and beyond. With his unusual sense for fashion, he very consciously defied the strict conventions of the masses in the conservative America of the 1950s. Whether auditioning for a Broadway show in New York in ripped jeans and with bare feet, dressed, as journalists put it, »like a bum«, or iconographically portrayed by Magnum photographer Dennis Stock: James Dean polarized society with his oftentimes criticized affronts in fashion.

Around thirty photographs, some of which are deeply anchored in the collective memory, will be the main focus of the fashion days in the museum THE KENNEDYS. With James Dean as
the protagonist, they offer a thorough portrait of the actor's diversity in style. Along the photographs by Dennis Stock, many of the pieces on display were shot by Phil Stern and Roy Schatt, whose work was created in the context of a photography class with James Dean.
In order to gain a deeper insight into the life, impact, as well as the characteristics in style and fashion of James Dean, the museum THE KENNEDYS invites not only fashion aficionados to take part in an interesting German-speaking guided tour on Saturday, 22 January, 2011, at 3 p.m. In the context of the weekly »Students for the Kennedys«-tours, you will get to know the, in many ways even for a star actor unusual, way of dressing, as well as experience the unique permanent exhibition THE KENNEDYS. The price for the tour is included in the admission.