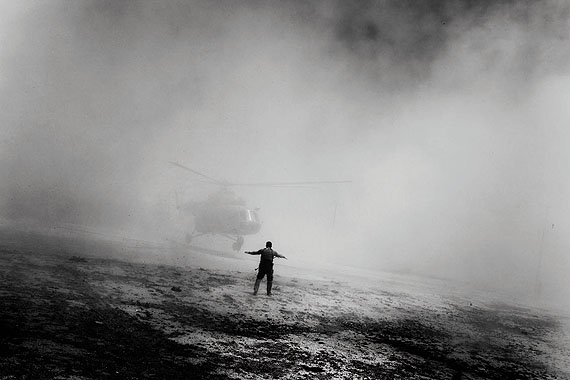 A helicopter used by Afghan interdiction troops to move from Kabul to team up with DEA agents to assault on compounds in a village hiding chemicals and drugs. Afghanistan, 2006
Expositions du 14/7/2012 au 9/9/2012 Terminé
Noorderlicht Photogallery Akerkhof 12 9711 JB Groningen Pays-Bas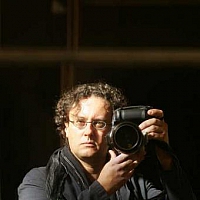 From 14 July through 9 September the Noorderlicht Photogallery will be showing the first large-scale retrospective exhibition for the frequently honoured Magnum photographer Paolo Pellegrin . He, more than any other, has been able to breathe new life into the lessons and principles of the tradition of photojournalism, and translate them into new and contemporary language. Pellegrin works impartially and follows what happens around with his own eyes, to then interp ret it in the light of his wide experience as a journalist and his compassion as a human being.
In DIES IRAE the photographer takes us with him to the black spots on the map, and the black pages of our recent history: from Afghanistan to Sudan, from Tahir Square to Palestinian territory, from Katrina to the tsunami of 2004. This is work that marked by war, revolt and natural violence. But you should not expect pamphleteering. Pellegrin belongs to a generation of socially engaged photographers who, despite their clear moral compass, refuse to preach and always keep the measure of mankind in mind. In his approach Pellegrin demonstrates that he is at the same time an inheritor of the long photojournalistic tradition of Magnum photographers who preceded him, and someone who points the way forward with a contemporary method and visual vocabulary. His self-proclaimed goal is nothing less than the construction of an archive for our collective memory, by unflinchingly looking the world straight in the eye.
Paolo Pellegrin (b. Rome, 1964) began photographing in the 1980s. After ten years with Agence VU, in 2001 he joined Magnum Photos, becoming a full member in 2005. In 1995 his report on AIDS in Uganda won him the first of his total of eight World Press Photo Awards. In addition he has received – among others - the Kodak Young Photographer Award, the Visa d'Or from Perpignan, a Hasselblad Grant, diverse Pictures of the Year, the Getty Grant, the Eugene Smith Memorial Grant and the Robert Capa Gold Medal. Since 2000 he has been a staff photographer for Newsweek, and has published several books, including Kosovo 1999-2000, Double Blind, As I Was Dying and Storm. Pellegrin has participated in a number of Noorderlicht Festivals, projects and exhibitions, including Warzone (2010), Katrina (2006) and Nazar (2004).