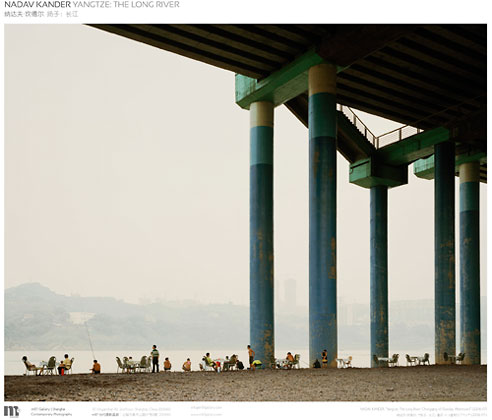 Expositions du 27/11/2010 au 31/12/2010 Terminé
m97 Gallery No. 97 Moganshan Road 2F 200060 Shanghai Chine m97 Gallery is pleased to present "YANGTZE, THE LONG RIVER", the latest project by world-renowned photographer Nadav Kander.

In 2006, drawn to the immense scale of China and its development, Nadav Kander embarked on the project of photographing the Yangtze River, whose banks and waterways provide home and livelihood for hundreds of millions of Chinese. Taken along the river from its source in remote western China to its mouth just off the shores of Shanghai, these photographs depict the human footprint of habitat and industry that can be seen along the shores of China's longest river.

Taken over a three-year period, Kander's Yangtze River photographs speak of a China in the process of radical change, and of man's futility and subjugation of the natural world in the pursuit of development. Following the course of China's longest river upstream, Kander created a profound and contemplative body of pictures. Much like the Buddhist metaphor of a river itself, the photographs evoke a certain sense of the eternal and ephemeral, of man's footprints amidst constant change and the flow of time.