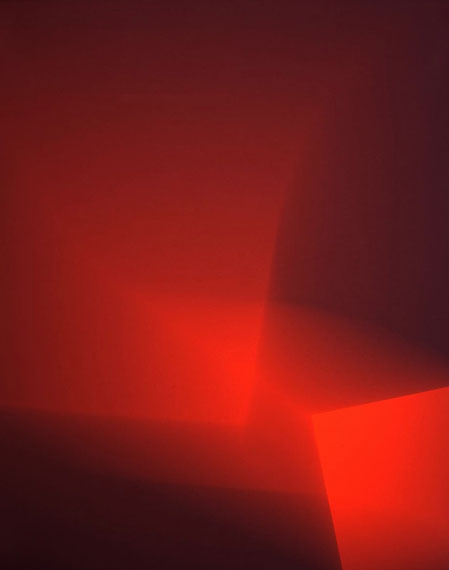 Richard Caldicott, Chance / Fall #1, 2010
Expositions du 26/11/2010 au 29/1/2011 Terminé
Galerie f5,6 Ludwigstr. 7 Odeonsplatz 80539 Munich Allemagne
The exhibition ‹abstract› as the definition most simply states is quite simply an "abstract" and concurrently a small exploration into the possibilites of abstract photography now. Since 2003 abstract photography has been a central and recurring theme of the gallery programme. Next to three artists the gallery has worked with since 2003 - Antonio Azuaga (Spain), Richard Caldicott (Great Britain) and John Goto (Great Britain), we have invited Edward Mapplethorpe (USA) and Silvio Wolf (Italy) to show their latest work. From the beginning of photography in the late 19th Century, the medium has often defined itself through the often dramatic rivalry of painting versus photography. But abstract photography has been a small but fascinating strand, ever since the beginnings, from Henry Fox Talbot's experiments with photograms of metal gauze and lace to Moholy Nagy, Man Ray to contemporary artists like Adam Fuss, Wolfgang Tillmans or Richard Caldicott.
At first thought the idea of abstract photography seems very simple indeed. On closer inspection, however, it is a far more complex field. In Lambert Wiesing's essay on abstraction (2000) he distinguishes various forms of abstraction in photography: abstraction in the photographic production process, in the photograph itself, in the view point, to make something specific visible and to create form or art in its own purpose. What brings all these together though is surely the intention of reduction to its most essential, inner form.

Antonio Azuaga (* 1974, lives and works in Barcelona, Spain)
In Antonio Azuaga's work, light, colour, reflection, and time become one. Large format, almost bizarre colour fields melting into each other, are created. Azuaga's work continues a dialogue of painting and photography, calling into mind 60's American Abstraction of Morris Louis or Helen Frankenthaler. The viewer leaves the immediate pictorial plane, diving into a world of focused and unfocused details, which seem to be in constant movement, leaving the viewer to decide what he/she wants to see. General ideas on photography such as time, documentation of reality are approached very differently in Azuaga's work.

Richard Caldicott (*1962, lives and works in London)
The creation process and and its critical examination is a central theme of Caldicott's work. Caldicott has been working with abstract photography since the early 1990's. Art historically speaking, Caldicott's work is in dialogue with what Donald Judd called the "specific object"- an art object wich is neither painting nor sculpture, evading all forms of categorisation. His latest work Chance/Fall results out of an ongoing interest of the formal mechanical qualities of photography without the hand of the artist, where coicidence becomes precedent. Richard Caldicott studied at the Royal College of Art in London. He has had many solo and group exhibitions in Europe and the US and is represented in the following collections: Art Lab, Tokyo, Collection Ann & Jürgen Wilde, Kunstmuseum Bonn, Merril Lynch, Sir Elton John Collection, BP Amoco.

John Goto (*1949, lives and works in Oxford, UK)
Prompted by the invasion of the Gaza Strip by the IDF (27 December 2008 – 21 January 2009), John Goto made "Mosaic", a series of apparently abstract images. Access to the conflict was denied to the international press. One common means of censoring digital images is the application of a standard graphics filter called Mosaic. Having mapped a grid across the image, the filter averages the tones and colours within each rectangle. To resolve the problem of relating a visible to an invisible image, Goto created a double-sided print onto a single sheet of paper. The censored image is visible within the frame, but by removing the picture from the wall, the uncensored verso is revealed. The series continues Goto's investigation into the relationship between modernist abstraction and politics began in his 'Terezin' series (1987). The title Mosaic also refers to Moses the Lawgiver. John Goto's works are in collections such as the Victoria and Albert Museum, London, the National Portrait Gallery, London or the Deutsche Bank Sammlung, London.