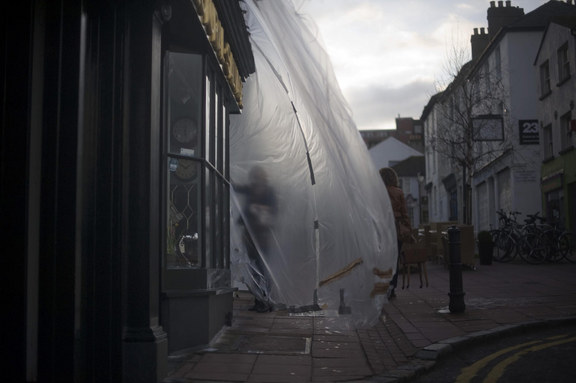 Expositions du 2/10/2010 au 14/11/2010 Terminé

Brighton Museum & Art Gallery Royal Pavilion Gardens BN11EE Brighton Royaume-Uni


New works by three internationally acclaimed photographers, each presenting a very different response to the city of Brighton & Hove. Rinko Kawauchi (JPN), and Alec Soth (USA) commissioned by Photoworks and Stephen Gill (UK), in association with the Archive of Modern Conflict.

Alec Soth
Brighton Picture Hunt

For this Photoworks commission, his first in the UK, Alec Soth has made work in collaboration with his daughter Carmen walking around Brighton & Hove. Like much of his previous work, the photographic journey of Brighton Picture Hunt combines poetic and documentary sensibilities, each photograph and idea leading to the next. People, places and objects are woven amongst local newspaper headlines. Serendipity is at play as text and image combine to make uncanny connections and provide a captivating portrait of a city.

Stephen Gill
Outside In

For this commission Hackney based photographer Stephen Gill has created Outside In, a series steered and guided by the physical place itself, literally scooping up bits of Brighton and dropping parts of it into his camera. Gill employs finds such as seaweed, local plant life, a false eyelash, a jelly bear, fish tails, etc discovered on his travels or near where his photographs are made. Insects crawl across the film emulsion like creatures caught in amber. The objects introduced to the camera chamber are integral to the photographs rather than superimposed, their place in the composition occurring entirely at random and establishing both harmony and conflict.

Rinko Kawauchi
Murmuration

Acclaimed Japanese photographer Rinko Kawauchi has been drawn to the spectacle of flocking starlings at Brighton Pier. Here during the winter months at dusk, the birds gather in their tens of thousands, wheeling around to create a mesmerizing swirling cloud called a murmuration. Kawauchi is fascinated by the ephemeral nature of this phenomenon and, continuing with the theme of the flock, she has also trailed groups of people through the city. This commission, her first in the UK, is supported by funding from The Japan Foundation, The Great Britain Sasakawa Foundation and The Daiwa Anglo – Japanese Foundation.

This exhibition is part of the Brighton Photo Biennial curated by Martin Parr. The printing of the many exhibitions has been sponsored by Hewlett Packard. Brighton Photo Biennial is also the first 'frame free' photography festival.