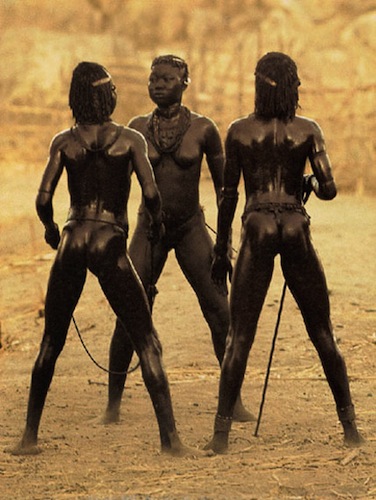 Expositions du 9/9/2010 au 9/10/2010 Terminé
Atlas Gallery 49, Dorset Street W1U 7NF London Royaume-Uni
Atlas Gallery is delighted to announce an exhibition of fine and rare photographs by five of the most important photographers to work in the continent over the last fifty years. Though strikingly different in style, the work of each is closely related both by geography and inspiration. Brandt's timeless portraits of wildlife owe much to the back-drop portrait style of Penn's Benin portraits, while Riefenstahl's inspiration for her colour Nuba portraits derives directly from Rodger's famous 'Nuba Wrestlers'. Ricciardi's iconic book 'Vanishing Africa', published in 1971, was also of central importance to Brandt's mission to capture the majesty of Africa's wild animals, many in the process of near extinction. In the work of all five there is an urgency to capture images of different worlds, which were soon to disappear and thus carry with them a remarkable sense of energy and intensity.

George Rodger's images include rare vintage black and white portraits, selected from his iconic work in Africa from 1947 to the late 1970s, including previously unseen prints from his personal archive. In an effort to repair his own spirit after the Second World War, and restore his faith in humanity, he set off with his wife Jinx in 1947 on a 28,000-mile overland journey from Cape Town to Cairo, "to get away where the world was clean". He visited Nigeria, Uganda, and Lamberene in Gabon. He photographed from the high hills of Basutoland (today Lesotho) to the remote Nuba villages of Kordofan in Southern Sudan and captured the little known, day-to-day existence of the indigenous peoples in South and East Africa. Following in Roger's footsteps and captivated by his famous portrait of the victorious Nuba wrestler (illustrated below), first published in National Geographic in 1951, Leni Riefenstahl travelled to the Sudan in the early 1960s and again during the 1970s to photograph the indigenous tribes that Rodger's work had brought into the spotlight. Concurrently, in 1967, Penn travelled on assignment for Vogue to Dahomey in West Africa, now the Republic of Benin. His portraits of natives taken in a portable studio built especially for the trip reflect Penn's fascination with foreign cultures, as do his photographs of culturally significant clay figures dedicated primarily to the voodoo god Legba. The resulting images are an extraordinary photographic document of African culture, by a master recorder of our time. The following year in East Africa, Mirella Ricciardi embarked on a very different photographic journey to follow the peoples of the Turkana and Maasai tribes. She recognised in this region a unique way of life which was soon to evaporate in the face of civilization's onward march. The images she captured of humans living at one with their environment are dominated by huge herds of cattle, the central focus of their existence. They were shot instinctively and with a spontaneous energy, almost akin to street photography. There is nothing voyeuristic here, no sense of exploitation of the exotic, rather in the words of Philippe Garner (Head of International Photography at Christie's): "...a sense of Mirella's tender, familial engagement, and her considerable respect for the inherent nobility of what was before her lens".

A Shadow Falls, Nick Brandt's second major body of work, launched to international acclaim last year, continues the photographer's ambitious and ongoing photographic project to memorialize the vanishing natural grandeur of East Africa. Brandt's wide-screen panoramas of animals and landscapes capture an epic vision of a wild Africa which is steadily vanishing. His iconic portraits of majestic animals are filled with an empathy, usually only reserved for human subjects. Brandt's emphasis on capturing the drama of wild animals in the state of "being", as opposed to "action", draws strong parallels with the human portraits by the other photographers featured in the exhibition.