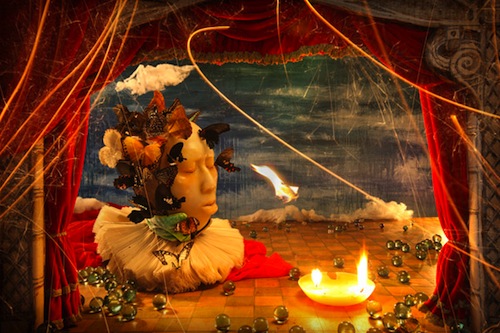 Expositions du 11/9/2010 au 31/10/2010 Terminé

Blindspot Gallery 24-26A, Aberdeen Street, Central Hong Kong Chine


A Departure from Reality III: The Tender Truth features over 30 pieces of photographic artworks from 10 different series by Mainland Chinese artists Maleonn and Jiang Pengyi at both Blindspot Gallery and Blindspot Annex in Hong Kong.
Maleonn is one of the most famous Chinese artists in conceptual photography. Ma's photographs are filmed both on location and in studio, his previous professional work as a TV commercial director gives a staged quality to both his indoor and outdoor shots. And Ma often participates in his art by incorporating the use of his own facial masks and body parts. His staged photography represents a whimsical world, with total manipulation of space and matters. In one of the series What Love Is, the phantom objects include fire flames, butterflies, flowers, decorative lights and paper-cut figures on a miniature red-curtained stage. These make-shift elements seem to signify that 'Love' is like a dream/play.
Jiang Pengyi moved from his less developed hometown to the rapidly changing Beijing when he was a teenager, the cultural shock bred a deep sense of alienation in Jiang amid the bustling city. Excessive urbanization, demolition, redevelopments are recurrent themes in his art. In his series Unregistered City, Jiang uses digital manipulation to place new skyscrapers from real life among demolished sites of city expansion. Jiang intends to diminish the presence of human beings in his works, yet most of the images are filled with traces of human activity.