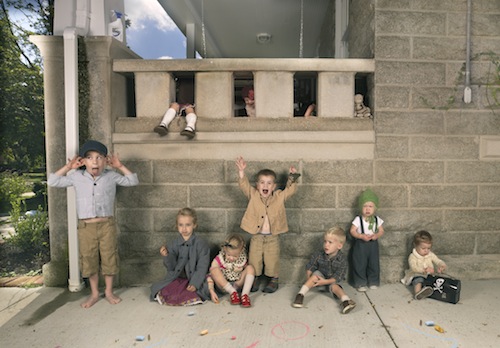 Expositions du 7/9/2010 au 23/10/2010 Terminé
Robert Mann Gallery 210 Eleventh Avenue NY 10001 New York États-Unis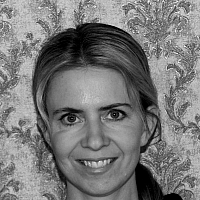 Julie Blackmon's premiere exhibition at Robert Mann Gallery, Line-Up presents a collection of work recalling classic art historical motifs that are recontextualized with narratives inspired by the artist's own frenzied upbringing. The oldest of nine children and now a mother of three, Blackmon binds her past to her present with a portrait of domesticity depicting a compound of anxiety, ambivalence, and amusement.
Blackmon underscores the chaos inherent in motherhood with a style that acts as both documentation and caricature. These semi-autobiographical anecdotes detail the difficult balance between fantasy and reality, portraying the humorous nature of the latter. Utilizing her own children, siblings, nieces, and nephews, the artist's subjects, rich in character and animation, dominate their settings with playful behavior infused with impending disaster.

Translucent in their referral to Dutch Renaissance master Jan Steen's paintings, Blackmon's photographs modernize the raucous, familial scenes of the proverbial "Jan Steen household," not only conceptually, but also with an adept technical handle. A mix of the fortuitous and the unabashedly orchestrated, the artist carefully engineers her compositions which are often obstructed by the natural inclinations of her unruly subjects. Each photograph is the product of a series of shots filled with edits and retakes, later digitally compiled into one single photograph, presenting the viewer with a dynamic glimpse into an almost impossibly bold and comical domestic landscape loaded with minute details and subplots.

Julie Blackmon was named American Photo's "Emerging Photographer of 2008" and one of PDN's "30 New and Emerging Photographers" in 2007. She has been the recipient of various awards including first prize from The Santa Fe Center for Photography in the Project Competition in 2006. Blackmon's work is included in numerous museums and public collections including that of George Eastman House, Nelson Atkins Museum of Art, Museum of Fine Arts, Houston, Kemper Museum of Contemporary Art, Kansas City, and Portland Art Museum.
"© Julie Blackmon. Courtesy Robert Mann Gallery, New York"
Line-Up, 2009
Take Off, 2009