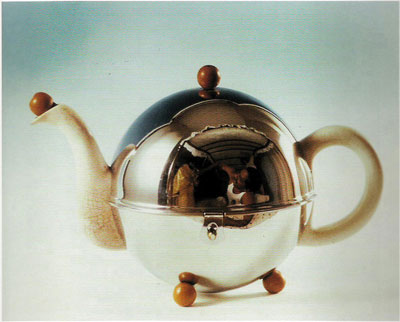 Expositions du 9/11/2010 au 30/11/2010 Terminé
Galerie Serge Aboukrat 7, place Furstemberg 75006 Paris France
Mois de la photo 2010 Point information 5,7 rue de Fourcy 75004 Paris France In the late 1960s, Mac Adams initiated a new departure in "narrative" photography with his black and white series entitled Mysteries depicting crime scenes in which he left clues that the viewer could interpret in different ways. The linear reading of a police investigation was of less interest to Mac Adams than an open-ended story with several possible interpretations.

In the colour series Postmodern Tragedies (1986 – 1989), images of acts of violence are reflected in chrome-plated designer objects. For Mac Adams, "these pieces were partly a response to what I saw happening in the UK and the USA at the time of the economic policies of Reagan and Thatcher. I'm not a documentary photographer, but I wanted to see if I could construct a situation that might reflect the political conditions and contradictions of the time. It was also a response to the postmodernist discourse of the1980s, interpreted as a break from traditional notions of form in harmony with content. I went back to this idea of combining visual contradictions, and I started making hybrid collisions between social tragedies and designer utensils. The chrome-plated objects were photographed against an even paper surface, like conventional utopian adverts that imply a neutral space that only exists in the desire to possess that the viewer feels. We nevertheless see, reflected in these surfaces, violent, disturbing situations, interrogations, shootings, and so on. These situations are in complete contradiction with the perfect metal surfaces".

Reflection and shadow, which are part and parcel of primal myths about the image, are used in Mac Adams' photographs to produce a form of representational self-referentiality. Shadows thus engender images in Empty Spaces (1996) and Islands (2000), simultaneously showing a figure and the setup that produced it. The profiles of helmeted soldiers in Civil War, part of the Islands series, turn out to be shadows cast on the floor by a strange still life made up of two baskets containing rice, bread, and grapes, some eggs and a bottle of wine standing on a glass table.

In these series, as in all his work, Mac Adams underlines the artificiality of representation: his photographs bear only a reflection of the world, and the viewer perceives only its double. He thus spotlights the fact that meaning can be altered and controlled by the way images are constructed. What seems obvious in the representation of reality is never the reality itself. His photographs form a sort of "suspended narrative", situated somewhere between the stories of Agatha Christie and the formal discipline of Anthony Caro's sculptures.