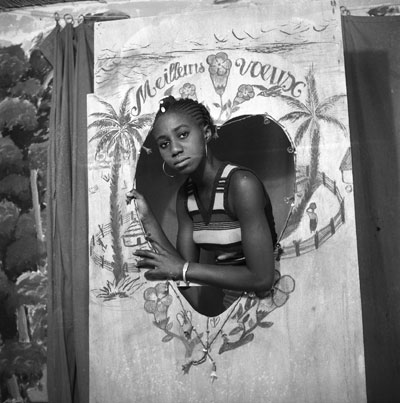 Expositions du 1/11/2010 au 27/11/2010 Terminé

Mois de la photo 2010 Point information 5,7 rue de Fourcy 75004 Paris France

Galerie des Arts Derniers 28 rue St-Gilles Mº Chemin vert ou St-Paul 75003 Paris France


Photography appeared in Africa in the middle of the 19th century and still its recognition as an art form is a recent phenomenon. In the Fifties, the appearance of the photo studio created a very formal relationship between the photographer and his model. The studio photographer became a respected professional, with a very high social status. He became the guardian of the visual memory of his community preserving the identity of his models, while at the same time bearing witness to changes in urban society.

The photographer is chosen for his skills as a go-between and a creator of icons rather than a mere technician.

Because African photography is focused on the client rather than on the market or the eye of the viewer, it is able to reveal the sitter's aspirations. It has gradually embraced new aesthetic approaches via the work of artists such as Malick Sidibé, Jurgen Schadeberg and Jean Depara, and has a wide variety of contemporary forms. With this black and white photographic series, we intend to show the solemn ritual of studio portraiture and the skills of these photographers who, within the space of just a few years, moved from the studio to the contemporary art museum.