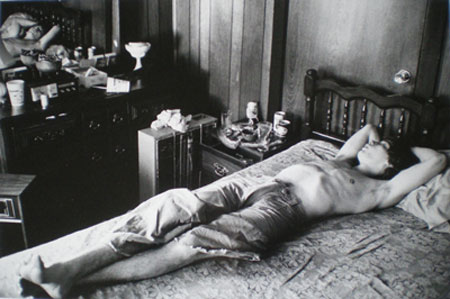 Expositions du 2/11/2010 au 22/12/2010 Terminé
Galerie David Guiraud 5 rue du Perche F-75003 Paris France
Mois de la photo 2010 Point information 5,7 rue de Fourcy 75004 Paris France
Prints by Weegee borrowed from the collections of the Maison Européenne de la Photographie form the starting point for our American journey.

It all begins with Weegee, "Weegee the Famous" as he liked to call himself and stamp on his photos. For decades he was THE photographer of New York, driving through the streets day and night in his car that had been specially fitted out as an office and photo studio. By tuning in to the police radio frequency, he was able to experience and photograph, almost in real time, all the newsworthy events that took place in the city.

Other photographers at the time adopted a more humanistic approach to New York. Accidents, the unexpected, sordid incidents and death disappeared, leaving a city that was gentle, poetic and perhaps a little melancholic. Louis Stettner captures New Yorkers enjoying moments of relaxation, sitting in parks facing the water or on its edge, with the Statue of Liberty or the Manhattan skyline in the distance. Elliott Erwitt famously immortalised an elegant woman standing at the top of a building gazing at the Empire State Building, taller than all the rest.

But New York is not America, and in small town USA life is significantly different. Far from the bustle and growth of the large cities, disaffected youth falls into the trap of drug abuse. In the 1960s et 1970s, Larry Clark produced a piece of reportage on young drug addicts whose day-to-day experience he witnessed. His pictures show them preparing to shoot up, the violence of the injection itself, and the sweetness of its effects. The bodies are naked, young and full of energy, the women are pregnant, and the games these young people play are dangerous ones. Clark was censored once again years later when he focused on the sexuality of American adolescents. It is true that he deals with the subject in a very direct, uncompromising way, but this only serves to reflect reality.

The work of Nan Goldin has a similar sense of testimonial. Her book The Ballad of Sexual Dependency published in the 1980s was not censored but praised to the skies! Her photos introduce us to Suzanne, Brian, David, Cookie, Greer, Trixie and Mark, reflecting an era when we lived without AIDS and when the notions of self-destruction, sex and drugs were glamourous because they had no apparent consequences. In her photographic journal, Nan Goldin wants to stop the march of time, freezing the past so that nothing ever disappears. But her photographs freeze nothing more than images, and those who are no longer with us cannot be replaced by photos.

Finally, Anselm Skogstad, a young German photographer, concludes the exhibition with a series of pictures taken in the New York Subway in the manner of Walker Evans. But although his approach is similar, his photographs reflect a different time: that of Anselm Skogstad is fiercely contemporary.