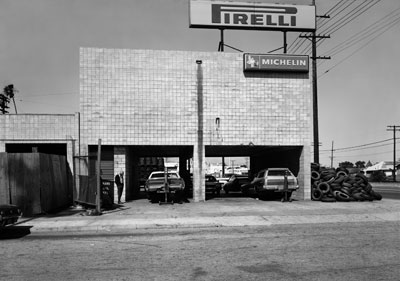 Expositions du 18/9/2010 au 19/12/2010 Terminé
Mois de la photo 2010 Point information 5,7 rue de Fourcy 75004 Paris France
Le Bal 6 impasse de la Défense 75018 Paris France
For its inaugural exhibition, Le Bal brings together eight of the most influential photographers and film-makers of the past 50 years. Their work experiments ways to record this anonymity, by definition an indeterminate, unremarkable notion that escapes visual stereotypes and classification. Le Bal will also pay tribute to the Maison Européenne de la Photographie by showing a number of important works from its collections.

The focus is on North America. Since the 1930s its mainstream culture has celebrated individuality and the self, while nearly all its important image-makers have addressed the nondescript, the flattening of daily experience and the pervading sense of anonymity.

The exhibition opens with Walker Evans and his serial photographs of workers in Detroit, consumers in Chicago and subway passengers in New York, all published in the illustrated press.

Chauncey Hare, an engineer like his father before him, turned to photography in the late 1960s to document and protest the physical and psychological effects of the industrial era. Interiors America is one of the most intense and complex accounts of this era, shown for the first time in Europe.

Standish Lawder's film Necrology (1971) was a high point of post-war experimental film-making. Lawder documented streams of workers descending by escalator to Grand Central Station in a parade that is melancholy, funny and deeply philosophical.

Lewis Baltz came to prominence with the series The New Industrial Parks near Irvine, California (1974), turning his camera on the exteriors of modular architecture. What goes on behind those façades? "You don't know whether they're manufacturing pantyhose or megadeath", remarked Baltz.

Anthony Hernandez's photographs of the late 1970s refute the idea of Los Angeles as a sprawling city, permanently on the move and belonging to the automobile. By taking his camera to bus stops and focusing on the endless sitting and waiting endured by the underclass, Anthony Hernandez's work, formally inventive and quietly political, reinvents street photography with the precision of the topographer.

Sharon Lockhart's monumental Lunch Break (2008) documents ten minutes in the lives of workers at a shipyard in Maine. Lockhart's camera travels the 365 metres down an industrial corridor, slowing these ten minutes into an eighty-minute contemplation and reconciling the stillness of photography with the movement of cinema.

Jeff Wall is well-known for his "quasi-documentary" large-scale tableaux. His recent photographs show workers in public or private spaces, depicting real-life characters transported to new surroundings.