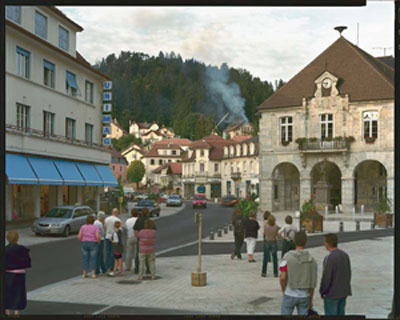 Expositions du 30/9/2010 au 9/1/2011 Terminé
BNF Bibliothèque Nationale de France - François Mitterrand quai François Mauriac 75013 Paris France
Mois de la photo 2010 Point information 5,7 rue de Fourcy 75004 Paris France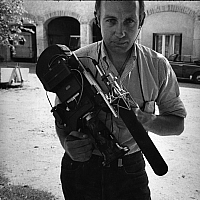 Raymond Depardon is famous for his reportage work in deprived inner city areas, for his many books where images are interwoven with text, and for his films about everyday life in a changing society. He is an artist who knows no limits, constantly exploring the relationship of ethics and images, whether as a filmmaker or a photographer.

In the past, he has often photographed regions of France; this time he wanted to carry out a crazy idea he had been nursing for a long time: to photograph France alone, using an 8 x 10 inch view camera. A dyed-in-thewool traveller, Depardon set himself a goal that would, from 2004 onwards, take him on the road. Working with the changing seasons and in different lighting conditions, he paid equal attention to regions that everyone longs to see and places devoid of romanticism.

He focused on the consequences of urban development in the second half of the 20th century: factories for sale on the periphery of cities surrounded by vast car parks, suburban sprawl that swallows up towns and villages, overbuilding in coastal and mountain areas, and so on.

"I visited different places with different stories to tell. I've kept my distance from the subject, in both technical and formal terms, and this has meant I could rise above regionalistic characteristics to one side and focus on what these places have in common: our shared day-to-day history".

Instead of the vibrant black and white and dynamic depth of field characteristic of his earlier work, here he uses colour, single, soft light sources, and frontal views. Human forms are often absent, but Depardon photographs the landscape "so that [he] can get closer to the presence of Man who, throughout history, has changed the land".

The exhibition is in two parts. First, 36 huge, vivid silver-gelatin prints are presented in a large exhibition area. Raymond Depardon spent four years perfecting these images using the best digital scans available.

The second part of the exhibition is devoted to those who have influenced Raymond Depardon, and pays tribute to Walker Evans and Paul Strand. Written texts by Depardon and examples of his preparatory work also make it possible to understand how the project was carried out.

Organized in collaboration with Magnum Photos; sponsored by Champagne Louis Roederer and La Mutuelle des Architectes français assurances. Raymond Depardon's inventory of French regions was carried out with financial support from the Centre national des arts plastiques and HSBC Exhibition organized in collaboration with Palmeraie et Désert.
Réagissez à cet article