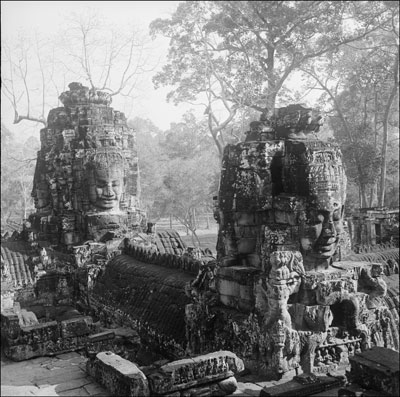 This exhibition at the Musée Cernuschi focuses on a century of work at the École Française d'Extrême-Orient (French School of the Far East) in Angkor, Cambodia.

One of the most prestigious orientalist institutions, the Ecole has been working since 1907 on the restoration of Angkor, the great city overgrown by the jungle since its abandonment in the 16th century.

The exhibition covers the various key periods at the Angkor archeological site and includes 108 photographs (1860-1960) of the temples before restoration, when huge tree roots were wrapped around the shrines and stone reliefs, then during and after the restoration work.

Particular attention is paid to three buildings: Banteay Srei (the first temple to be restored using the technique of anastylosis* in the 1930s); the Baphuon, a monumental "mountain temple" being restored by the French since 1943, a gargantuan project involving the displacement of 300,000 stone blocks scheduled for completion in March 2011; and Neak Pean, a spectacular temple surrounded by pools that was restored some time ago.

The exhibition also includes texts documenting the presence of French archeologists in Angkor, as well as two stereoscopic viewing devices. The exhibition is carefully explained, making it possible for visitors to familiarize themselves with the history of the Khmer Empire. A 52-minute documentary on Angkor is screened free of charge every morning at 11 o'clock in the first-floor conference room.

* Anastylosis: a process which involves reconstructing buildings like giant construction sets, using the original components wherever possible.

The exhibition finds a contemporary echo in a project by Bernard Faucon, "The Most Beautiful Day of My Youth". From 1997 to 2000, Bernard Faucon organized a party in twenty places around the world, including Angkor, to which 100 young people were invited, each being given a disposable camera to take pictures. Twenty years later, in this snapshot of the world's youth, Bernard Faucon rediscovers the playful, festive atmosphere and sense of recaptured happiness that characterized his early staged photographs.