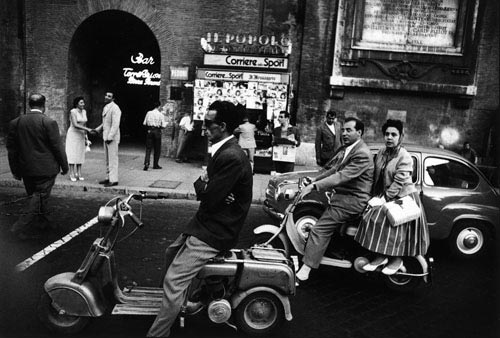 © William Klein: Piazzale Flaminio, 1956. Silver gelatin print
Expositions du 14/4/2010 au 25/7/2010 Terminé
Mercati di Traiano Via IV Novembre 94 00187 Rome Italie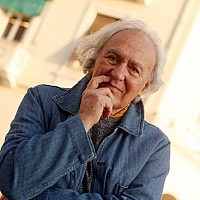 The exhibition includes sixty large format images taken in Rome fifty years ago by the master photographer William Klein. They were shot in the most emblematic locations of the city. Scenes of demonstrations, strolls through the Fori, Weekends spent in Ostia, daily life and fashion shows: the whole life of the "eternal city". The images engage in a conversation with history of ancient Rome (given by the location) and remind us voices and people from of the Rome of the '50.

The exhibition is project by Contrasto in association with Comune di Roma Assessorato alle Politiche Culturali e della Comunicazione - Sovraintendenza ai Beni Culturali
In 1956 a young William Klein, a painter, a graphic designer and a photographer, arrived in Rome - after having successfully published his photographic journal on New York - on invitation by Fellini who wanted him to be his assistant director for the film Le notti di Cabiria. The shooting of the movie was delayed. Nevertheless, Klein, armed with his camera, explored every nook and cranny of the city in the company of Fellini and other exceptional tour guides (Pasolini, Flaiano, Moravia, etc.). In the enchanted context of the Italian '50s, Klein shot a new, masterly and powerful photographic fresco of Rome which, in 1959, also became a book published in Italy. After fifty years, an exhibition, and the new and revised book that goes with it, celebrate this photographic homage letting us experience the magic of those years and the depth of Klein's vision of the city. Roma by Klein consecrates Klein as master of photography and is a very important testimony of a golden age for the city.
Flicking through the pages of this work, the innovative, debunking and surprising images (in line with the author's style) are coupled with texts signed by a group of "distinguished" friends and with a few commentaries and travel notes that make this visual narration unique and ironic. Roma by Klein, is one of the most famous books in the history of photography. It is both a testimony of the surprising visionary talent of the author and an act of love towards this city.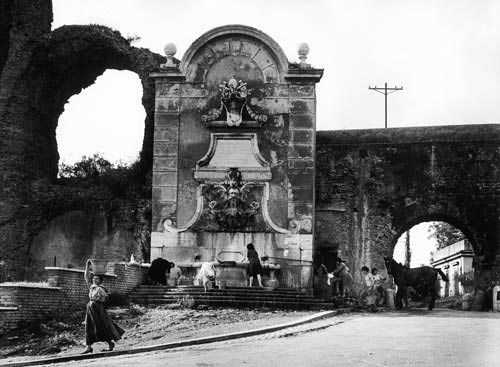 © William Klein: The aqueduct in via del Mandrione and in via di Porta Furba, 1957. Silver gelatin print

Born in New York in 1928 to a Jewish family of Hungarian origins, William Klein spends two years in the occupation army when he is 18 and then settles in Paris to become a painter. In 1954 he returns to New York and works on a photographic journal that will be published two years later in a book designed by Klein himself, Life is Good & Good for You in New York. The book wins the Nadar prize. He joins Fellini in Rome to be his assistant. In the late '50s he approaches the world of the cinema on which he focuses for few years, directing various movies. In the '80s he returns to photography and publishes several other books. His work has been exhibited all over the world and awarded many prizes. This eclectic and always on the run artist produced countless works, books and projects. In 2008 he published with Contrasto the volume Contacts that accompanied the homonymous exhibition.