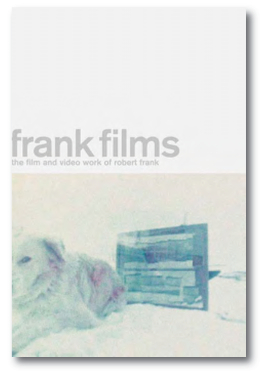 Steidl
"I put my Leica in a cupboard. Enough of lying in wait, pursuing, sometimes catching the essence of the black and the white, the knowledge where God is. I make films. Now I speak to the people in my viewfinder." Robert Frank
Robert Frank turned to filmmaking at the end of the 1950s. Although he has made 27 films, the work is largely a well kept secret. Frank approaches each film project as a new experience, challenging the medium and its possibilities at every turn. He has amalgamated documentary, fiction, and autobiography, cutting across genres. This book offers a visually unique approach to Frank's films: only new stills taken from videotapes have been used and they add up to a visual essay on Frank's cinema that establishes an engaging dialogue with his photographic work. Each film is introduced with detailed analysis, discussing the history and the aesthetics of Frank's film work. An interview with Allen Ginsberg provides an insider view. Together the texts and images offer an innovative and in-depth approach to the oeuvre of one of the greatest and most restless artists of the 20th century.
In addition to this book, the complete film work of Robert Frank Will be released in 6 volumes of 3 DVD each, in a film-roll box housed in a slipcase. Following is the list of films that will be included in the Robert Frank Project :
Volume 1
Pull My Daisy – 28 minutes – 1959 Directed by Robert Frank and Alfred Leslie, Daisy was adapted by Jack Kerouac from the third act of a stage play he never finished entitled Beat Generation. Kerouac also provided improvised narration and the stars included Allen Ginsberg, Gregory Corso, Alice Neel and Pablo, Frank's then-infant son. Daisy tells the story of a railway brakeman whose painter wife invites a respectable bishop over for dinner. However, the brakeman's bohemian friends crash the party, with comic results.
The Sin of Jesus – 37 minutes – 1961 The Sin of Jesus is the story of Isaac Babel, a woman on a chicken farm who spends her days working at an egg- sorting machine. "I'm the only woman here." She talks to herself as she works, lost in the monotony of human existence. She counts the passing days in the same way she counts eggs. Even extraordinary events, such as the appearance of Jesus Christ in the barn, go under the stream of this melancholy solipsism.
Me and My Brother – 91 minutes – 1965-1968 Me and My Brother seems to be a rather artless-film-within-a-film being shown at a rundown movie theater. This was Frank's first feature-length film work and it celebrates the return of the poetic essay as assemblage, the affirmation of the underground as a wild cinematic analysis in the form of collage.
Volume 2
OK End Here – 32 minutes – 1963 A short film about inertia in a modern relationship, the characters are often only partially visible or physically separated by walls, doors, reflections, or furniture, and the camera relays the story with little rhyme or reason, a roaming gaze, which seems to lose itself in things of little importance, while at the same time capturing the dominant atmosphere of routine, alienation, and apathy.
Conversations in Vermont – 26 minutes – 1969 Frank's first autobiographical film, it relates the story of a father's relationship with his two teenage children, and his fragile attempts to communicate with them by means of a shared story. The shared story is partly told through Frank's narration over filmed images of his photographs, family photographs and world famous images.
Liferaft Earth – 37 minutes – 1969 A film made by Frank for Stewart Brand, the visionary founder of the international ecological movement and publisher of the bestselling Whole Earth Catalog (1968–1985).
Volume 3
Keep Busy – 38 minutes – 1975 "I am filming the outside in order to look inside," Robert Frank once said about his aesthetics. In Keep Busy his chosen home of Nova Scotia serves for the first time as the "outside" in an examination of the "inside." The interweaving of documentary and fiction with the syncopated rhythm of its action and dialogue presents an absurd buzz of activity reminiscent of Beckett's abstract comic grotesque.
About Me: A Musical – 30 minutes – 1971 Frank's self-portrait is a film about music that repeatedly poses questions concerning artistic expression and the function of memory. Despite the apparently autobiographical nature of the film, Frank, the immigrant, regards his story as a collective one.
S-8 Stones Footage from Exile on Main St. – 5 minutes – 1971 Filmed during the making of the Exile on Main St. Rolling Stones album cover.
Volume 4
Life Dances On... – 30 minutes – 1980 Life Dances On... is dedicated to Frank's deceased daughter and the memory of his friend. Though it makes use of outtakes and footage from earlier works, the purpose is not to convey mourning in narrative form. Frank's fragmentary and associative representational style has more in common with self-portraiture than autobiography.
Home Improvements – 29 minutes – 1985 Home Improvements is a kind of film diary. Sequences resembling home movies tell the story of how Frank's wife becomes ill. Frank sets off to visit his son in a psychiatric clinic. His thoughts and actions all revolve around the past and his attempts to free himself of its remnants.
Energy and How to Get It – 30 minutes – 1981 The original idea of Energy and How to Get It was to make a documentary about the somewhat tragic existence of inventor Robert Golka, who experimented with ball lighting in an abandoned hangar, intending to use it as a practical source of energy. The film became a fake documentary about a man who faced numerous obstacles presented by the American authorities.
Volume 5
This Song for Jack – 30 minutes – 1983 In 1982 a number of people gathered in Boulder, Colorado for a conference held at the Naropa Institute, a house in the country. This meeting honoured the memory of Jack Kerouac. This Song for Jack depicts a reading held in the rain from Kerouac's "On the Road" for a group of six listeners. Frank demonstrates that art is a matter for a small circle, and it is always, regardless of the specific situation, a form of mourning.
Ginsberg/Corso Reading – 8 minutes
Hunter – 37 minutes – 1989 An American visits Germany's Ruhrgebiet. His name is Hunter, and he's touring the area around Duisburg. Somewhere between the Rhine and Ruhr rivers, in the country's industrialized midwest, he meets some locals. His attempts to es- tablish contact with the people there are unsuccessful. But he keeps trying to understand how someone can live in this area and cope with it.
Volume 6
C'est vrai (One Hour) – 60 minutes – 1990 This film is a single-take of Robert Frank and actor Kevin O'Connor either walking or riding in the back of a mini-van through a few blocks of Manhattan's Lower East Side. How much this is a tossed-off home movie about Frank's neighbourhood and how much it's a contrived board game spread out over several city blocks remains an unanswered question.
Last Supper – 50 minutes – 1992 Guests arrive at a vacant loft in Harlem, which is surrounded by rundown apartment buildings. A writer intends to cele- brate the publication of his latest book with his friends, all white and middle-class. But the host never shows up. Instead the camera follows the guests to the party and on their way home. African-Americans from the neighbourhood are closely watching the party, making the guests feel awkward.
Run / New Order – 3 1/2 minutes – 1989 While making a music video for the British band New Order in 1989 Frank refused to follow the usual guidelines. Although he did produce a three-minute thirty-second film as called for in his contract, thereby providing a visual basis for New Order's song "Run", he created images which contrasted starkly with the industry's assumptions and presumptions.